Developing Igueben Will Be My Task As EDHA Member – Barr. Kukei Ambrose Umoye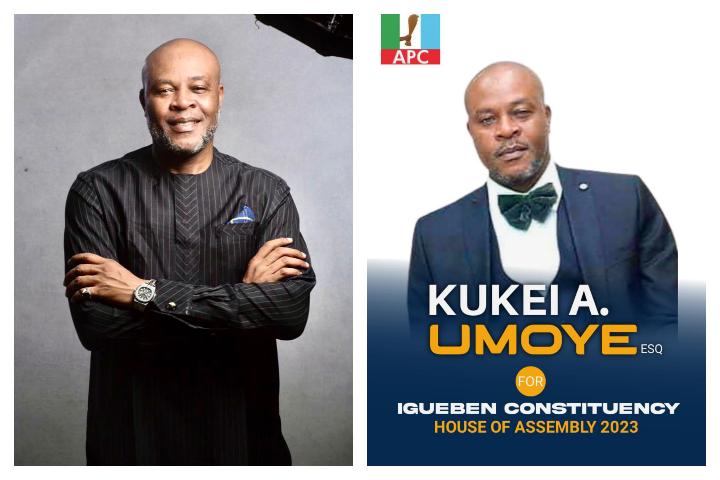 By Simeon OSAJIE
As the 2023 general election gathers momentum, a candidate of Igueben constituency of the All Progressive Congress (APC) in the forthcoming Edo State House of Assembly election, Barr. Barr. Kukei Ambrose Umoye, has advocated rural transformation for the good people of Igueben local government area.
google.com, pub-3120625432113532, DIRECT, f08c47fec0942fa0
Barr. Ambrose Umoye stated this in Benin City while speaking with The9JaTrend on his plans for Igueben constituency if he emerged victorious in the 2023 Edo House of Assembly election.
He said, "My vision is to have my constituency as the biggest champions of socio-political, economic, infrastructural and technological development and policies in Nigeria.
"Over time, the issues that affected us as people have not fully been addressed. We are not getting quality representing here in Igueben. Is a misnomer for Hon. Ephraim Aluebhosele to still be there because from the word go, he missed it, and with the latest saga, is disrespectful that we have him representing us at the Edo State House of Assembly. For whatever it is, the preface before your name 'honourable' put in a stead where you show that at all time. Besides that, it is not personal thing between Ephraim and I, it is about quality representation.
"My people of Igueben local government area are not getting quality representation; you will agree with me that from the State House of Assembly to the National Assembly. So, the essence for me is to see how we can do the best for my people. We are suffering from ecological degradation right now, maladministration in the state. I am set out to see how we can write the wrong. I have the interest to change the narratives, I am a trained lawyer, and I believe I can do it, I can emanate the necessary change to bring development to my community and my constituency, I can do it."
Going further, Barr. Umoye said, "When you say PDP has a stronghold, I will agree with you to some extent. If you remember all the issues that cumulated in the Governor Obaseki leaving APC for PDP and the choice of Pastor Osagie Ize-Iyamu, at the end of the day, had ripple effect in APC, and there was this sympathy votes for Obaseki, that is why you saw what you saw.
"I personally suffered from oppression from the Governor of Delta State, Ifeanyi Okowa who tried to take over some lands, border towns between Delta and Edo which includes my town Ekpon, he brought in police men from Delta State, thugs of the Ika vigilante group to my village, even the INEC people were compromised. So, when you talk about having a hole, no, I disagree with you to that extent, I just take you the elements.
"Going into these elections, PDP right now is a fragmented party, especially in my local government when you have those talking about Obidient and those that left APC for PDP they are claiming to be Obidient. Then as at now, PDP have about three blocks, the Ikimi block, the Ephraim Block and Omi Imoisili Block. So, it is a fragmented hand just like the house of Babel singing different tones. So, we are coming as a formidable team, we have our issues which we have dealt with just recently in our senatorial meeting. The other person that lost who went to court has agreed to withdraw that suit and I will be good to go.
"Governance is proper representation. You will agree with me that there is element of security in Edo State. Some of us in Esanland came together to form a group and we be funding the vigilante group with over 120 million to see how we can secure our enclave. That suppose not to be our responsibility as individual, which is the responsibility of security vote and what have you. So, as regard to security, you will agree with me it is a total failure.
"Education: I am from Ekpon. The only school in my community was built by the community itself. A block got burnt, just three or five years ago, the then commissioner for education, Barr. Emmanuel Agbale came and since then no other person have bother to look into that.
"How can you be talking about education and you don't have teachers? The teachers are not even equipped with all necessary requirements to teach our children. We have about three or four teachers per school that is in secondary school. No semblance of educational progress in the primary schools. We have some monsoon private schools. Edo state is known to be the cradle of quality education, but we have lost it.
"So, if I am given the opportunity to represent the good people of Igueben constituency, these should be my major priority which is to come out and compare the state government to come back to their responsibilities.
"I am lawyer for over two decades now. I was born in Lagos, Island Maternity. I grow up in Ebute Meta. I attended Agoja Methodist School, Ebute Meta. My father was a police officer; he was transferred to Bauchi in 1978, so I was in Bauchi, Azare Gamawa where I attended Army Children School, Azare, North-East Primary School, Gamawa, and then Eko Primary School in Ekpon.
"My father relocates us because of the Mistassini problem. So, I was in Ekpon from 1979 to 1981. I gained admission to Annunciation Catholic College, Irrua, one of the best secondary then, from 1981 to 1976. I am a proud member of that school, and I thanked the Catholic church for what they have imbibe in me and that is one of the thing that kept me going.
"When I left ACC, I then move to Lagos, because then my father was already in She'll, that was not what is it now. I have to spend some time and I gained admission to Ambrose Alli University, Ekpoma 1990 to study law and I graduated in 1996. I spent six years there, not because I failed any examination, but because of the same issues, maladministration. That was not enough.
"Going to law school, they said, those of us from Ekpoma can't go to law school that year, we have to go to serve. I was posted to Cross River to go serve my Youth Service. I was actually seconded to Obuba local government council in the legal department. Then 1998 I went to law school and I was call to bar September 28, 1999 – almost a decade to get that. Although I gained admission to read law in Unilag, that is Master, but I could not because I just set up my own law office. I actually bought the law firm of Justice Adetokunbo Ademola, retired judge of the Federal High Court. And I have being the principal partner of Candatines till date. At a time, I was a councillor in Igueben representing Ward 10 Ekpon.
"I joined AC about 11 years ago, and then we now have ACN then APC. I never jump ship, is not my style.
"Politics is not about you being in government, is about you making your voice count. When you talk about position, my party is in the National. So, I can use my wealth of experience to draw things down, that is what I have be doing to help my people.
"As regard to Edo State, is just a temporary thing. You will agree with me that the driver of the ship of this present government was an accidental mistake and in time, we are going to get it right."