Edo PDP Congratulates Adeleke, Salutes Obaseki's commitment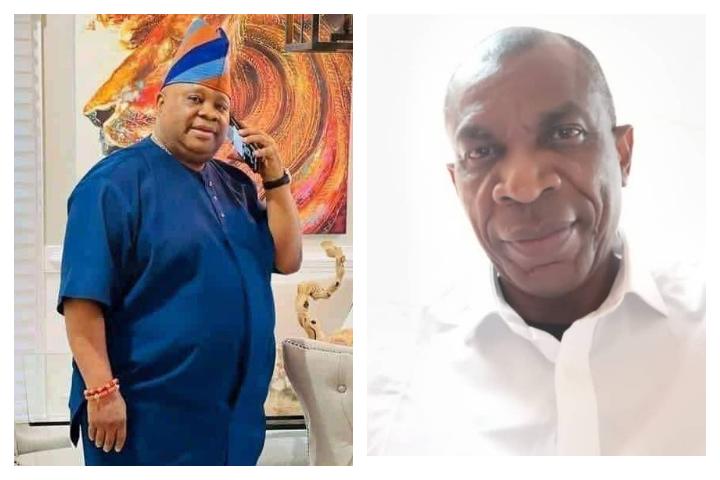 By Simeon OSAJIE
The Edo State chapter of the Peoples Democratic Party (PDP), has congratulated the Osun State Governor elect, Senator Nurudeen Jackson Ademola Adeleke on his well-deserved victory at the just concluded Osun State Governorship election.
google.com, pub-3120625432113532, DIRECT, f08c47fec0942fa0
Senator Adeleke was announced the winner having defeated the incumbent Governor, Gboyega Oyetola of the APC with 403,371 Votes to 375,027.

The Party's Message was issued and signed by its chairman, Dr. Tony Aziegbemi.
According to the Chairman, Senator Adeleke's feat in defeating the incumbent Governor is indeed a morale booster for the party ahead of the 2023 Elections an indication that Nigerians are tired of the APC led federal government.

Dr. Aziegbemi is equally delighted that the Edo State governor, Mr. Godwin Obaseki was part of the party's National Campaign Council which provided the much needed behind the scene strategy which made the victory possible.
"There is no doubt that Governor Obaseki took along with him to Osun, the Edo winning template and of course the God's winning touch which made the APC godfather, quickly left Osun even before the counting of votes commenced."
He equally expressed profound appreciation to his Osun State counterpart for making the party and members proud.

This election he says is an improvement over the previous ones with the introduction of the New Electoral Act and BVAS.
He urged INEC not to rest on their oars rather continue to improve more to ensure that the 2023 General Elections meet global standard.
Dr. Aziegbemi was also full of praises for the trio of PDP National Chairman, Prof. Iyorchia Ayu, Presidential candidate, Alhaji Atiku Abubakar and his running mate, HE. Ifeanyi Okowa and the Chairman of the National Campaign Council, HE. Duoye Diri whom he described as "The Divine Team" for living up to expectations in providing the needed support and leadership for the party in Osun which culminated in victory.