Oshiomhole's Associate, Lucky James Dump APC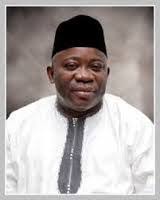 By Simeon OSAJIE
Former Edo State Commissioner for Local Government and Chieftaincy Affairs and one term local government council chairman, Etsako West local government Area, Hon. Lucky James has resigned from the All Progressives Party Party (APC).
google.com, pub-3120625432113532, DIRECT, f08c47fec0942fa0
Chief James hails from Uzairue clan and also from the same ward with the APC former National Chairman, Comrade Adams Oshiomole.
Mr. Lucky James, a former Commissioner in Edo State during the Comrade Adams Oshiomole's administration, formally announced his resignation from the party through a letter summited to the party's ward chairman in Etsako west local government.
In the resignation letter, which was sighted by journalists, Chief James said with the resignation letter he has completely dissociated himself from the party in whatever form and manner.
Chief James, attributed his resignation to "a number of unhealthy factors which have dogged the party for years, especially as they affect me personally and my teeming supporters unjustly."
The former APC leader, who did not indicate his next line of action, said he consulted widely before his decision to dump the party.
He traced his membership of the party from the Action Congress (AC), Action Congress of Nigeria (ACN) to the present APC which he claimed he laboured to build
Again, he lamented that the time spent in the party has "made me to see that the party and I are at variance of the meaning of justice and fairness. What the party stands for diametrically opposes my believe in justice, fairness, equity and reward for dedication and sacrifice."
Chief James, who was also a Chairman of Etsako West Local Government urged his supporters to bear what he referred to as hardcore decision saying "it's better to be where you are valued and hopeful."
The exit of lucky James from APC according to APC will affect the party fortune in Uzairue and Etsako west.