Everything About Edo PDP Govt Is Scam, Says APC Chairman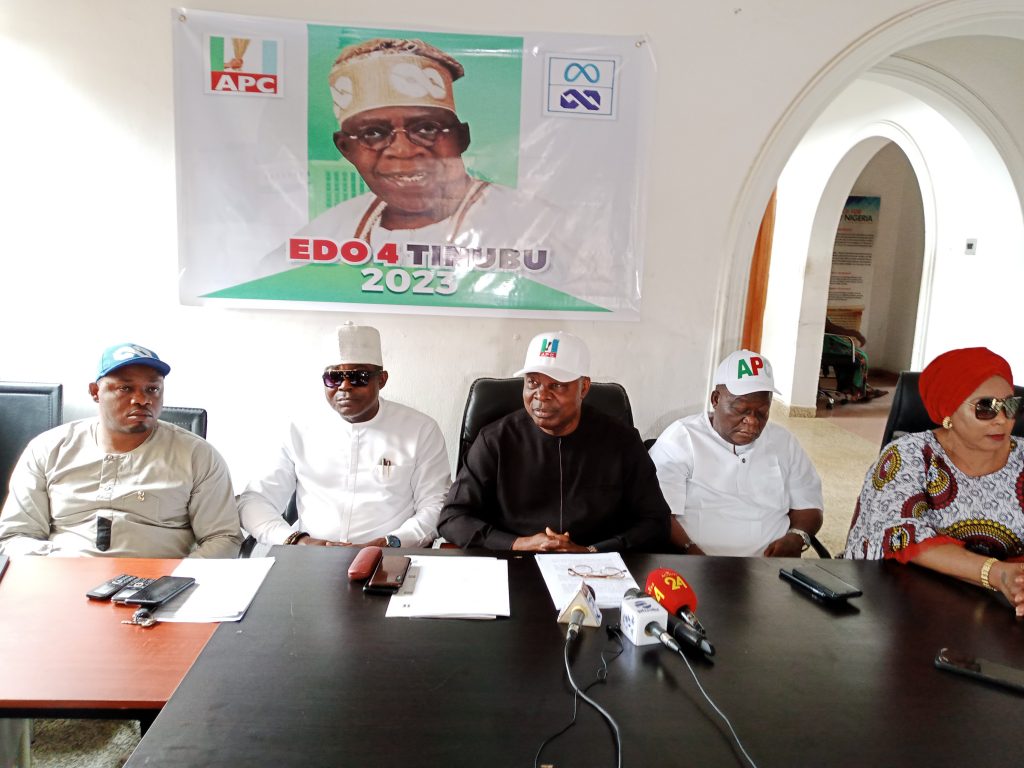 …Failed APC cannot lies its way to electoral victory, Says Crusoe
By The9JaTREND
google.com, pub-3120625432113532, DIRECT, f08c47fec0942fa0
Edo State Chairman of the All Progressives Congress (APC), Col. David Imuse (Rtd) yesterday claimed that everything about Edo State PDP led government of Mr. Godwin Obaseki as a scam with reference to his posturing in his second tenure in office.
Imuse, who accused the state governor's destruction of houses owed by Edo people at Irhirhi-Arogba-Obazagbon-Ogheghe Communities, opined that a responsible government ought to have its citizens at heart instead of bringing down properties worth millions of naira.
In a press conference at the State APC secretariat in Benin City, Imuse said, "Godwin Obaseki's second term in office which was supposed to be a democratic set up is now a dictatorship as the man has turned Edo State into a personal empire.
"As Emperor, he has conveniently castrated the state legislature, emasculated the judiciary and operates the executive branch as Sole Administrator."
Imuse asserted that the governor has no regard for Rule of Law "as he word is now law. The situation is so bad that Mr. Obaseki is today the lawmaker, the judge and even the prison, all put together. Emperor Obaseki's flagrant abuse of power is legendary.
"He has refused to conduct the local government elections for Chairmen and Councillors and has succeeded in keeping the council's statutory allocations in a bid to clear the N60 billion debt he claimed they owe."
Imuse tagged Edo State as the second most indebted state in Nigeria, adding, "now Governor Obaseki has just forwarded to the illegal House of Assembly for additional N25billion bond to further impoverish generations of Edo citizens yet unborn."
Speaking about the state of the roads in Benin City, the state capital and other local government areas of the state, Imuse stressed, "he has abandoned all floods and erosion control projects just as he has left major roads in the state capital and other local government areas in different states of dilapidation. As a result, Benin City, though not in a riverine locality, has been turned into a swamp anytime it rains."
According to Imuse, "the claims of street lights powered by the hype of an Ossiomo Power Plant remains a ruse. This is why Benin City is been ravaged by all types of 'Obaseki Police', some with Dane guns and laying claims to controlling traffic whereas they are actually extorting monies from innocent citizens. King Square(Ring Road) is worst hit as the National Museum grounds is now an artificial habitat for uniformed thugs, criminals, rodents and reptiles."
On the Central Hospital, Benin City demolition, Imuse said, "his plans to replace it with a Motor Park has failed. His anticipated MoU for the Park died on arrival. His partners were shocked that he destroyed a century old legacy hospital for a garage, so they backed out. Edo people want to know what he intends to do with the demolished hospital since his clandestine move has failed."
While reacting on the new town project, the APC Chairman said that "the destructive streak of the Governor took a new dimension with his invasion of Irhirhi-Arogba-Obazagbon-Ogheghe Communities. The government spuriously claims that the destruction of these communities is to make room for development of a new town project.
"This sinister claim is far from the truth as the hidden intentions is to share the land for himself and his cronies before leaving office in 2024."
The APC Chairman accused Governor Obaseki of selling the state owned newspaper, the Nigerian Observer to his cronies employing a private individual "who has employed a new set of staffers, as Consultant. The truth is Mr. Obaseki has sold the Nigerian Observer to his cronies under a dubious PPP arrangement that will die a natural death soon."
While reacting to APC allegation against Edo State government, the Special Adviser to Edo State Governor on Media Projects, Crusoe Osagie said the All Progressives Congress (APC) in the state is staging a feeble comeback to the public space to pollute the air with their lies and poorly-crafted falsehoods, noting that the failed party cannot lie its way to electoral victory in the 2023 presidential elections.
In a statement, Osagie said the APC in Edo State seems to be searching for its lost voice in pursuit of the golden fleece from the electioneering season and are "shamelessly falling over themselves to eat from the crumbs from the Lagos largesse in the run up to the general election."
He noted, "For them, the 2023 election is another business venture that must be harvested for its full worth. This is why they have staged a feeble comeback to the public space to pollute the air with their lies and poorly-crafted falsehoods.
"Though we have repeatedly stated that they thrive on vague and unfounded claims, which do not deserve any attention, however, it is necessary to educate them and set the records straight.
"The Edo State Government runs a transparent government that enjoys the support of the other two arms of government. The three arms of government have continued to work harmoniously to deliver the dividends of democracy to Edo citizens, who today are witnesses to the impactful projects and reforms ongoing across the state."