Reason I Joins Integrity Group "G-5" – Umahi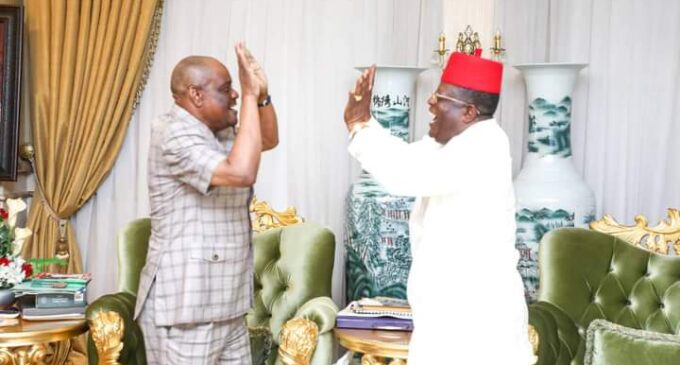 By Simeon OSAJIE
The Executive Governor of Ebonyi State and member of the All Progressive Congress (APC), David Umahi has explained the reason behind his decision to pitch tent with Governor Nyesom Wike of Rivers state led G-5.
google.com, pub-3120625432113532, DIRECT, f08c47fec0942fa0
Governor Umahi is the governor of Ebonyi state under the All Progressive Congress (APC).
While in Emohua in Rivers State to commission a project on the invite of Governor Wike and during his speech, he expressed gratitude to Wike and told him he should have it in mind that he's got his back and that he desires to be part of the G-5 group, making it now G-6.
According to Governor Umahi, "Our country must see wisdom in what Governor Wike is doing. Your fight is not personal; you're fighting to keep this country together. And God is with you. I want to assure you that I have your back, I have your front; we are with you and we are united in this."
"I will not be part of any APC Governorship campaign in Rivers State because I can make to say that, Governor Wike has over performed as a governor under PDP and any other party wanting to contest the governorship position with the PDP governorship candidate in River State, would just be wasting their time and resources"
Addressing Wike on during the inauguration of a road project in Rivers, Umahi made a reference to Wike's criticism of him and other governors who defected from PDP to APC.
He, however, said he supports the position of the G-5 and declared himself a member.
"But today, you know those governors you wanted to remove or were in the process of removing before you soft-pedaled, we have formed G-4 — that's governor Wike, myself, Cross River, and Zamfara. There is another G-4.
"And G-5 is hereby expanded to G-6. I'm now a member of G-6. And Your Excellency let me tell you something, I'm not going to struggle chairman with you. But for deputy, nobody will take it from me.
"So, this 'Integrity Group', when you call the meeting, you have to call me. Many other governors want to be part of this, because they have seen that there is salvation for our country in what you are doing. And so, I want to commend you highly," Umahi said.
The G-5 which includes Nyesom Wike of Rivers, Seyi Makinde of Oyo, Okezie Ikpeazu of Abia, Samuel Ortom of Benue, and Ifeanyi Ugwuanyi of Enugu is also referred to as the 'Integrity Group'.
Aside from the governors, the group comprises PDP stakeholders who have insisted that Ayu has to step down on the grounds that the chairman and presidential candidate cannot be from the same region.