Assassins After My Life, Ex- LG Boss Raises Alarm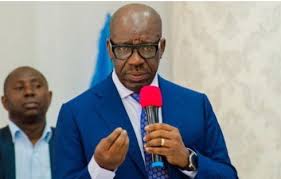 By Simeon OSAJIE
A former Vice Chairman of Ikpoba Okha Local Government Area of Edo State, Hon. Osameide Edorodion has alerted the Edo State Governor, Mr. Godwin Obaseki and the State Commissioner of Police of plans by one Festus Ekenaye Edegbe to assassinate him.
google.com, pub-3120625432113532, DIRECT, f08c47fec0942fa0
In a petition to the state Commissioner of Police, Edorodion described Edegbe as a self acclaimed Okaighele of the community..
The petition was titled, "Case of Cultism, Threat to Life, Unlawful Possession of Firearm and Conduct Likely to Cause Breach of Public Peace."
Edorodion said that Festus Edegbe has severely threatened to kill him and his entire family, besides physical attack and inflicting bodily injuries on him.
He said Festus Edegbe has also confiscated and sold out his (Edorodion) landed property in the community.
Edorodion also called on Mr. Governor and the Commissioner of Police to call Edegbe to order so that he (Edorodion) can freely go about his daily activities
"Sir, this is the third petition of threat to my life without result," he added.
In a chat with newsmen in Benin City Hon. Edorodion alleged that Edegbe, with a standing army of his thugs made several attempts to eliminate him over something he knows nothing about.
According to Edorodion, "I hailed from Obagie 'Nevbuosa community in Ikpbo Okha local government area of Edo State and by virtue of my citizenship, I emerged the Vice Chairman of the local government council.
"Festus Edegbe, the self-acclaimed Okaighele of my community went about telling people that I am the brain behind the state government and Edo State Commissioner of Police declaring him wanted over allegation of land grabbing.
"I make bold to say that I have never in my life engaged the government, nor the Commissioner of Police to discuss anything that related to Festus Edegbe.
"I have never sat with the government; I have never been to their office; I have never discussed anything with them."
He said that: "It is true that the government and the Police found out that he (Edegbe) is the one selling all the landed property in Obagie 'Nevbuosa Community.
"There is a farm in our community and he went there and started selling those people's property; those people now cried out.
"Because of the accusation that he (Edegbe) is the brain behind the selling of the community land, he now went and instigated the people against me (Edorodion).
"Festus Edegbe has made several attempts over something I know nothing about. They made several attempts to assassinate me. You can see all the injuries I sustained in the process; if not for the grace of God, I wouldn't be alive today. I went to report the matter to the Police; even the doctor's report is available to attest to my claim.
"Again, he is planning to take my life, and claimed that I am the brain behind his being declared wanted by the Police. This is something I know nothing about.
"And what he does in the village is to continue to use the community entrusted documents of the village in his hand to perpetuate his evil act. And those he sold land to pay directly into his account as if the land is his personal property which is not.
"He is defrauding the economy of the community.
I am appealing to Edo State Commissioner of Police to invite Festus Edegbe for questioning so that he can leave me alone and stop using his thugs to harass, intimidate me.
"I am pleading with the state government and the Edo State Commissioner of Police to save me from the hand of Festus Edegbe, the acclaimed Okaighele of Obagie Nevbuosa Community who is bent of taking my life for what I know nothing about."
Several phone calls and text messages sent by The9JaTREND to get Festus Edegbe's reaction on the allegation proved abortive as he continues to terminate all phone calls to him, while SMS were not responded to.