Iyowa Community Felicitates With Oba Ewuare II On Igue Festival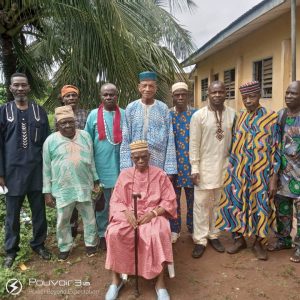 By Simeon OSAJIE
The Odionwere of Iyowa Community, Pa Samson Ederaro Obazee, has on behalf of the elders and the entire people in Ovia North-East Local Government Area of Edo State felicitates with the Benin Monarch, Oba Ewuare II on the celebration of the annual Igue Festival and described the Royal Father of the Benin Kingdom as the defender of the defenseless not only to the indigenes of the kingdom but as well as the non-native that lives in the kingdom.
google.com, pub-3120625432113532, DIRECT, f08c47fec0942fa0
Pa Obazee made the statement in an enlarged meeting of the elders and the people at the community town hall in the local government area.
According to him, "Let me use this occasion to on behalf of the elders and people of the community to thank the great Oba of great Benin kingdom, Omo N'Ob a N'Edo, Uku Akpolokpolo, Oba Ewuare II for restoring peace back to my Iyowa Communtiy and for his approval for me to be the Odionwere after waiting for seven good years.
"I cannot thank you enough our Royal Majesty but to continue to pray that God Almighty in His infinite mercy bless and give you the wisdom to handle the affairs bestowed on you my Almighty God and our forebears".
Pa Obazee also used the occasion to call on the sons and daughters of Iyowa Community both home and in diaspora to take the development of the land as a priority for the benefits of not only the present generation but generation yet unborn.
He also advised the people to always abide by the rules and law as laid down by the Oba and not engage in activities that will be detrimental and bring shame to the land.
While pledging his continuous loyalty to the Oba of Benin Kingdom, Pa Obazee call on the authorities concerned and all Benins to broadcast the annual Igue Festival to outside world.
He subsequently appreciated the elders and people of Iyowa Community for their support and urged them not to discourage as the development of the community is a collective effort for the benefit of all.