New Year Message: Engr Solomon Emhonbotiti Of LP Salutes OBidient Family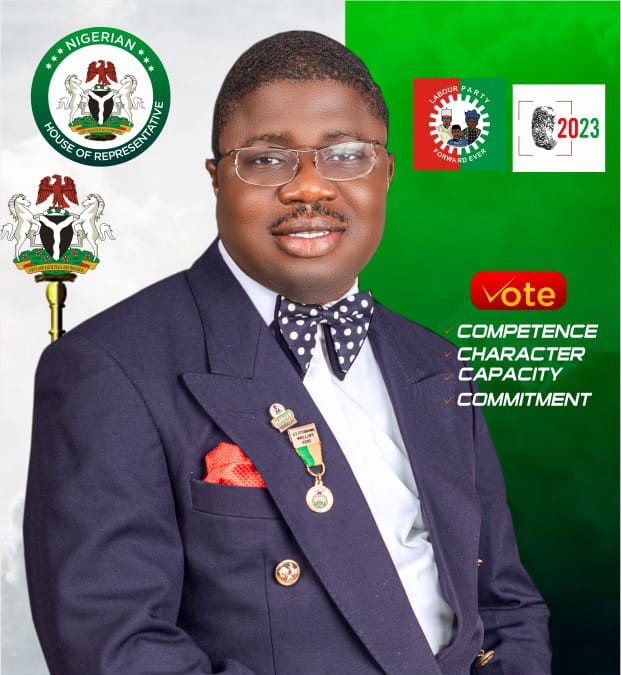 …Tasks all to remain focus for victory
By Simeon OSAJIE
google.com, pub-3120625432113532, DIRECT, f08c47fec0942fa0
The Labour Party candidate for Esan West/Esan Central/Igueben Federal Constituency in the February general elections, Engr. Ambassador Solomon Emhonbotiti JP, FNSE has urged every well-meaning Nigerian to remain steadfast as we approach the elections to elect good leadership to pilot the affairs of the country in the presidency, National and State Assemblies to remain Obidient so as to take back our country from bad leaders.
Emhonbotiti made this remarks in his New Year message signed and made available to the press earlier today.
He urged all members of the OBidient family, the teeming supporters of Labour Party and all well-meaning Nigerian to remain irrevocably committed and focused on the thematic preoccupation of the project of taking back our country through the ballot.
Part of the message read: "I want to use this opportunity to felicitate with every well-meaning Nigerian particularly members of the OBIdient in Esan West/Esan Central/Igueben local government areas and Edo State at large happy and a prosperous New Year.
"I also want to use the opportunity of this New Year celebration to appreciate every well-meaning Nigerian who have remained resolutely committed to the pursuit of peace and unity in the face of unrelenting hardship due to perennial bad governance.
"This is a country so enormously endowed with immense natural and human resources yet its citizens go to bed daily without food because of inept and kleptomaniac governance.
"Let me assure you that the country Nigeria still has the full potentials, with right leadership which Peter Obi and his running mate Almed Datti represent, to take its rightful place in the comity of nations.
"I therefore urge you all to remain irrevocably but resolutely committed to the project of taking back our country through the process of the power of the ballot.
"I humbly call on all eligible voters who have registered to go and collect their PVC's without further delay because it is the only instrument to change Nigeria for better.
"God bless the good people of Esan West/Esan Central/Igueben local government areas, God bless Edo State, God bless Federal Republic of Nigeria."