BREAKING: G5 Governors Finally Reveal Preferred Presidential Candidate Ahead Of February Elections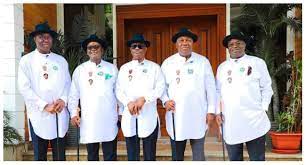 By Editor
Finally, the five aggrieved governors of the Peoples Democratic Party (PDP), Known as PDP G-5 Governors have revealed their choice presidential candidate ahead of February 28 general elections.
google.com, pub-3120625432113532, DIRECT, f08c47fec0942fa0
Following their decision to abandon the presidential candidate of their party, Alhaji Atiku Abubakar, there had been speculations that the governors would work for the opposition in 2023.
Further assertions have zeroed down on the G-5 governors supporting either the candidate of the All Progressives Congress (APC), Bola Tinubu or the flagbearer of the Labour Party (LP), Peter Obi.
Reports reveal that the aggrieved governors have abandoned the move to support a single presidential candidate in February election.
After their meeting in Ibadan, Oyo State capital, it was learnt that the governors on Wednesday night decided to support any candidate apart from Atiku.
A source that spoke with newsmen revealed that Governor Wike and the Oyo State Governor, Seyi Makinde might go for Tinubu.
The source further stated that the Benue State Governor, Samuel Ortom favours Obi with his support, while Okezie and Ikpeazu have resolved to keep their preferred candidates to themselves for the main time.
It was learnt that the governors took the decision in order not to jeopardize their personal ambitions.
The source said Ikpeazu and Okezie will silently support their preferred candidate, while Wike and Makinde will openly canvas support for their choice.
The source revealed, "They won't allow the thing to show outwardly. I think that's the way they will resolve it because local differences are at play.
"They will allow themselves to manage individual peculiarities of their areas. Even if Enugu wants to support Tinubu, he can't openly say it. He has to do it tactically or else, it will affect him. The same thing with Abia. Benue can say whatever he wants to say. Oyo and Rivers will go all out.
"So, they will Keep on managing the peculiar circumstances because they don't want to be divided. They won't want the division to spill over."
Source: Genius Media Nigeria