We Know Nothing About Alleged Killing In Uhie – Obaretin People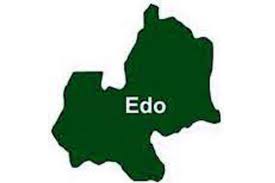 By Simeon OSAJIE
The people of Obaretin Community in Ikpoba-Okha Local Government Area, Edo State have denied responsibility for the alleged attack and killing in a neighbouring Uhie Community.
google.com, pub-3120625432113532, DIRECT, f08c47fec0942fa0
Recall a couple of weeks ago, it was allegedly that the youths of Obaretin village without provocation attacked Uhie village with dangerous weapons, killing one person as valuable properties were destroyed.
But in a swift reaction, speaking on behalf of Obaretin Community, the acting Odionwere, Pa Imuetiyan Igiebor and some elders denied the accusation.
According to the Odionwere, none of his youths went to Uhie Community let alone unleashed mayhem and subsequent killing anybody, adding that his Okaighele was not even at home when the alleged act happened; he was far away in Delta State attending to his sick wife.
"However we were shocked when suddenly one night the suspected thugs of Chief Agbonavbare aka Sereba in commando style, attacked us in a purported vengeance mission with guns and all manner of dangerous weapons; even as we speak since the attack on us by his thugs on 3rd December 2022, a young boy they forcefully adducted from his house have not been seen since then.
"They burnt down the place where we hold meetings, and a few other houses, the wife of one of our elders; a former Police officer was also shot.
"The general public should know it that we are not in any way responsible for the alleged attack and killing in Ugie as being wrongly insinuated."
"We have all the years coexisted peacefully and had no prior quarrel even as we have inter married and now blood relations. Hence, there is no basis for us to had launched an attack against them.
"However, the people of Obaretin said it is with one Chief Agbonavbare, Aka Seriba who allegedly took over their land for Palm plantation that is causing the problem.
Going further, Pa Imuetiyan Igiebor added: "The said Chief Agbonavbare had in 1993, illegally grabbed a large portion of our land claiming to have gotten the approval of the Enogie to do so.
"For clarity and proper understanding of the issue, the general public should know it that Pa Ogiewonyi was the Odionwere and Pa Imasuen Osagiede was then a member of the elders council and he took the said Chief Agbonavbare to court in the year 2002 but the suit was later struck out due to the fact that the petitioner and other members of the community who were also co-petitioner with him were no longer appearing in court".
"Following stiff resistance from the people of Obaretin, Chief Agbonavbare resorted to using Police to intimidate and arrest them even as he has destroyed all the cash crops therein, cashew, cocoa, rubber, palm trees, cocoanut and others.
"Chief Agbonavbare never bought any land from anyone, rather, our Enogie of blessed memory only gave him the Uhie axis for farming purpose, and he ended up grabbing almost the entire land space.
"Again, since 2018 we told him to leave the land but he has not been forthcoming, we don't want to go violence to reclaim our property, we are quietly considering all the relevant legal means to reclaim our land."
The Odionwere reiterated that Obaretin has no quarrel whatsoever with Uhie people let alone attacking and killing someone.
"He is the one instigating the non-existent quarrel to divert attention from our land he has seized, and we have vowed to push him back.
"I want to passionately appeal for the urgent intervention of our revered Monarch High Royal Majesty, Oba Ewuare II, Edo State Government, Police and all relevant authorities to help to restore peace in the affected area," he said.
An indigene of Obaretin Community, named Owa Osagiede also corroborated the narratives of the Odionwere accusing Chief Agbonavbare who he said is masterminding the sad development.
He said in 1993, the elders took him to court for grabbing Obaretin's land. "We don't do land grabbing here, Chief Agbonavbare is the person causing problem in Uhie not Obaretin Communities as alleged".