BREAKING NEWS: Unspecified Number of Herdsmen Kidnapped Awaiting Passengers At Igueben, Edo State Train Station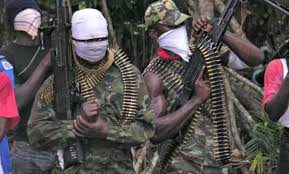 By Simeon OSAJIE
Unspecified number of herdsmen armed with AK47 riffles has attacked the train station at Igueben, Edo State and kidnapped unspecified number of passengers who were waiting to board the train to Warri, Delta State.
google.com, pub-3120625432113532, DIRECT, f08c47fec0942fa0
The kidnappers who were said to be armed with sophisticated AK 47 riffles shot sporadically into the air before carrying out the attack, which allegedly left some persons sustaining bullet wounds.
A press statement released by Edo State Police Public Relations Officer (PPRO), SP Chidi Nwabuzor confirmed the incident to have happened January 7, 2023.
Nwabuzor revealed that the Operatives alongside other Security Agents have launched a manhunt against the fleeing suspected criminals through the combing of the nearby bushes at the location, assuring of rescuing the victims in no distance time.
Recall that on March 28, 2022, an Abuja–Kaduna train was attacked in Katari, Kaduna State, Nigeria.
In that alleged attack, about 14 persons were confirmed by the authority killed and 63 were officially declared abducted.
Over N6 billion was reportedly paid to the terrorists to set most of their captives free.
In response, the Nigeria Railway Corporation briefly halted operations along the route.
The new, but similar development is a further attestation to the security threat to the unsuspecting members of society.