6 Persons Rescued As Search Team Doubles Down On Rescue Effort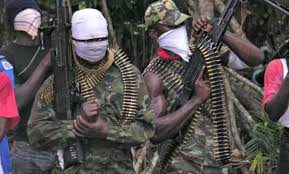 …As bandits kidnapped Edo Customary Court Judge, former EDHA member and staff of the Office of Edo State Accountant General
By Simeon OSAJIE
google.com, pub-3120625432113532, DIRECT, f08c47fec0942fa0
Edo State government has announced the rescue of six (6) out of the thirty one (31) persons abducted by kidnappers at the Ikekhen train station in Igueben local government area of the state on Saturday.
This was announced by the state Commissioner for Communication and Orientation, Chris Osa Nehikhare at a press conference in Benin City, Edo State capital.
According to Nehikhare, the six persons are, a 65-year-old man, a nursing mother with her baby, a 6-year-old girl and two siblings; aged two and five years old.
"We commend the efforts of the rescue team in the bushes and their support staff that has been working tirelessly since the incident occurred to ensure the kidnapped passengers are rescued and reunited with their families.
"We are confident that the other victims will be rescued soon as the highly motivated security personnel are in high spirits and have doubled down on the hot chase of the kidnappers.
"As events unfold in the bushes, be assured that we will keep you posted and we crave the support of all stakeholders, particularly the media to stay with the facts and avoid sensational reports that could further inflict emotional pain on the families and friends of the victims who are already in distress," he assured.
In a related development, barely 48 hours after the kidnapped of 31 person at the train station, the President of Igueben Area Customary Court, Mrs. Precious Aigbonoga, a former member of the Edo State House of Assembly, Festus Edughele and a staff of the Office of Accountant General of Edo State were kidnapped at Ugoneki town, Orhionmwon Local Government Area of the state.
While Mrs. Precious Aigbonoga was kidnapped on Monday morning around Ugoneki axis, on her way to the court in Igueben Local Government Area of Edo State, the former House of Assembly and a staff of the office of Accountant General of Edo State were kidnapped at the same Ugoneki town, Orhionmwon Local Government Area, while on their way to Benin City to board a flight to Abuja.
It would be recalled that on Saturday, 32 train passengers were kidnapped at Ikeken, Igueben train station while waiting to board a train to Warri, Delta State.
The Publicity Secretary of Benin branch of the Nigerian Bar Association (NBA), Festus Osagie, Usiobaifo, said that the kidnapped customary court judge is the wife of Mr. Afebu Aigbonoga, PDP Candidate, Etsako West Constituency 1.
"The Chairman of the Lion Bar, Chief Nosa Francis Edo-Osagie is deeply sad by this news and condemns, in strong terms, the worrisome insensitivity of these bandits in kidnapping Mrs Precious Aigbonoga; an easygoing, gentle, and hardworking judicial officer.
"Meanwhile, the Dream Team is in close touch with the Commissioner of Police, C.P. Mohammed Adamu Dankwara. By the grace of God Almighty, His Honour shall be rescued unhurt, and the bandits brought to book, Amen!
"Let us keep His Honour in our prayers, please", the statement added.