GRIDE LOCK: Commuters Appeal For Army Presence In Niger Bridge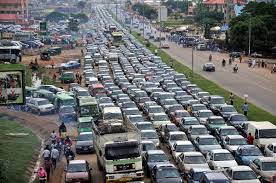 By Our REPORTER
Commuters and traders plying the Niger Bridge have appealed for the presence of the Nigerian Army personnel's presence at the Niger Bridge bordering Delta and Anambra States, to control trafficking.
google.com, pub-3120625432113532, DIRECT, f08c47fec0942fa0
They said that the call became necessary because of the regular grid lock caused by reckless drivers, bent on disobeying traffic rules without fear of being sanctioned.
According to them, the presence of the military personnel would force them to obey the traffic.
Mr. Eze Nwachukwu, a trader from Agbor, Ms Chibuzor Okonkwo a student and Madam Aina Yakubu, a trader from Edo State, lamented the suffering the grid lock has caused and as well decried the hike in price of transportation.
Commuters pay as much as One Thousand Five Hundred Naira from Onitsha to Asaba and N3,500 from Onitsha to Benin City.