Edo Steps Up Campaign Against Lassa Fever, Rallies Patent Medicine Dealers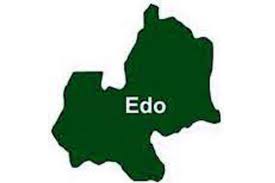 By Simeon OSAJIE
The Edo State Government is stepping up the campaign to curb the spread of Lassa fever in the state, rallying the support and collaboration of all stakeholders to contain the disease and protect citizens across all Edo communities.
google.com, pub-3120625432113532, DIRECT, f08c47fec0942fa0
The government, through the State's Ministry of Health, took the sensitization campaign to Edo Central and Edo North Senatorial Districts, meeting with patient medicine dealers in the senatorial districts so as to complement the government's efforts at containing the disease.
On the delegation for the sensitization campaign are the Incident Manager, Ministry of Health, Dr. Ekaete Tobi, State Director of Public Health, Dr. Stephenson Ojeifoh and Director of Pharmacy Services, Ministry of Health, Pharm. Mrs. Osa-Afe Tivere, among others.
The sensitization, according to the Edo State Commissioner for Health, Prof. Obehi Akoria, is aimed at forestalling a further spread of the virus to other parts of the state, noting that Edo North and Edo Central Senatorial Districts account for over 95 percent of the 40 confirmed cases in the state.
Prof. Akoria said, "The Governor Godwin Obaseki-led state government remains committed to the health and wellbeing of all residents and is taking necessary steps, including improving surveillance and sensitization, among others to contain Lassa fever and protect Edo people.
"The Edo State Public Health Emergency Operation Centre for Lassa fever has been activated since January 5, 2023, even as we have continued to rally stakeholders in the state, especially in Edo Central and Edo North where we have most confirmed cases of the virus. The two senatorial districts account for about 99 percent of all confirmed cases in the state as we recently confirmed one case in Ovia North East local council, which is the only Lassa fever case recorded in Edo South Senatorial District."
The health commissioner said the "Ministry decided to focus on the patient medicine dealers because they are the first point of call to the patients who may be manifesting the symptoms of Lassa fever and should be told to always refer such patients to the nearest health facility such as the Irrua Specialist Teaching Hospital for Lassa fever screening, where everything medications concerning Lassa fever treatment has been provided by the government for free.
"We also educated the patient medicine vendors on some of the symptoms to watch out for while attending to these suspected Lassa fever patients."