Naira Redesign: Be Patient With CBN – Obi Urges Nigerians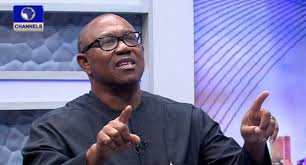 By Simeon OSAJIE
The presidential candidate of the Labour Party (LP), Peter Obi, has urged Nigerians to be patient with the Central Bank of Nigeria (CBN) over the redesigned currency, saying it has "some significant long-term economic and social benefits."
google.com, pub-3120625432113532, DIRECT, f08c47fec0942fa0
Mr. Obi made the appeal in a tweet on Sunday (5th February) morning.
According to Obi, "| urge Nigerians to bear with the CBN and Federal Government with the hope that the general populace and Nigeria will harvest the gains that will come with the reforms.
"The currency redesign is not peculiar to Nigeria. It is an exercise that comes with some inconvenience and pain but it has significant long-term economic and social benefits. Even though there are improvements that can be made."
Mr. Obi, who was the chairman of Fidelity Bank before becoming the governor of the South-east state of Anambra however, asked the CBN to "expedite efforts to make the new currency available to small depositors and the unbanked in order to reduce the pains of my fellow Nigerians, especially the underprivileged and those living far away from banks in the rural areas".
Many Nigerians have criticised the CBN and the federal government over the policy, which has brought hardship because of the scarcity of the new notes.
Nigerians, including Governor Nyesom Wike of Rivers State, have described the policy as "anti-people."
Amidst the hardship the policy has triggered, Mr Buhari, on Friday, urged citizens to give him seven days to resolve the cash crunch across the country.
Nigeria's Vice President, Yemi Osinbajo on Friday, faulted the policy and lamented the hardship it has caused.
Recall for weeks, Nigerians have been rushing to meet the CBN deadline for the phase-out of the old naira notes – N200, N500 and N1,000 amidst poor distributions of the new currency.
There had been long queues at ATMs across the country. Point of Sales (POS) centres have cashed in on the desperate situation to extort Nigerians.
The CBN, in response to public outcry, last Sunday extended the deadline from 31 January to 10 February.
There are still long queues at ATM centres despite the extension. Many Nigerians still keep vigil at the ATM to withdraw money while most POS operators no longer have cash to meet their customers' needs. Those who manage to have cash charge exorbitant fees for such transactions leaving Nigerians stranded and helpless.
…Premiumtimesng