I Am Innocent, Suspect Arrested For Sponsoring Notorious Cult Gang Insist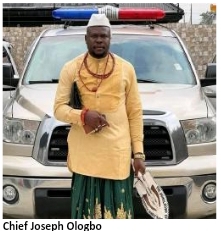 By Simeon OSAJIE
An alleged financier of the "Aro Bagger" cult group, Chief Joseph Ologbo has said that he is innocent.
google.com, pub-3120625432113532, DIRECT, f08c47fec0942fa0
The police in an official statement through its spokesperson said he was arrested by the joint operational team at a hotel in Sapele at about 8 pm on Monday, January 23, adding that ammunition was recovered from his vehicle including the regalia of the "Aro Bagger" cult.
The arrest followed a directive issued by the Delta Police Command to clamp down on the suspects following a series of cult-related killings during the Christmas and New Year celebrations.
According to the said statement by the police spokesperson, DSP Bright Edafe, the 37-year-old Ologbo was apprehended in a hotel and weapons and cult uniforms were recovered from his vehicle.
DSP Edafe said; "Sequel to the cult clashes in Sapele, Oghara, and some other parts of the State, acting on credible intelligence on an alleged sponsor of Aro Bagger Cult group and also an active member of the group, a combined team of the Command Special Anti-Cult Unit (SACU), operatives of the Department of State Service (DSS) and men of Operation Delta Hawk, stormed a Hotel, trailed and arrested one Chief Joseph Ologbo' 37yrs of Otor Community in Sapele LGA, a renowned suspected financier and member of Aro Bagger cult group.
"When the search was extended to his fully tinted Toyota Tundra Van, one unlicensed pump action gun, two live cartridges, one expended cartridge, and an Aro Bagger cult regalia were recovered."
But in a post on Wednesday night by a popular Facebook page, Renewed Sapele Times, Chief Ologbo said that he is innocent.
The poster who claimed that Ologbo chatted the page, added that the suspect revealed that the gun in his possession was not given to him by his friend Ufuoma (who is still on the run) as widely reported.
Continuing, the Sapele Times Post said Ologbo said he bought the gun himself and it is licensed, saying that it was for his personal security.
Chief Ologbo is currently awaiting trial and has since been remanded in Sapele Prison.