Man Hacks Friend To Death Over N150 Debt in Agbor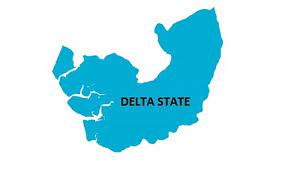 By Our REPORTER
A man has hacked his younger brother's friend to death during a scuffle over alleged debt N150 in Ekuku-Agbor, Ika South Local Government Area of Delta State.
google.com, pub-3120625432113532, DIRECT, f08c47fec0942fa0
According to our sources a fight had ensued between one Friday and Onyeka Ugbebor who was owing Friday the sum of N150,000 when his brother Chukwuma met them fighting, before the unforeseen happened.
It was gathered that Chukwuma then went to his apartment only to come out with a machete which he used to inflict serious injury on the deceased in the neck rejoin.

Onyeka Ugbebor was rushed to the General hospital in Agbor-Alidimma where he was confirmed dead by the Doctor on duty.
Sources close to the Police revealed that Chukwuma is in their custody while the deceased has been deposited at the mortuary for further investigation.
In a related development, a 29 year old woman, Blessing Moyo Akpola has committed suicide at Ekwuoma Community in Ika North East Local Government Area of Delta State.
According to sources close to The9JaTREND reporter, 29 year old woman jumped into a well in their compound, and before people could rescue her out from the well, she was already dead.
According to the police, she was confirmed dead in a private hospital at Umunede. Her body has since been deposited in a morgue in the same hospital.
When contacted, the Police said investigation is ongoing to ascertain what might have led to her death.