2023: Seek Redress In Court If Dissatisfied With Results – Buhari Cautions Candidates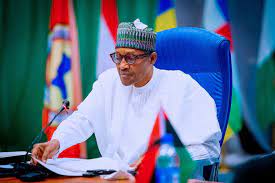 …Says he won't allow another June 12 episode
By Simeon OSAJIE
google.com, pub-3120625432113532, DIRECT, f08c47fec0942fa0
President has issued a significant statement amid the ongoing controversies surrounding the February 25 presidential election, in which the All Progressives Congress (APC) candidate, Asiwaju Bola Ahmed Tinubu, was declared the winner and given a certificate of return as president-elect by the Independent National Electoral Commission (INEC).
In view of this, President Buhari said that any candidate or political party dissatisfied with the way the election was handled or the results to seek redress in court.

In a statement headlined, "At the 5th United Nations Conference on Least Developed Countries, LDCs," the Senior Special Assistant to the President on Media and Publicity, Mallam Garba Shehu revealed that President Buhari mobilised support for Tinubu' s Presidency.
He claimed that prior to the election, President Buhari had promised in a number of local and international fora that he would make sure the elections that would mark his departure from office were credible and that the results would accurately reflect the wishes of the populace in selecting their next leader.
The Election Act, 2022's passage into law and the use of technology for the elections were signs that President Buhari was prepared to leave Nigeria with an honest and free of fraud electoral system.
The conduct and results of the February 25 presidential election, however, have been mired in controversy since INEC has been accused of not strictly adhering to the Electoral Act with regard to transmitting results from the BVAS to the iREV immediately following collation at the polling places.
Olusegun Obasanjo, a former president, was the first to warn that INEC had compromised the integrity of the election by violating electoral laws. Ina statement he released, he urged President Buhari to summon the electoral umpire to order so that the nation wouldn't be plunged into a political crisis.
However, the president' s spokesman stated that one of the key takeaways from the president' s attendance at the LDCs Conference in Doha, Qatar was that Buhari called for support for Asiwaju Tinubu' s incoming administration while speaking to Nigerians living abroad about the country' s ongoing political transition.
Nevertheless, according to Chukwuemeka Ezeife, the former governor of Anambra state, Bola Tinubu won't be sworn in as president.
On Thursday, March 2, Ezeife remarked during a programme on ARISE TV that if Tinubu is sworn in, the country will not be able to unite under one Nigeria.