Obidient Family Shuts Down Benin City, As Obi Campaign For Labour Party Candidates
By Simeon OSAJIE
As the much awaiting States House of Assembly elections slated for 18th March come closer, the presidential candidate of Labour Party (LP) in the 25th February 2023 general election, Mr. Peter Obi and his Obidient family at the National level visited Benin City, Edo State capital today, 11th Saturday to assembly support for candidates of Labour Party in the state election.
google.com, pub-3120625432113532, DIRECT, f08c47fec0942fa0
There was traffic gridlock on major streets in Benin City, as residents trooped out in large numbers to welcome Mr. Peter Obi, the Labour Party presidential candidate and listen to his message of hope for the masses amidst alleged irregularities in the February 25 general election.
Obi whose convoy drove from Ramat Park, Ikpoba Hill down to the popular New Benin Market, Mission Road and Sapele Road was almost mobbed by the crowd of supporters.

He appealed to Edo people to vote all Labour Party candidates in the 18th March House of Assembly election, assuring them that he will retrieve the mandate they gave him which he alleged was stolen, adding that he did it before in Anambra State and promised to repeat same and urged the people to trust him.
Obi also thanked Edo people for their overwhelming support for him and the other Labour Party candidates during the Presidential and National Assembly elections.
He urged the supporters to complete what they started on February 25 by voting enmass for Labour Party candidates in the March 18 election, adding that a movement which cannot be stopped has commenced.
According Labour Party presidential candidate, "I must urge the Labour Party supporters not to be discouraged by the outcome of the presidential election.
"Nigeria must not be allowed to remain the way it is. There must be a paradigm shift from the present state to a better and a prosperous Nigeria.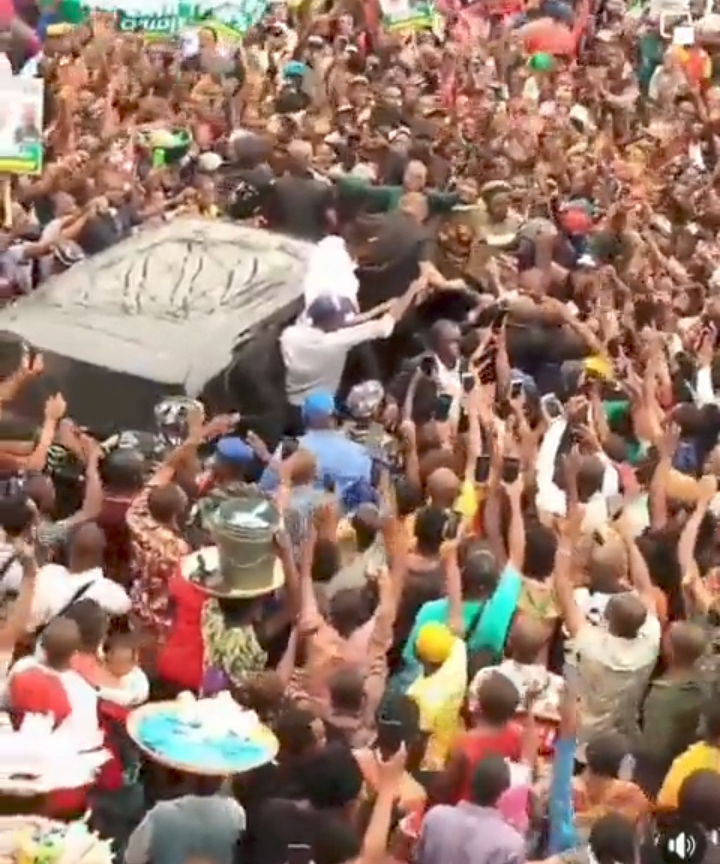 "We have begun the journey of a new Nigeria. The movement is real and nobody can stop it. We will not allow Nigeria to remain the way it is. We will continue to vote for the Labour party."
Obi said a retreat would be organised for all victorious candidates of the Labour Party to teach them what to do in the quest to change the political narratives of the country.
The National Chairman of the party, Barr. Julius Abure said the candidates of the party for the House of Assembly election in Edo State have not stepped down for anyone and that no Labour Party candidate is being sponsored by any other party.
He appealed to the residents of the state to come out en mass to vote for candidates of the party in the March 18 election to secure victory for the party.
Speaking to newsmen after the campaign rally at Adesuwa Grammar School Road, chairman of Edo State chapter of Labour Party, Kelly Ogbaloi assured that Labour Party is ready for the election and dispelled rumour of alliance with any political party and urged Edo people to vote all the party candidates across Edo State.
According to Ogbaloi, "Labour Party is ready for the House of Assembly election, it's not in alliance with any political party, it's not negotiating any anything with any political party.
"Our presidential flag bearer's visit is also to make it clear to the masses of Edo people that Labour Party is not adopting candidates that belong to other political parties. As you can see, Labour Party candidates have been showcased, their hands have been raised and presented to Edo people. We are set to win the election because Edo people are with us and will vote Labour Party candidates.
"Peter Obi also came to thank Edo people for voting him and all Labour Party candidates in the presidential and National Assembly elections. Our presidential candidate holds Edo State in high esteem, you know we won the election in Edo State".
High point of the campaign rally was the presentation of all the Labour Party candidates for Edo State House of Assembly election to Edo people by Peter Obi with an appeal to vote them come 18 March.