Tinubu Jets Out Of Nigeria Over Health Condition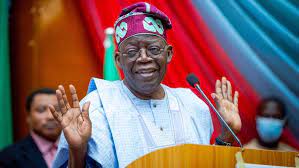 By Simeon OSAJIE
The Winner of February 25 general election and former Lagos State governor, Bola Ahmed Tinubu, has travelled out of the country for medical attention after falling ill.
google.com, pub-3120625432113532, DIRECT, f08c47fec0942fa0
Tinubu was announced winner by Prof. Yakubu Mamood, Chairman, Independence National Electrical Commission (INEC)
According to sources, Tinubu became ill after the intense election campaign that resulted in his victory, and the tension leading up to the March 18 gubernatorial and House of Assembly elections in Lagos State, where he also cast his vote.

Reliable sources (today, 22nd March) disclosed that Tinubu departed for Europe on Tuesday (yesterday 21 March) evening.
"Tinubu left for Europe for medical treatment after falling ill following the Lagos governorship and House of Assembly elections on Saturday. Local doctors attended to him initially, but he decided to seek proper medical care in Europe," one of the sources close to him revealed.
"Although he initially requested for his doctors to come to Nigeria, he eventually left for Europe on Tuesday night because of his illness," another source confirmed.
According to a SaharaReporters, Tinubu voted at his polling unit in Lagos on Saturday and posted pictures of himself voting on his Instagram page. In a statement, he urged Nigerians to vote peacefully and exercise their civic duty in the ongoing governorship and state assembly elections.
In February, SaharaReporters had previously reported that Tinubu was shown in a viral video with suspected pee stains on his clothing during a visit to the Awujale of Ijebuland.
Tinubu, along with other prominent members of his political party, was seated on a black leather couch when he rose to deliver a speech. However, his clothing had become soaked from behind, particularly in the buttock area.
As Tinubu began to speak, his security aide was observed holding his nose, and a woman in attendance immediately donned a face mask. This incident has heightened concerns about Tinubu's health leading up to the presidential election.
According to reports from SaharaReporters, Tinubu had spent more than four months in hospitals in France, the United States, and the United Kingdom between 2020 and 2022, where he underwent several surgeries.
In December of 2020, he was flown out of Nigeria to Paris, France.
After being absent for a month, Tinubu returned to Nigeria on January 24, 2021. On Thursday, June 10, 2021, he went for a medical checkup in France and was noticeably absent from President Muhammadu Buhari's one-day working visit to Lagos State.
…Sources: Scooper