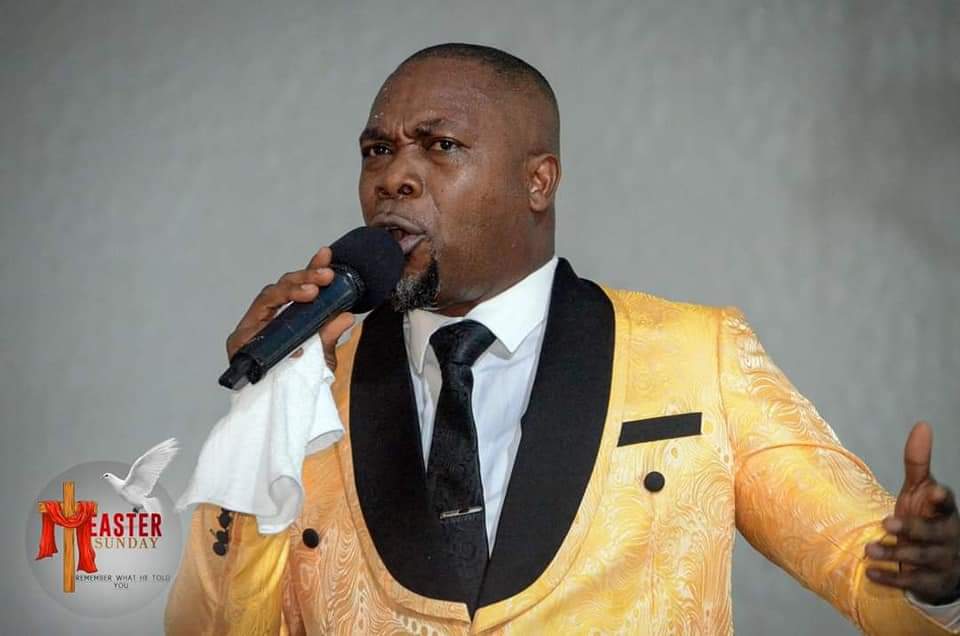 Azemhe Azena, an alumnus of Auchi Polytechnic, Auchi, Edo State is the Regional Pastor with Omega Fire Ministry, with headquarters at Aduwawa, Ikpoba Hill, Benin City, Edo State. An indigene of Okpekpe in Etsako East Local Government Area of Edo State. In a chat with The9JaTREND, he gives an insight into his rise from grass to grace. Excerpt:
Brief biography
google.com, pub-3120625432113532, DIRECT, f08c47fec0942fa0
I was born and brought up at Okpella in Etsako East Local Government Area. I'm married to Pastor Precious Azemhe Azena. My wife is a Benin woman and we are blessed with four kids.

Beginning of christian ministry
You know it is not possible to be born as a Pastor. I was born just like every other person; I lost my mum at the age of ten, precisely, on January 24,1991. That was when my life started. My mother had six children and I'm the 5th child; however, from my father's side, we are 17; my family is a polygamous one. The year my mother died, was the year I concluded my Primary Six Examinations. In my JSS1 at Okpella Comprehensive High School, I had to venture into many things, as nobody was paying my school fees.
The first I started was wheelbarrow pushing. I did it for five years. The wheelbarrow pushing was on market days and most times, the market days fall two times a week, and if it falls two times, it means that I will not be in school for those two days . That was how I started. At that time, I discovered that many people were into the business of wheelbarrow pushing and I was not getting many customers again. When I was no longer getting patronage, I had to venture into farming and hunting where I will go to the bush, hunt animals and sell. However, at the time I found out that I could no longer meet up, I had to drop out of school to face my farming business.
At another point, I went into Okada riding; that was in 2005 and I was balancing the owner of the Suzuki-120 Motorcycle #50 per day. I used different bikes – Suzuki 100, later, Yamaha and RS that the owner gave me on higher purchase. The price then was #40,000 and to balance #80,000. After balancing,I started going to Ikare in Ondo State to buy bikes for people; sometimes, I will go to Nnewi in Anambra State to buy bikes for people and they will pay me. Sometimes, we do it two or three times a week.
However, in 2001, the then government of Lucky Igbinedion said that bike riders should be separated from the National Union of Road Transport Workers (NURTW). The riders association was registered as (ESCOBRU). I contested and held different positions, including Park Chairman, Patrol Officer. I also, contested and became the state Vice Chairman. The Chairman was from Edo South, while the Vice Chairman was to come from Edo North.
After all these things, I sat down and told myself that I have done bike work for nine good years and things were not getting better; my dreams in life were not being fulfilled. I then decided to go back to school. But, what I did was that, instead of going back to the school where I dropped out, Okpella Comprehensive High School, the reason is that it will be difficult for me to cope because my mates have all gone, I went to Local Government Secondary School, Agassa, in Okene Local Government Area of Kogi State. I registered for WASSCE and NECO and rented a room there. I will use my bike to go there, attend classes, then will go back on weekends. I got my result in 2002. Then, I wanted to stop the bike business, but my situation then does not warrant stopping it. I used to tell people that since my mother died till now, nobody has assisted me with money in the struggle of life. I wanted to study Law, but after doing my investigation, I was told that the law is very expressive, the books and other things. So, I opted for Mass Communication and got admission for a part time programme at Federal Polytechnic, Auchi, Edo State in 2003. I was doing the bike work till my OND year; that was the year I decided to drop the bike work because I was having a health challenge. The problem then was that if I say I don't want to do bike work, I will see myself going back to it again. What I did was to sell the bike and go into a teaching Job at Obigbo, in Port Harcourt …
Venture into full time ministry
It was after my Industrial Training when I came for HND in 2007. I visited Omega Fire Ministry, Auchi and met Apostle Johnson Suleiman. There, I took a Bible School form and completed the course (Diploma in Theology). I was doing my HND but, completed the programme before my HND in 2008.
In 2009, I was transferred to my first branch in Fugar; I was in Fugar till my NYSC Call-Up letter came and I was posted to Owerri, Imo State to serve. It was after my service that I was transferred to a branch in Iyaro, Benin City in January 2010. In August 2010, I was transferred to where I am now.
Point of breakthrough?
I can't say that this is the particular year that I actually had a breakthrough in life. You know life is like a growing tree, you can never explain how the growth occurs. Like the human being, you cannot say at what point you started growing old; all you find out is that your face has started changing. I just discovered that after I got married, my life started changing; when I was preparing for marriage, I only had #2,500 in my account. It was not accidental. After my marriage, things were moving gradually to where I am today. There was no time that I can say that I got money and my life changed. But,I just discovered that things were beginning to get better for me. I cannot tell you if there is a specific time or date.
Inspiration
There is something that motivates me. But, before the death of my mother,she was actually my motivator. My mother has some sweet words she does tell me. Things like,"the reason I tell you to go to school is because, tomorrow,when you become a big man,you can enjoy yourself." Sometimes, when a car passes, she will tell you, "look at this man, he is enjoying because he has gone to school; so, go to school so that you can become a big man." But, when she was no longer there, her words were always ringing in my head. So, when I see some people, I'll say, "look at this person, he does not have two heads, I can do it. That I can do it spirit has been my driving force and also God." As the Bible says, "Train up a child on the way he should go and when he grows he will not depart from it." My mother was a Deeper Life member when she was alive. So, she inculcated the fear of God in us. The fear of God was a very key force. Though, there was a time I backslided. But, I got inspiration from God's word. I read the story of Joseph, who was sold by his brothers, yet, he became somebody in Egypt. The story of David that was a Shepard, but later became a King; I read the story of otheall r great men in the bible. The story of Samuel. These things gave me motivation. Today, I don't compete with people, nor do I compare myself with others. But, when I see you, I will say, okay, if this man can do this, it is possible for humanity.
Regrets
Yes, in every experience in life, there must be some mistakes, though,these experiences have helped me in life, but when I look back, I will say, If I had known, I would not have done it this way. One of them is that at a time,I left God and joined the world. I joined some bad gangs. At a time, I was arrested, but was not jailed, that would have nailed every ambition that I have today, because I left God and began to follow bad gangs. So,I am regretting the time I left God to join the world. But it makes me understand what it takes to live a godly life and what it takes to live a worldly life. I have tasted both, gained both experience and I can advise others today. However, it is not everybody who tasted that life that would be able to go back. The reason is that, within that period, there was nothing tangible, both physically and otherwise that I gained, but a very difficult experience. Apart from that, there is nothing again in life that I can tell you that I regretted doing.
Advice for young persons
My advice to youths going through a similar experience; First of all, don't give up! The second advice is don't deviate from the right thing because you are in a hurry to stand out. Every one going through the same problem should know that it is a training ground. One day, you will come out of it. It is not going to be permanent. How will you come out from it? Be focused on that good part you have been following. Also, believe in yourself, because, no matter how people believe in you and you don't believe in yourself, you go nowhere. But, if people don't believe in you and you believe in yourself, you will go to places. Look inward; what you need to be great is inside you. Just as I said earlier that from 1991 till date, nobody can say that he or she gave me money for my education or to start a business, Nobody has done it. People think greatness is when you know somebody, Paul said, "I can do all things through Christ who strengthens me." When you look inward, you will find out that what you require is in-built. Lastly, you must be patient to follow life the way it is. One of the major problems of youths today is impatience, Even to cook food, somebody prefers to buy food. This is a problem with the youths, step by step, you will get to your destination. Remember," Rome was not built in a day."
Assessment of the 2023 General Elections and advice for politicians?
I am not too comfortable with our electoral process, our ideologies; I am not too comfortable with the way our leaders think and handle issues, especially the desperation to lead. That is the genesis of all electoral crimes in Nigeria. Desperation to lead! That is why someone would hire thugs; That is why somebody will snatch ballot papers; that is why someone can forge documents, buy votes. As I said earlier, we should navigate from the analog to digital electoral process. That is the solution. Also, I am not comfortable with the character of the electorate. People still have this mindset that we should allow things to go the way it has always been. People still believe that you can sell your vote or your voter's card. Finally, we are not growing, the economy is not growing. If you are used to our economic system you will know that we are getting to a point, where we may not get up. So, if our leaders love this country, they should do away with selfish interests and gains and focus on our collective interests and governance. When you go to the US, you see people say, I'm proud to be an American; but here, nobody will tell you that he is proud to be a citizen. He will only tell you, I am Mr this, not that I am a citizen of Nigeria.