New Twist In Ologbotsere Dispute As Ayiri Says He Submitted Fake Beads To Olu Of Warri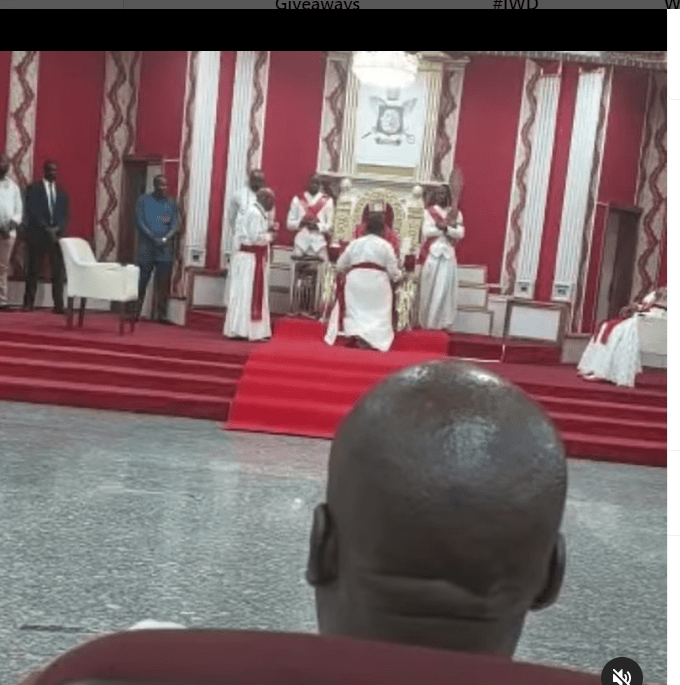 By Simeon OSAJIE
The deposed Ologbotsere of Warri Kingdom, Ayiri Emami, has said that he did not submit his authentic beads and sword to the Olu of Warri, Ogiame Atuwatse lll.
google.com, pub-3120625432113532, DIRECT, f08c47fec0942fa0
Ayiri made the disclosure through his spokesman, Mr Alex Eyengho, on Sunday in Warri.
The News Agency of Nigeria (NAN) reports that the Olu of Warri had formally invited Ayiri and the Ologbotsere family on Sunday to his palace for a reconciliation meeting.

"What happened at the palace today is part of the script that has been ongoing in the past two years or thereabout.
"After meeting with the Ologbotsere family, I had the premonition that something like this will happen.
"I can say it loud and clear that the beads and sword I submitted at the palace are fake. I suspected that something like this will happen and I prepared myself. The real beads and sword are here with me,"' Emami said.
He said that the beads were given to him by Ogiame Atuwatse 11 and Ogiame Ikenwoli.
"I speak on behalf of the Ologbotsere descendants worldwide that when someone is given the title of Ologbotsere, it is till death.
"As at today, I am still the Ologbotsere of Warri Kingdom," Ayiri said following the claim of submitting fake beads and sword to the Olu.
Ayiri, who is a chieftain of the All Progressive Congress (APC) in Delta, said that several reconciliatory committees had been constituted to resolve the issue and all to no avail.
He noted that the last committee that led to the formal invitation was headed by Pastor Ayo Oritsejafor, Founder, Word of Life Bible Church.
Ayiri quoted Atuwatse 111 to have said in the invitation notice that all Ologbotsere chiefs should bring their beads to the palace and specifically himself.
"Atuwatse 111 said that he had dreams on two separate occasions and in one of the dreams, my father asked him to give back to me the Ologbotsere title.
"In the second dream, Ikenwoli told him that what he did in the secret, he should help him to do it in the open by reconfirming Emami as the Ologbotsere of Warri Kingdom," he quoted Atuwatse 111 as saying.
Emami said that having held the title of Ologbotsere of Warri Kingdom, he could not be cajoled with a lesser title of Eyela that was held by his father in the interest of peace.
"You cannot move forward and start going backward in the interest of peace as such peace can be that of the graveyard and we do not want that," he said.
Earlier, Atuwatse lll at the palace before hundreds of sons and daughters of the Warri Kingdom said that he was not interested in what would divide the Iwere (Itsekiri) nation.
Ogiame noted that he had had several dreams on the issues hence the move to reconcile with the Ologbotsere family in the interest peace and development of Itsekiri nation.
He told the people that the Ologbotsere title remained the highest title in the Warri kingdom. (NAN)