International Biomedical Laboratory Science Day: Seek Services Only From Registered Medical Laboratories – Edo Govt. Urges Citizens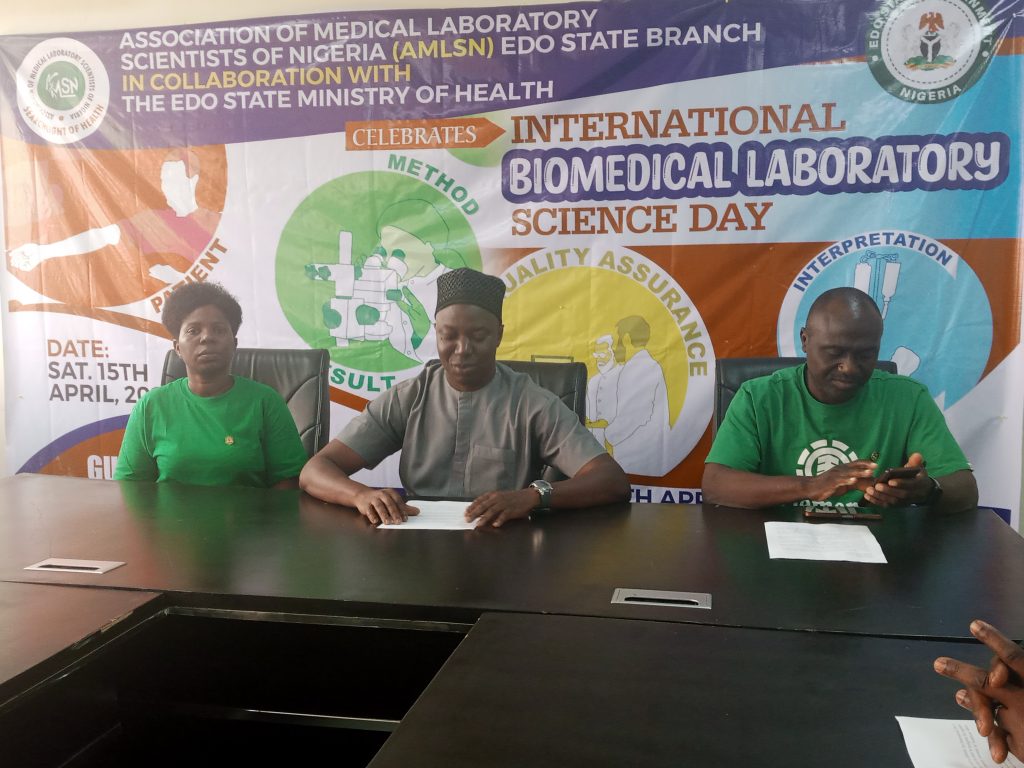 By Simeon OSAJIE
As the world celebrates this year International Biomedical Laboratory Science Day, the Edo State government has urged citizens to seek the services from only registered Medical Laboratories and to verify the authenticity of personnel and facilities from the Ministry of Health.
google.com, pub-3120625432113532, DIRECT, f08c47fec0942fa0
The advised was given by the Permanent Secretary, Ministry of Health, Dr. Stanley Ehiarimwian during a press briefing to marks International Day of Biomedical Laboratory Science in Benin City, the Edo State capital.
According to Dr. Ehiarimwian, today is set aside to recognize the important contributions of biomedical laboratory scientists to healthcare delivery worldwide.

"This year's theme: 'Guardians of Quality and Patient Safety: Biomedical Laboratory Scientists,' is apt in the light of the current challenges facing, our healthcare system, particularly with regards to quackery in the medical laboratory services.
"As guardians of quality and patient safety, medical laboratory scientists are responsible for ensuring that laboratory test results are accurate and reliable. Their work is critical to providing Clinicians with the information they need to make diagnosis and determine the best course of treatment for their patients.
"I wish to commend the hard work and dedication of all medical laboratory scientists in the state, whose contributions to healthcare delivery cannot be overstated. They are the silent heroes of our healthcare system, working tirelessly behind the scenes to ensure that patients receive the right diagnosis and treatment.
"However, as we celebrate these contributions, we must also address the infiltration of quacks in the medical laboratory practice. Quackery in the medical laboratory is a growing concern that threatens patient safety and undermines the integrity of healthcare delivery. It is, therefore, important for all stakeholders to work together to combat this scourge."
Going further, Dr. Ehiarimwian opined that as a government, we are committed to promoting quality and safety in laboratory services in Edo State. We will continue to work with the Medical Laboratory Science Council of Nigeria (MLSCN) and other stakeholders to ensure that only registered laboratories and licensed medical laboratory personnel are allowed to operate in the state.
He assured that government will continue to invest in the training and retraining of medical laboratory scientists to ensure that they are equipped with the skills and knowledge needed to deliver high-quality laboratory services.
"We have planned a range of activities aimed at raising awareness about the dangers of quackery and promoting quality and safety in laboratory services. These activities, he said include press briefing, public sensitization campaigns and medical outreach."
He therefore called on all medical laboratory scientists to continue to be the guardians of quality and patients' safety in the laboratory.