'I Watched In Horror As They Slaughtered My 10-yr-old Daughter Like An Animal'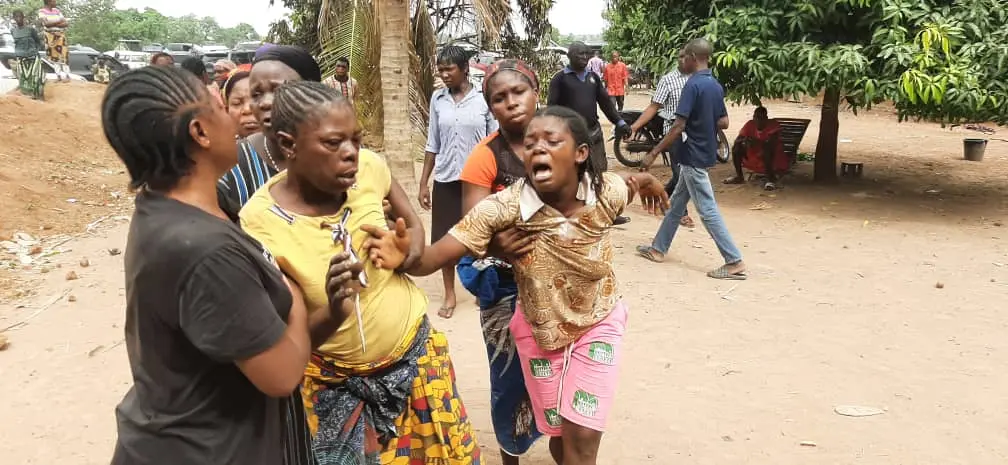 Survivors' Story Of Benue IDP Camp Massacre
By EDITOR
google.com, pub-3120625432113532, DIRECT, f08c47fec0942fa0
Not a few are still in tremor and terrified by Good Friday's dreadful armed herdsmen murder of about 40 Internally Displaced Persons, IDPs, and members of their host community in a camp at the LGEA Primary School Mgban, in Nyiev Council Ward of Guma Local Government Area, LGA, of Benue State.
https://5ebddedc0c835b4311d51dd2a7d54e57.safeframe.googlesyndication.com/safeframe/1-0-40/html/container.html On that auspicious day, according to an eyewitness, the armed bandits stormed the community, which had a police checkpoint located directly opposite the camp on the stretch of the Makurdi-Lafia road, at about 9 pm.

They came shooting sporadically after obviously overpowering the police personnel on stop-and-search duty at the time. The invasion took the entire community unawares and left in its trail the death of women, many of them pregnant, children and the elderly in the IDP camp and host community who could not flee before the gunmen got to them.
Not spared by the invaders was the traditional ruler of the community, the Tyoor Nyiev, Chief Bernard Shawa, who, aside losing his two children, also had his cars and motorcycles vandalised and burnt.
https://googleads.g.doubleclick.net/pagead/ads?gdpr=0&us_privacy=1—&client=ca-pub-7532470883667401&output=html&h=250&slotname=3307723066&adk=2457667863&adf=2198001095&pi=t.ma~as.3307723066&w=300&fwrn=4&lmt=1682228042&rafmt=11&format=300×250&url=https%3A%2F%2Fwww.vanguardngr.com%2F2023%2F04%2Fi-watched-in-horror-as-they-slaughtered-my-10-yr-old-daughter-like-an-animal%2F&wgl=1&adsid=ChEI8IuOogYQ0OmQxI6iwbfkARI5AAFabSULssValtDIZFGbiOxmJdKKYgeUdHJ_r9zzq55wAv5FWfVvs6CPepANHHMSBC_NKXJl7CSt&uach=WyJXaW5kb3dzIiwiMTQuMC4wIiwieDg2IiwiIiwiMTEyLjAuNTYxNS4xMzgiLFtdLGZhbHNlLG51bGwsIjY0IixbWyJDaHJvbWl1bSIsIjExMi4wLjU2MTUuMTM4Il0sWyJHb29nbGUgQ2hyb21lIiwiMTEyLjAuNTYxNS4xMzgiXSxbIk5vdDpBLUJyYW5kIiwiOTkuMC4wLjAiXV0sZmFsc2Vd&dt=1682228387842&bpp=1&bdt=21182&idt=1&shv=r20230418&mjsv=m202304180101&ptt=9&saldr=aa&abxe=1&cookie=ID%3D2dc4e1e7d606c743-22efd5e831d700f5%3AT%3D1663056339%3AS%3DALNI_MbHWlNdkIkSPaXpF8JJUIjXol3-IQ&gpic=UID%3D00000ace5d46e18b%3AT%3D1663056339%3ART%3D1682228019%3AS%3DALNI_Mae5hwwVvA-YFO4BCFPQWh3ppphOw&prev_fmts=0x0%2C140x280%2C164x546&nras=3&correlator=6178741583898&frm=20&pv=1&ga_vid=348370970.1663056362&ga_sid=1682228373&ga_hid=262931344&ga_fc=1&ga_cid=1252598507.1682228336&rplot=4&u_tz=60&u_his=5&u_h=900&u_w=1600&u_ah=852&u_aw=1600&u_cd=24&u_sd=1&dmc=8&adx=534&ady=2394&biw=1583&bih=692&scr_x=0&scr_y=935&eid=44759875%2C44759926%2C44759837%2C31071756%2C31074025&oid=2&psts=AHQMDFfchRZnSmC85S1wN_aJdoxa92vD5BqyQLBPrDVih9pckGykUlFG_uoeD3M5msCMGO3WCXk4yvcA_de1armKucPE2zz3WOaTGRgwfeTSSc2dw-5BUQ%2CAHQMDFcgj_pJaOo-LcbiHw6PXWKEwewXSuf8bhv2vLKWtNEoZzewq-4mnP3RUYfFZ0cVQJ4p-4rEOfHnCyN7XW_RaW9uQIJdzmhO2fi02UCIBbVa3cFIDQ&pvsid=4444743726793394&tmod=809662245&uas=1&nvt=1&ref=https%3A%2F%2Fwww.vanguardngr.com%2F&fc=1920&brdim=0%2C0%2C0%2C0%2C1600%2C0%2C1600%2C852%2C1600%2C692&vis=1&rsz=%7C%7CpeoEbr%7C&abl=CS&pfx=0&fu=128&bc=31&jar=2023-04-23-04&ifi=9&uci=a!9&btvi=3&fsb=1&xpc=C32KjBxqN2&p=https%3A//www.vanguardngr.com&dtd=6 Findings indicated that the majority of those killed were mowed down by the armed men in one of the classrooms which was converted to a sleeping space for the IDPs.
They were reportedly shot and killed in their sleep like common criminals on death row.
Just few of them actually made it out of the classroom alive but the majority of those are battling for their lives in the hospital.
The attack also left about 40 others in critical condition with many of them suffering bullet and machete wounds.
Ordeal
Some of the IDPs who survived the attack, including the District Head of the community who lost two children, Shawa,, narrated their ordeal and gave a heart-rending account of how they miraculously survived the attack and how their loved ones were gunned down by the marauders in their presence.
https://imasdk.googleapis.com/js/core/bridge3.569.0_en.html#goog_1387310172 In his account, Shawa, amid wailing and crying from families in the community, narrated how the armed herdsmen stormed the community between 9 and 10 pm on the said day, saying, "I was sitting outside with my children when we started hearing gunshots from across the road.
"We were all shocked and we started running to escape from the armed men. Unfortunately, two of my children, a boy and a girl, did not make it, they could not escape; they were gunned down by the attackers.
"And because we have a point checkpoint on the road, displaced persons normally take shelter at the LGEA Primary School. The gunmen also opened fire on the IDPs and people in the community, shooting and killing our people as they spoke their language.
"Before this particular invasion, they had also attacked our community on February 25, 2023. On that day they killed 12 of our people."
…Source: vanguard