Edos Are No Conquered People – Aziegbemi Tells Tibunu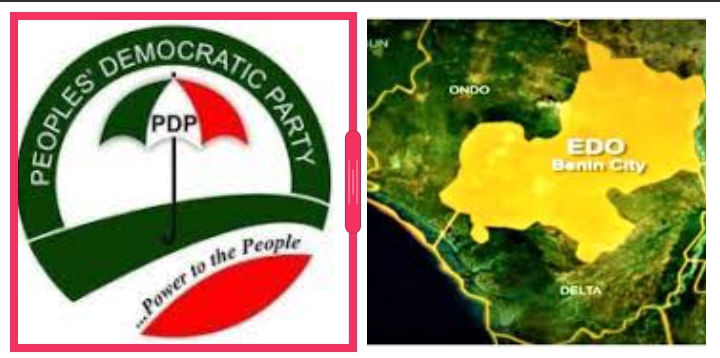 By Simeon OSAJIE
Ahead of the Edo 2024 Governorship Election and coupled with the campaign statement credited to Asiwaju Bola Ahmed Tinubu, Prrsident-elect, which has gone viral, saying he will "gift Edo state to Comrade Adams Oshiomhole and the APC when elected president", a statement which the state chairman of the Peoples Democratic Party (PDP), Dr. Tony Aziegbemi described as "unpresidential and not good enough to be heard from a statesman, let alone a presidential hopeful, as it were."
google.com, pub-3120625432113532, DIRECT, f08c47fec0942fa0
Dr. Aziegbemi who stated this in a chat with newsmen in Benin City, Edo State capital said, "for as much as many would say campaign statements may not be binding, but for a supposedly reliable politician, campaign promises are bound to be kept.
"As such, we as a people are not seeing this as a mere campaign statement but a grand plan to gift us as political compensation to a friend for supporting your campaign to be president.

"Edo people are more and better enlightened to know what is good for them as against been treated as an article for compensation.
The PDP chairman further stated that "Edo State fared better in opposition under a PDP government in the last few years when compared to some other APC States. What we need as a people is good leadership that is people rooted and focused."
He then called on the President-Elect, APC chieftains and their party to "wake up to the reality of the fact that as Edo People, we are proud of our valued independent mindedness and would resist any attempt by anybody, no matter how highly placed, to turn us to mere article of trade or materials to be gifted to friends as compensation. They should be reminded that the blood of our fathers that built The Great Benin Moat in the 14th Century still flows in our veins."
Dr Tony Aziegbemi then called on all Edo people within and in Diaspora to "shine your eyes and defend your state against political invasion aimed at milking our collective resources and wealth to create a business empire for an individual."
There is no doubting the fact that our party, the PDP, has been so committed to a remodelled, rebranded and refocused Edo State, which must be sustained. We have never gifted you to any individual and we don't intent to do that. Rather, we have always worked with you, showing a direction towards a better state for our future generation.
"I make bold to tell you that as the party steering the ship of Edo State, we remain focused and committed to serving you better so that the dividend of democracy currently provided by our amiable governor and leader, Mr. Godwin Obaseki will not be derailed or truncated."