Tinubu, Melaye and Witches of politics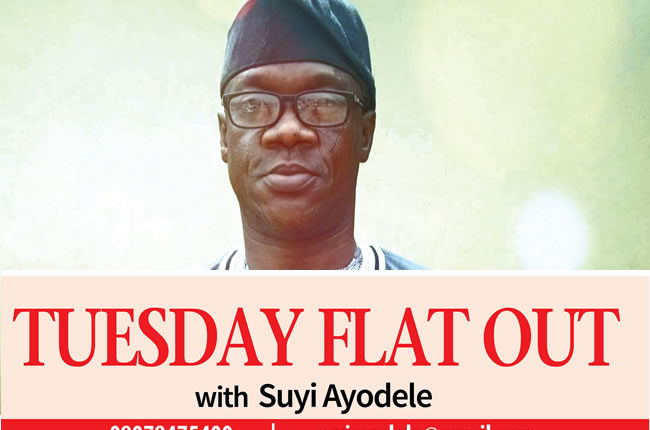 By Suyi Ayodele
The president-elect, Bola Ahmed Tinubu, is a lucky man. Next to him in luck is Senator Dino Melaye, the PDP governorship candidate in Kogi State. Melaye will be lucky if he heeds the instructions of those who have given him their own version of 'Expo 2023' for the governorship election slated for November 11, 2023. If I were him, irrespective of my faith in the Lord, I would do what he was asked to do. Don't doubt my spirituality, folks. I remain in the Lord. I am only just being circumspect here. After all, our Lord Jesus Christ, when confronted with the legality of paying taxes to the Roman Empire admonished thus: "Render therefore unto Caesar the things which are Caesar's; and unto God the things that are God's" (Matthew 22:21). Ifa, the Yoruba main religion, in an Odu (Ifa Corpus), talks about "Òhun ti Ifa ni ti Ifa, òhun Toore ni ti Oore; Ògbé mu òhun fun olohun". The simple interpretation here is the same as the admonition by Jesus on taxes – what belongs to Ifa is Ifa's and what belongs to Oore (king of Otun Ekiti) is Oore's; this is an Odu of rendering to the owner, what belongs to the owner. One day, theologians will define the nexus between ATR, particularly Ifa, and the Holy Scripture.
google.com, pub-3120625432113532, DIRECT, f08c47fec0942fa0
A week or so ago, the unusual news hit us all that the Nigerian witches and wizards have shown interest in our politics. I read the news and I was elated! Hey, my celebration is not in veneration of those metaphysical powers; lest I am excommunicated. I celebrated because Nigeria has given to the world another idea that is organic to us as a people. According to the reports, a group which goes by the name, "The White Witches and Wizards Association of Nigeria," met in Calabar, Cross River State and declared its support for the presidency of Tinubu. Now, you need to understand the workings of the powers mentioned as members of the association to be able to appreciate the import of their support. There is no point for pretence here. Witches are as old as creation itself. The Bible, in 1Samuel 28:7-39, says that at a time King Saul, the very anointed of God, became troubled over an impending war, he sought the services of a certain woman, known as the "Witch of Endor". This goes to show that right from the time of the Old Testament, there had been a power that human beings could consult for guidance. Coming back to the African world belief, especially my native Yoruba religious thoughts, witches, otherwise known as "Awon Iya mi" (My mothers) exist to maintain spiritual equilibrium. The Yoruba belief in witches, and their male counterparts, wizards, is as old as humanity. These sets of esoteric beings have their roles to play in the socio-cultural cum political setup of the Yoruba system. So, it is not out of place that in the year 2023, these groups of people have found a Yoruba son, Tinubu, worthy of their support. However, I found the method of support intriguing.

I had a personal experience alongside two of my elderly ones. The three of us involved were my late cousin, mentor, and leader, Ayegbusi Rufus Akannin, aka, Osanobua, another elderly fellow and leader, who is now a principal officer in a federal tertiary institution and my humble self. I cannot relay the experience here for certain reasons. Besides the fact that my cousin is late, I have not been able to secure the consent of the other older brother to make the issue public. Again, while on a series on my Facebook page in honour of my late cousin, an older relation stepped in and halted the entire process. He considered the issues too 'dangerous' and placed a ban on it. I have not succeeded in persuading him to lift the embargo and I dare not go against his wish on the matter. Suffice to say here that whoever doubts the existence of these esoteric beings known as Eleye, does so at his own risk. Our elders admonish that we should ignore those who are ignorant of life's mystery (Eni ti o ba mo Aye, e ma wo won ni ran) because "Aye o ni so pe oun de" (Aye does not announce its arrival).
When the news broke and it was stated that the witches and wizards addressed a press conference, I was confused. First, by their name, The White Witches and Wizards Association of Nigeria, presupposes that they must have registered with the Corporate Affairs Commission (CAC) and assigned a registration number. If you take that further to the legal realm, it means that the group is a legal entity that can sue and be sued! What? Awon Iya mi can be taken to court? How? Who will initiate that move? Who will be the presiding judge? When did Awon Iya mi, who salute themselves as "Apani ma wa'gun, olokiki oru" (He who kills without physical appearance and who causes alarm at the dead of the night) become daylight operators? When did the "Arugbo Eye abiye tiele (An old bird with fluffy feathers) turn to mere mortals who can be seen in daylight? What happens to their appellation of "kata kata ni aje njoko ni idi oru" (witches who sit in uncoordinated form at their night coven)? Who is holding the certificate of registration of the "Osoronigas"? Who are their trustees? Interesting!
I cover myself with the Blood of Jesus! I had promised to stay faithful to my Christian calling as a Born Again child of God. But, like our elders are wont to say: "Omo buruku kii je ki oro ana tan" (A bad child keeps bringing old issues to the fore). Nigeria politics is very interesting. Truth be told, we have a political template that the world can copy and should copy for world's stability. We are damn too novel in our political outings. Our politics has moved from the analogue stage to the digital and then to a more sophisticated celestial level. The owners of metaphysical powers are also interested in our political wellbeing as a nation. The Holy Book, the Bible in Matthew 18:18, says: "Whatsoever ye shall bind on earth shall be bound in heaven; and whatsoever ye shall loose on earth shall be loosed in heaven". My little knowledge of the African Traditional Religion (ATR) confirms this biblical injunction to wit: "Bi Ewi Aye se nwi, ni Egba Orùn ngba" (Just as the earthly speaker says it, so, does the celestial approving authority sanction it). We are in for interesting times.
The last election, especially the February 25, 2023, presidential and national assembly elections, would go down in history as one that has affected every aspect of Nigerian life -cultural, traditional, spiritual – and what have you. The after effect is the daylight declaration by the witches and wizards. According to the report, the spokesman of the group, Dr. Okhue Oboi, while speaking in Calabar, said that 300 witches and wizards had been mobilised to ensure that no harm comes near the president-elect. The choice of the number, 300, is significant. Three hundred is known as "Oodunrun" in Yoruba numerical system. The numerical system, according to Yoruba mathematicians, is a "vigesimal system (based 20), combined with a decimal system (based 10)." The people's world view also places emphasis on the number three. The three-way junction (orita meta) is considered the place where the Eleyes meet. Esu, the trickster deity too, is believed to be resident at orita meta. So, when the witches and wizards said that 300 of them (using the based 20 system to arrive at hundred – ogoorun – and having it in three places to make up 300) underscores the seriousness of the group that has decided to support the president-elect. Oboi went further to state that his members were not happy about the way politicians had been conducting themselves since Tinubu was announced as the winner of the February 25 presidential poll. That can be very dangerous for those politicians who are seen as troubling the very anointed of Awon Iya mi. I will tell you why. In the first place, the Iya mi Eleyinju ege (My mothers with beautiful eyeballs) are not the type of beings in whose bad records anyone should be. As a matter of fact, they don't discriminate between the well-behaved child and the street rascals. Yemi Elebuibon, a renowned Ifa priest, in one of his books titled: "Invisible Powers of the Metaphysical World: A peep into the World of witches", records that while at the crossroads of life (Agbabrisaala aye), Orunmila asked the witches where they were headed, and they responded that they were departing to the world. Orunmila further asked what their mission would be, and they answered that they "Would wage war against men and be in combat against women. Those who have business would not prosper; the sick would remain bedridden". Orunmila pointed out that he had his children on earth and inquired if they would be spared. The Eleyes responded that they "don't know anybody, yours is to fight anyone) (Pages 33-34). That is the nature of those who have elected to provide security for Tinubu; those wishing him anything untowardly have Awon Iya mi to contend with. Tinubu is a lucky man; those behind him hardly lose any battle.
Truly, these elements can be very generous if any man finds favour with them the way Tinubu has. It is no fun when those who know Aye (another name for witches) call them "Abiyamo ab'oja gbooro gbooro" (A good mother with long swaddling cloth). Once the Eleyes love you, no matter which sacrilege you commit, you are forgiven. How do I know this? They have yet some other praise names. They are called the mothers who warned against defecating in the palm oil keg and when one does, they scold him not (won ni e ma su s'epo, e su s'epo, won o ba yin wi rara). When they love you and warn you not to pee on the white garment and you do, they look the other way (won ni e ma to si ala, e to si ala, won a ba e wi rara). Even when you decide to clean your anus with the most expensive parrot feather after warning you, they also overlook the infraction (won ni o ma fi iko odidere nudi iyebe iyebe, e fi iko odidere nudi iyebe iyebe, won o ba o wi rara). They are so forgiving, especially when it has to do with a favoured one. So, if you have been wondering why your next president has been getting away with every perfidious act associated with his personality from the cradle, wonder no more. Those who are behind him are the very ones who can do the unthinkable and who are as unpredictable as the weather. If you add this to the Ayajo (invocation) that accompanied the Tinubu's campaigns, then you will properly situate his identity.
But Dr Oboi got me worried, all the same. What type of Aje (witch) is he? Witches and wizards are not seen in the open market. How come that Oboi's group are not just known, but they are legal entities. Yeah, some witches can be bold. These ones are called "Asaje mase" (she who does not deny her witchcraft). There is a story of a woman who was accused of being a witch. We were told that she had confessed (which in Yoruba Language is called 'ka'-count) on several occasions. People talked behind her. And she was very popular. One day, she had a quarrel with another bold woman. During the altercation, the other woman, for want of what would hurt the esoteric fighting partner, said: "Mi ki se iru e to ti ka ni aimoye igba (I am not like you who has confessed- counted- several times". While the spectators exclaimed, "Ha", the other woman (alleged witch) answered: "Looto? Eni ba m'oye lo nka" (Really? Only those who are knowledgeable can count). End of story! Does Oboi belong to that group; the bold, non-denying witches? He must be because rather than choosing the dead of the night to express his group's support for Tinubu, Oboi called in the cameras and pen pushers! Our world is indeed changing. Those who are known as "arin sese (he who walks stealthily) and "apa sese lori irawe lai pariwo' (he who walks on dry leaves without making noise) are now in the open space addressing a press conference!
Not done, Oboi said his group had also met with their partners in Kogi State over the governorship election. Hear him: "We have met with the Igala, Ebira and Yoruba population in the state |(Kogi). We met Igala people in Idah, Ebira people in Obehira and Yoruba people in Kabba and listened to them. We advise Dino Melaye to see us if he is desirous of realising his governorship dream. If he listens to our advice, he will laugh because the trees and waters of the confluence state will vote for him regardless of whether Governor Wike supports him or not. It will be in Melaye's interest to see us too so he can smile. If he fails to see the witches and wizards, he will regret it because he will not win the election." I think, most sincerely, that Melaye should heed this call and see Oboi and his gang. Space will not permit me here to tell the full story. There is a correlation between Oboi's allusion to 'the trees and waters of the confluence state" voting for Melaye and how an old Babalawo known as Ologbojigolo conjured trees and leaves in an ancient town called Apa (the hometown of Ogun the god of iron) to fight the enemies that had been raiding the town before the arrival of Ologbojigolo. Besides, our Lord, Jesu Christ, in the Gospel according to saint Luke 19: 40 says: "I tell you that, if these should hold their peace, the stones would immediately cry out". I have been to Lokoja a couple of times, and I know the volume of the water in Rivers Niger and Benue. I can imagine the figure that will count for Melaye should Oboi and his owners of the night command the water to vote for the PDP candidate. Add the numerous trees in the savannah of Kogi to the number, then you will see Melaye in the Lord Lugard House. Like Babalawos are wont to warn, I say this to Melaye: "ma pawo leke (don't call the diviner, a liar), ma p'Esu lole (don't call Esu-the -trickster- a thief); ma w'orun yanyan bi eniti o nii ku mol'aye (don't look at the heaven as someone who will never die), ma ko eti ogboin s'ebo (don't turn a deaf ear to the sacrifice prescribed). Awon Iya mi have said it. It is in Melaye's interest to see them. He should not be worried if BVAS machines will be able to capture "the trees and waters" coming to vote. The same BVAS that captured the masquerade which voted in the presidential election, is capable of capturing every being, human and non-human! This is one of the novel things Yakubu Mahmood's INEC introduced to our electoral system. Very soon, if the Lord tarries in His second coming, our judicial system will develop to a stage whereby, instead of calling witnesses to testify in our courts, we will simply invite Babalawos to use their Opele to tell us the truth about any matter before My Lords; after all, Ifa kii pa'ro (Ifa does not lie), Opele kii s'eke (Opele does not play tricks).