Edo Community Condemns Nativity Claim By Farmers From Delta State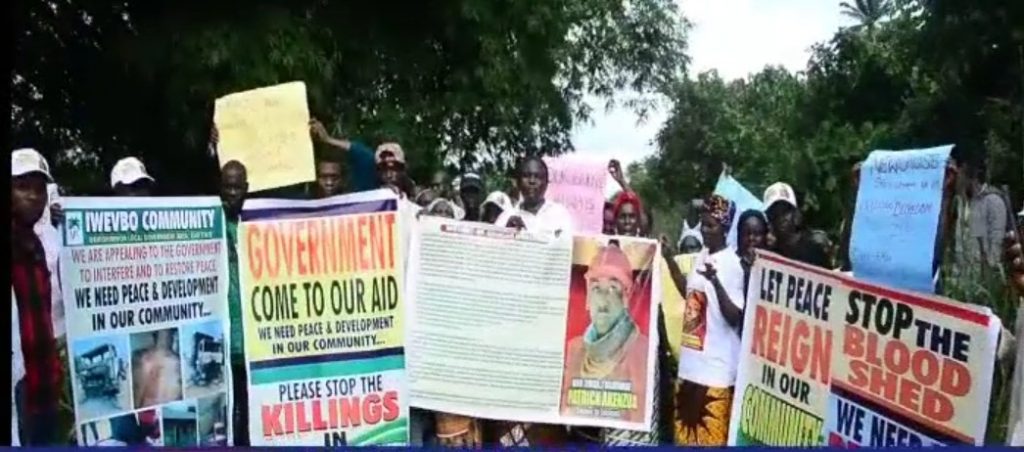 By Simeon OSAJIE
The people of Orogho Community in Orhionmwon local government area of Edo State have frowned at the position of some individuals from Eku town in neighbouring Delta State allegedly claiming to be indigenes of Iwevbo, an Urhobo speaking locality in Orogho Dukedom.
google.com, pub-3120625432113532, DIRECT, f08c47fec0942fa0
The motive of the said individuals is to deny the people of Orogho Community their privileges, rights and benefits by colluding with an Executive of the Nigeria Upstream Petroleum Regulatory Commission (NUPRC), one Capt. John Tonlagha and their cohorts under the guise of the Petroleum Industry Act (PIA), without recourse to the traditional rulership of the land.

Mr. Ikponmwosa Osayomore, the Secretary-General to Orogho Dukedom stated this in a statement shortly after residents of Iwevbo camp staged a peaceful demonstration to refute the stance and express their disapproval of it.
"The provisions of the PIA is quite clear and explicit. It is not enacted to distort the unity of the people neither was it meant to desecrate the Laws, Customs and Traditions of Edo land as purported by these micro-scopic entities.
"We want development, peace and tranquility to prevail. We are calling on the Oba of Benin, HRM, Oba Ewuare II, Edo state governor, His Excellency, the executive governor of Edo State, Godwin Obaseki, Delta State governor, Ifaenyi Okowa and the Federal government of Nigeria to call NUPRC to order, alongside Chief Joseph Ukueku, Edevbie Emmanuel, Robinson Owhojeheri, and others who are bent on throwing Iwevbo people in Orogho Dukedom into a state of anarchy, an action that is tantamount to breaching the existing Peace in the land.
"The frivolous nitwits called Emmanuel Edevbie who claims to be a spokesman for the Iwevbo people should be apprehended immediately by security personnel for inciting chaos, disharmony and blasphemous utterances (defamation of character) against our most revered Enogie of Orogho Dukedom, HRH, Osayande Patrick Akenzua.
"The good people of Iwevbo in Orogho Dukedom in Orhionmwon LGA, of Edo state recognizes the traditional rulership of our Enogie, the Enogie of Orogho Dukedom and are not in anyway in support of those transversing the Eku-Iwevbo borders to foment Chaos and unprecedented fiasco.
"We want to reaffirm that the Customs and Traditions of Edo land remains sacred, sacrosanct and supreme", the statement stated in parts.
Contacted, Emmanuel Edevbie denied ever inciting people against the Enogie HRH Osayande Patrick Akenzua.
"I did not and I will never incite anyone against the Enogie… I am a law abiding citizen of Nigeria.
"NUPRC has given host communities directive to deal with oil companies directly, but the Enogie still prefers to deal with the oil companies through proxy and that is modern slavery.
"My position is that the Enogie should respect the directive of the NUPRC", Mr. Emmanuel Edevbie said.