Security Operatives Destroy Boat Carrying 600 Barrels Of Crude In Delta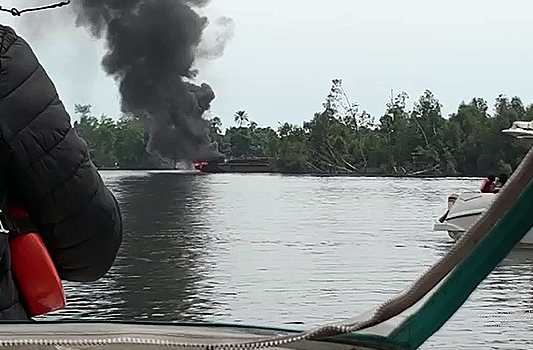 By Simeon OSAJIE
Over 600 barrels of crude oil from illegal bunkering has been impounded and destroyed by military in partnership with a security outfit, Tantita Security Servcies (TSS) in Warri, Delta State.
google.com, pub-3120625432113532, DIRECT, f08c47fec0942fa0
The firm is a security consultant engaged by the Nigerian National Petroleum Company Limited (NNPCL) to secure crude oil assets in the Niger Delta.
The barge, allegedly used to convey the crude oil to the jetty, was carried 20 miles off the coast of Warri where the military on Saturday insisted on destroying the vessel.

Amongst concerns raised by journalists with regard to the environmental impact of blowing up the vessel, the military destroyed the barge with thick clouds of black smoke filling the atmosphere.
The firm linked the illegal operation to Mawe Services Limited, a corporate entity approved by the Nigerian Midstream and Downstream Petroleum Regulatory Authority (NMDPRA) to provide services within the confines of lifting sludge.
It was gathered that intelligence received two weeks ago by Tantita Security and Mason Engineering indicate that the facility was being used for activities outside its approval limits.
According to the Executive Director, Operations and Technical, Tantita Security, Captain Warredi Enisuoh, further intelligence revealed that a 1,000-metric-ton barge was berthing alongside its jetty, loaded with illegal crude oil declared as sludge.
The barge was said to have been towed by an unidentified tugboat into Mawe Services Limited's jetty and left. A team of operatives with the security outfit reportedly continued to monitor the jetty for suspicious activities.
Enisuoh stated that a sewage truck with number plate JR7750XA was observed to have visited the jetty twice. During its third visit on Friday, the truck was said to have been accosted by the operatives keeping a constant vigil over the area.
Upon inspection, according to the authorities, the substance found inside the tank was not sewage, but crude oil. The driver was arrested and handed over to government security operatives.
The driver later revealed the destination of the contents, which took the security outfit to another yard inland, also operated by Mawe Services Limited, the firm's ED added.
He further explained that within the Mawe Services Limited's premises, there were two metallic cylindrical tanks with a capacity of about 45,000 litres each.
Both tanks were said to have been inspected and one found to have been filled up with crude oil. The driver of the truck reportedly confirmed that he had been transferring the content of the barge into the tank that was filled.
According to the firm, an inspection of the yard security logbook showed that the truck visited the location repeatedly and the content of the truck were clearly spelt out as "crude oil".
According to Enisuoh, "the illegal tapping of crude oil has drastically reduced at the pipelines due to the synergy between the outfit and security agencies.
"However, crude oil thieves have now resorted to tampering with well heads to steal crude oil," he said.