Why Senator Urhoghide Resigns From PDP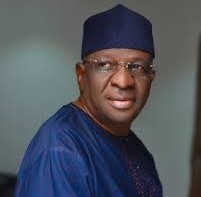 By Simeon OSAJIE
The Senator representing Edo South Senatorial District and Chairman, Senate Public Accounts Committee at the Red Chamber of the National Assembly, Senator Matthew Aisagbonriodion Urhoghide has resigned his membership from the People's Democratic Party (PDP).
google.com, pub-3120625432113532, DIRECT, f08c47fec0942fa0
Senator Urhoghide's resignation is contained in a letter sent to the Press of the senate today.
The Senator is rumoured to be oiling his political machinery to contest the 2024 governorship ticket under the platform of the Labour Party (LP).
The resignation letter resign in parts: "I write to formally inform you and the entire senate of the Federal Republic of Nigerra that I am resigning my membership of the People's Democratic Party (POP), effective immediately.

"This difficult decision arose out of the negative political energy emanating at the moment from the irreconcilable differences and squabbles within the PDP at the national level and especially in my dear state, Edo. These squabbles have spiked to levels that have mode it impossible for someone like me who is a confirmed democrat to function and grow as I envisioned in my political journey.
"I am however grateful to the party which yielded me the platform to achieve the mission of serving my country as a two-term senator which experience afforded me the opportunity to meet and work with all you wonderful colleagues. The opportunity helped too to build and form important and lasting friendships here at the senate. Above all else, it imbued in me knowledge and experience that I could not have gotten anywhere else.
"As the 9" Senate of the Federal Republic of Nigeria winds down, I congratulate my colleagues, both returning and outgoing, for the service which they rendered to our nation and a wish of God's speed in whatever you find expedient to do, going forward."