Nigeria Army Raids Baby Factory In Cameroon Border, Seven Arrested, Rescued 17 Teenage girls, 2 babies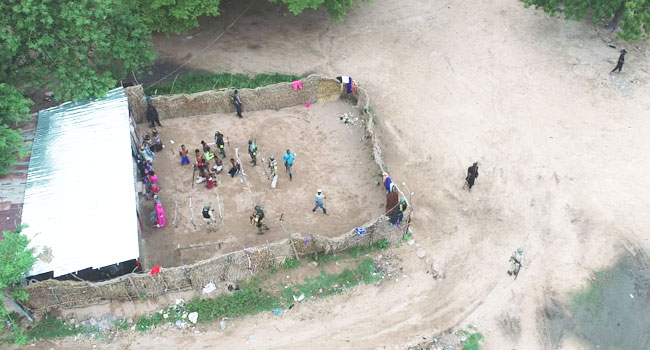 By Simeon OSAJIE
Army raided baby factory between Nigeria-Cameroon border on June 23, 2023 and arrested seven suspects, rescued 17 teenage girls and 2 babies.
google.com, pub-3120625432113532, DIRECT, f08c47fec0942fa0
According to the reports, the suspects were apprehended during the operation on June 23, with the parade done at the military headquarters on Saturday.

It was gathered that the suspects were nabbed during a raid in their enclave in Adamawa state on the Nigerian-Cameroon border.
They were said to be operating a brothel, human trafficking joint and baby factory.
The Brigade Commander, 23 Armoured Brigade Yola, Major General Mohammed Jibrin-Gambo paraded the suspects on Saturday at the brigade headquarters in Yola, the Adamawa State capital.
According to him, troops of the brigade were in a special operation on the border area between Nigeria and Cameroon, and upon credible information, stormed the enclave of criminals at the outskirts of Kasingila village in Maiha Local Government Area of Adamawa.
The suspects, he stated, were apprehended in a border settlement less than a kilometre from the Belel district, the last community before entering the Cameroon Republic.
The operation involved a joint team of security forces who rescued 17 girls between the ages of 19 to 21 years and two babies.
Addressing newsmen, the leader of the camp, Abubakar Abdullahi said he got the girls from Adamawa, Gombe and Borno States where he established the camp used as a dance club, prostitution and sales of babies delivered by the girls within Nigeria and across the border of Cameroon.
The rescued girls said to have been in the camp for about two to three years, were recruited as minors and brought to the camp without the knowledge of their families.
Some of the victims said they were accommodated in a single room and slept on mats. They also claimed that the money realized was held back by their captors so that they cannot escape.
The girls were also used to perform during wedding occasions and naming ceremonies within Nigeria and Cameroon, mostly among criminal gangs operating in the area.
Investigation revealed a proliferation of such camps is prominent in the border areas where human trafficking has been on the rise.
It is therefore expected that the National Agency for the Prohibition of Trafficking in Persons (NAPTIP) will curb this ugly trend in the nearest future.