Edo Federal Lawmaker Gives N32 Million Grants To 32 Constituents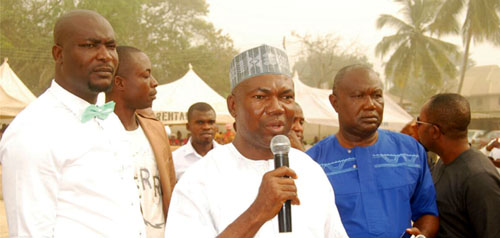 By Simeon OSAJIE
The member representing Etsako Federal Constituency at the Green Chambers of the National Assembly, Hon. Sunday Dekeri has given out N32 Million each to 32 Constituents to enable them start up business.
google.com, pub-3120625432113532, DIRECT, f08c47fec0942fa0
Dekeri made the presentation of the cheque to the 32 beneficiaries at a grand reception and post inauguration party organised for him as a federal lawmaker held at Iyamoh, Etsako West Local Government Area of Edo State.

According to him, the cash was part of his campaign promises to make each persons a millionaire in the 32 Wards of the Etsako Federal constituency if elected.
"My leader, what I promised you in the course of our campaign that we are going to make 32 millionaires in all the 32 wards in Etsako Federal Constituency, l am here today to fulfill that promise.
"Let me also inform you that this morning we have commissioned the projects I promised to execute before our swearing in.
"We have commissioned the ultra modern market in South Ibie and industrial borehole in Ogute Community, and climax this, we are here to present cheques to the 32 millionaires I promise Etsako people," he said.
Dekeri noted that the beneficiaries where carefully selected based on merit from every units that gave them the most votes at the election in the constituency.
He emphasized to the beneficiaries that the million naira given to them is to start up business that would yield profit so they can also help the needy in the constituency instead of waiting for them to come from Abuja.
"Let me remind us that the essence of giving out million naira each to the 32 constituents is not to be shared with anybody, but to start up business, so that they can also carter for others because of the condition of our people. Let us empower those who know how to invest money such that they will be attending to immediate needs of our constituency.
"A woman will come to you and said she need support for her child school fees, the profit you are making from whatever trade you are doing try to carryout it out with this N1 million. Please extend that heart of fellowship, extend that heart of love to others.
"We are doing this to let people know that APC is a party that reward hardwork and we want to let you know today that your hardwork will not go in vain," he said.
The lawmaker, however thanked the people of his constituency for electing him to represent them and promise not to let them down.
"I want to say again Etsako people I thank you from the bottom of my heart for not allowing us to be put to shame.
"Etsako remain resolute, Etsako remain committed, they decided come rain, come shine they will remain with us. Today we are all gather and I am happy we are celebrating this day" Dekeri said.
Some of the beneficiaries thanked the lawmaker for the gesture and for fulfilling the promises he made during the campaign and however assured him of the judicious use of the money for business and to help lift their people out of poverty.