Godwin Obaseki:  Best Performing But Greatly Misunderstood Governor In Nigeria –  Dr. Tony Aziegbemi.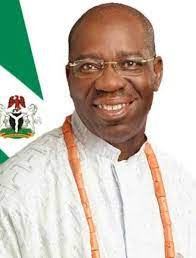 By Simeon OSAJIE
Edo State Governor, Mr. Godwin Obaseki has been described as the best performing but most misunderstood governor in Nigeria.
google.com, pub-3120625432113532, DIRECT, f08c47fec0942fa0
This view held by many but given vent to by Edo state Chairman of the People's Democratic  Party (PDP), Dr. Tony Aziegbemi in a statement issued in Benin City to mark the 66th birthday celebration of the governor said Mr. Obaseki has displayed the highest level of knowledgeability about good governance when rated alongside his contemporary governors in Nigeria.

"Governor Obaseki's knowledgability about governance today dwarfed those of his contemporaries, thus taking Edo state to twenty years and more far and above other states in Nigeria, no doubt then that Edo state government's policies have become a course of study for other states."
According to Dr. Aziegbemi, "within the space of six to seven years, Governor Obaseki has been able to redesign, modernize, and actualize with a touch of definite progression, the dreams of the founding fathers of Edo state.
"Here is a governor of divine instinct whose people oriented policies has taken Edo state into the future. His decision to delve into the future of ICT which nations like China and India made a priority will lay a foundation of technology breakthrough for our teaming youths.
"Governor Obaseki's investment in theTechnology hub, the Edo Tech Park, where youths are trained in software engineering will, in the next five years, produce about 15,000 trained software engineers that would generate programmes for companies like Google, Microsoft, Apple and others.
"This is an investment designed, not for today but for the future. It will, as a matter of fact, secure the future of our youths. While the youths of other states will be looking for employment, our own youths will be employers of labour."
The Edo PDP Chairman said, "Governor Obaseki discovered early enough that no sustainable growth could ever be achieved without power, thus the establishment of the Ossiomo Power Plant that is generating about 95 Megawatt of electricity to guarantee power 24/7 in the state. The beauty of the Ossiomo Power Plant is that it is 100% private initiative and a product of the much talked about MOU. Government offices, Industrial sectors, Street lights and other points of hospitalities are quality testimonies for constant power supply.
"Another legacy project of the Obaseki government is in the education sector that has brought about the novel, EdoBest, which has been adjudged to be the bedrock of this administration. Governor Obaseki's intervention at the Primary and post-primary levels are yielding results. The school of nursing, the College of Agriculture, Iguoriakhi, among other state owned post primary institutions has been upgraded to international standard in structure and in content.
"As a result of his forward looking policies, Governor Godwin Obaseki earned international recognition as Edo State was the only sub-national that was invited to the UN summit in New York recently. Similarly, Edo State was the only sub-national that was invited to South-Korea, for the Smart City Conference which included seminars and workshops.
"Another legacy project is the first Modula Refineries in Nigeria, a thought-line of Obaseki's administration which has created gainful employment for our teaming youths. Another first is the provision of free internet service working around selected areas in Benin City. Prompt payment of salaries, including the introduction of 13 months' salary payment to workers at a whopping 40,000 Naira Minimum wage, payable by only Edo state."
Continued, Dr. Aziegbemi added: "despite all the landmark achievements made by the Godwin Obaseki administration, its policies are the most criticized. His people grossly misunderstood but thank God for his life. He is so determined, focused and undeterred by whatever criticism as, according to him, for as long as whatever I do is in the interest of the people of Edo State, posterity will vindicate me".