Bliss Legacy Limited Unveils Ogabliss App In Edo State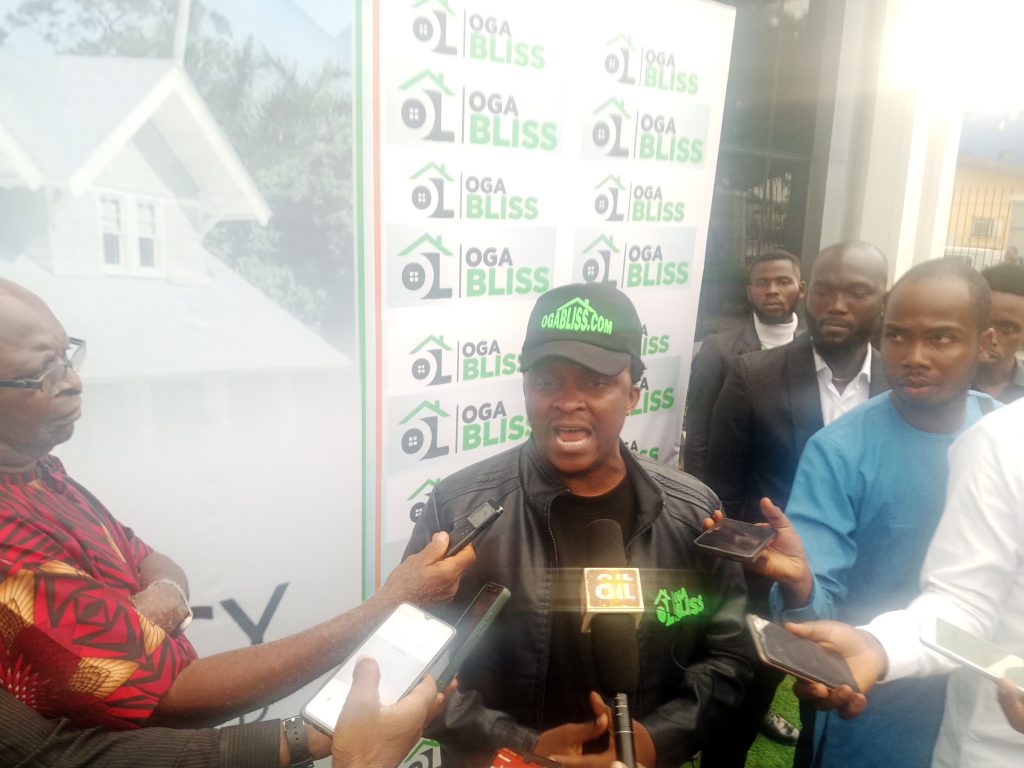 …as Consultant promise to make Edo youth millionaires
By Simeon OSAJIE
google.com, pub-3120625432113532, DIRECT, f08c47fec0942fa0
An App created to enable land owners and property agents to buy and sell landed properties have been unveiled in Benin City.
The App known as Ogabliss App has been launched by the owners of Bliss Legacy Limited, a real estate company that is in the business of buying and selling landed properties for over 3years.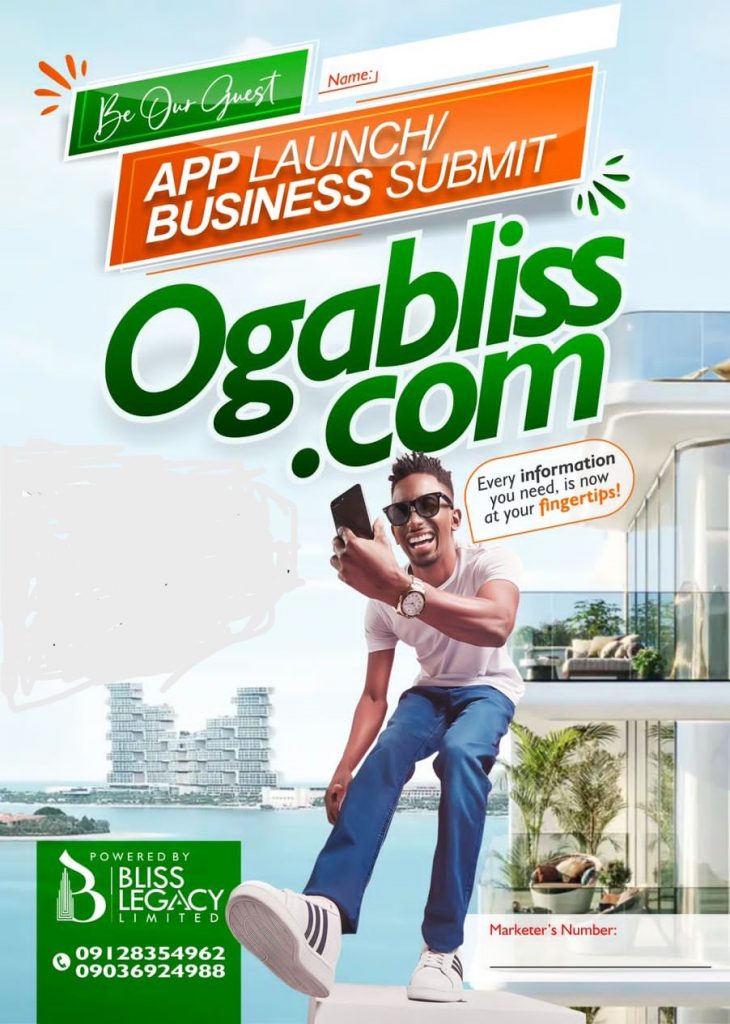 Unveiling the Ogabliss App, the Consultant, Bliss Legacy Limited, Pastor Salvation Onomroba noted that the Ogabliss App is a step ahead of Bliss Legacy Limited.
According to Pastor Onomronba, "Bliss Legacy Limited being a real estate company decided to connect sellers and buyers of properties on a platform where everyone involve is cashing out money on a daily basis."
"Ogabliss App is being test-run in Benin City, Edo State capuital before spreading its tentacles across the country and is ready to make millionaires out of Edo State youths.
"Edo People who have a direct link with anyone who wants to sell any landed properties will only upload a video or a picture of the property in Ogabliss App after registering his or her information on the App and provide necessary information about the land and if the land is sold, the person who uploaded the information will receive 2% of the total sales.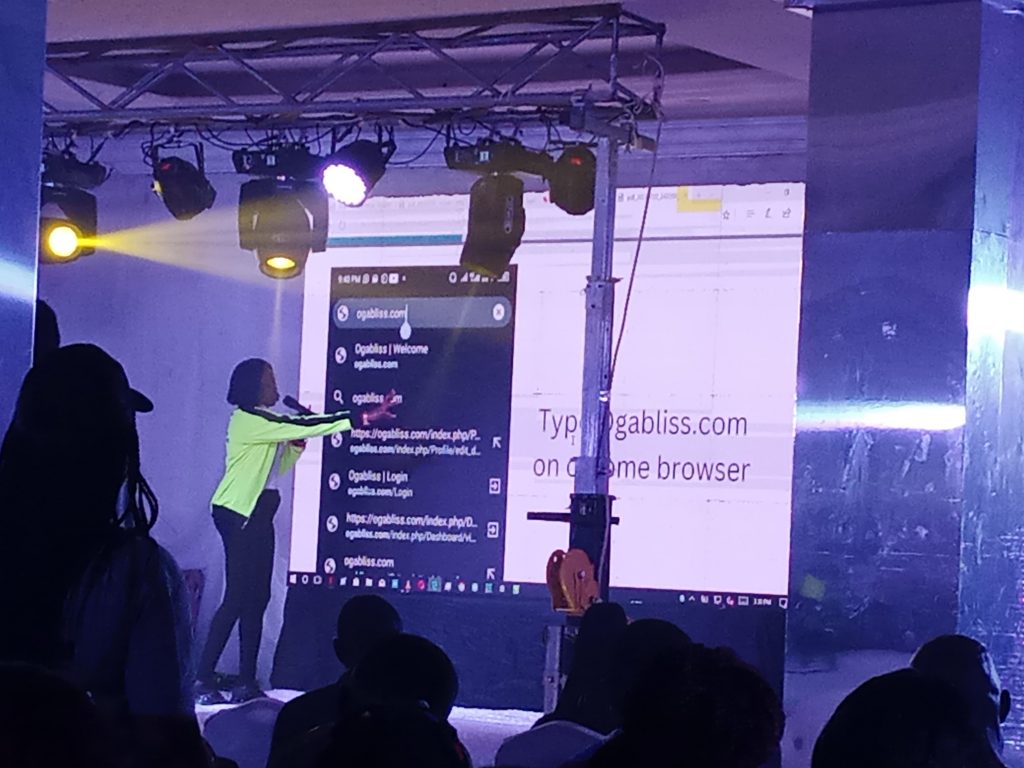 Going further, the Consultant, Bliss Legacy Limited explained that uploaded properties will only be display on the Ogabliss App after due investigations have been carried out to ascertain the legitimacy of such lands.
"Whenever properties are downloaded to our site, our Professional staff at the back end will carry due investigations on each property with Government through EDOGIST, after the investigation and once we are sure that the property is free from controversies, we then proceed to upload on Ogabliss App and more than 5,000 buyers will see the land.
"Ogabliss is another App that is designed to make you a Millionaire without doing much, as an agent, it makes your business easier as you can have access to buyers and sellers," he said.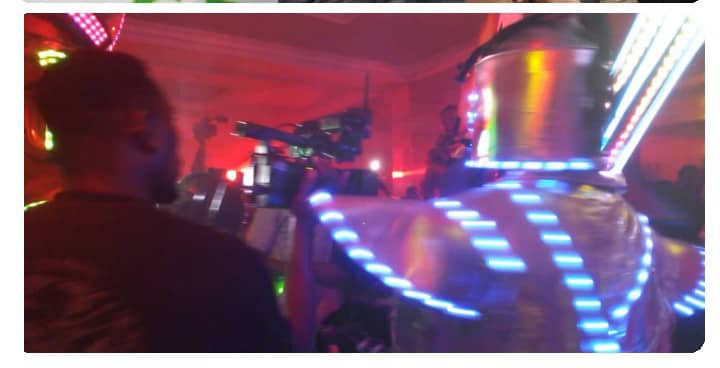 He called on those who believes one must get involved in dirty deals like rituals and fraud before they can make money to have a rethink and embrace this one in a life time opportunity that is before Edo youths.
Continued, he said, "Ogabliss App, 'Japa' syndrome will be reduced drastically as Edo youths will no longer see reason why they should travel out of the country, rather will be more interested to cash in on the opportunity posed by Ogabliss App."
Speaking earlier, the Branch Manager of Bliss Legacy Limited, Mr. Kenneth Okunbor noted that real estate business is a highly lucrative business that can transform the lives of those who invest on properties.
Mr. Okunbo advised Edo youths to clinch the opportunity to invest their money instead of keeping them in the banks.
The event which was attended by leaders of Professional Groups and Associations saw 50 attendees receive gift items for coming early to the event while those who bought lands from Bliss Legacy Limited received promo items such as Generator, washing machine, bags of rice and others.
According to the organizers, the promo continues till Friday 7th July, 2023.