Former Inter Milan Player Luis Suarez Dies At 88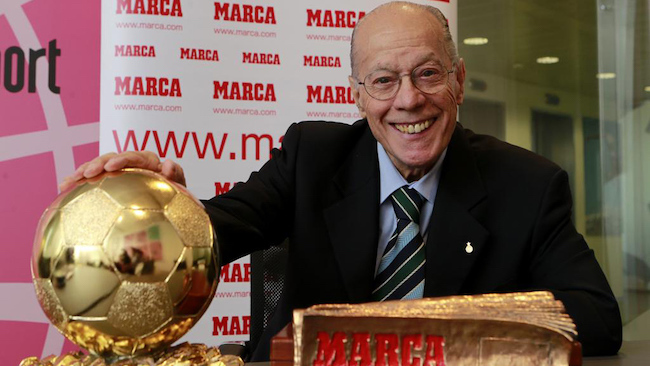 By Simeon OSAJIE
Former Inter Milan midfielder and Barcelona player Luis Suarez, died at the age of 88 on Sunday.
google.com, pub-3120625432113532, DIRECT, f08c47fec0942fa0
Suarez is the only male footballer born in Spain to win the Ballon d'Or.
Nicknamed "The Architect" the Spaniard won the prestigious award in 1960 and later coached La Roja at the 1990 World Cup.
"Luis Suarez Miramontes has died this Sunday in Milan at 88 years old," said Barcelona in a statement.
"He played for Barca between 1954 and 1961 before going to Inter Milan, where he is also a legend."
Suarez was loved in Italy after becoming one of the league's most celebrated midfielders at Inter Milan under coach Helenio Herrera in the 1960s, whom he followed from Barcelona.
"Saying goodbye to Luisito leaves us with a deep melancholy — the nostalgia of his perfect and inimitable football, which inspired generations, is combined with the memory of a unique footballer and a great, great Inter player," wrote Inter in a statement.
Suarez, born in La Coruna in 1935, began his career at Deportivo La Coruna, before moving to Barcelona in 1954.
He scored 112 goals in 216 games for Barcelona in his seven years at the club, winning the Ballon d'Or while in Catalonia. However, Suarez played down the importance of the accolade.
"There have been many Spanish players who have deserved that award, but it depends a lot on the moment — you have to be lucky that another great contemporary player doesn't perform as well as you," Suarez told FIFA's website.
"There have been great players who have never lifted the trophy."
Suarez moved to Inter Milan in 1961 for a then-world record fee of 250 million lire (£142,000) and won two European Cups and three Serie A trophies as well as other silverware during the club's most glorious era.
He also lifted the European Championships trophy with Spain in 1964, making 32 appearances for the national team.
Suarez retired in 1973 at Sampdoria, going on to coach both the Genoa side and Inter, as well as Como and Cagliari.
"Goodbye Luisito," wrote Sampdoria on Twitter, posting a photo of the Spaniard in tribute.
In 1988 he took over as coach of the Spanish national team, guiding them to the World Cup in Italy two years later, where they were beaten by Yugoslavia in the last 16.
Suarez worked on Spanish radio in his later years as a commentator.
He was the namesake of, but no relation to Uruguayan striker Luis Suarez, who also played for Barcelona.
"His father told me that if he's called Luis, it's my fault," the Spaniard told So Foot in 2016.