Mmesoma: The Baby And Bathwater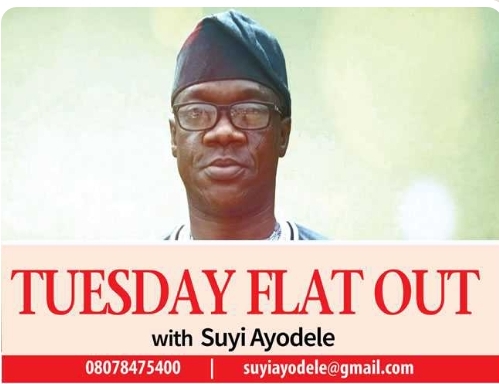 By Suyi Ayodele
"This is not the type of student you expel. His records as presented by the principal show that he has a bright future and expelling him can destroy such a bright future. The fact that he did not deny responsibility also shows character on his part. This aspect of today's discussion should also be expunged from the minutes of the meeting. We don't want to keep any negative record about a student the school authority said had won many laurels for the school in debate and quiz competitions."
google.com, pub-3120625432113532, DIRECT, f08c47fec0942fa0
That was the verdict of the Chairman, Board of Governors, Araromi High school, Araromi Ekiti (now Odo Oro High School, Odo Oro Ekiti), in 1986. Yours sincerely was the student at the centre of the episode in question. I read the report in its raw form because my late cousin and mentor, Ayegbusi Idowu Rufus Akanni, was the school librarian and secretary that took the minutes of that meeting. An administrator par excellence, the late Olu Daramola, whom we all called Daddy Daramola, was the Chairman of the Board. He was the first Registrar of the University of Ilorin from 1976 to 1986.
I was involved in an incident. The punishment for such an infraction was outright expulsion. But Daddy Daramola chose to rescue my academic career. Providence spoke for me, and I was allowed to write the final examination, the West African School Certificate Examination (WASCE), in peace. Only God knows what would have happened if the Board of Governors had stood by the rules.
Whatever I made of my educational pursuits today, I owe God Almighty and the late Daddy Daramola, my late cousin, Brother Idowu, and another of my mentors, Brother Omotayo Ajewole, a.k.a. Commissioner, eternal gratitude. The last duo worked behind the scenes, tirelessly, to secure a soft-landing verdict of "Let the student come and write his examinations from home", before Providence spoke and I was completely pardoned!
The biggest lesson of the entire episode is that when the fire to roast the snake is set at the length of the snake, some other precious items get burnt in the process. Discretion is the ultimate drive of administration. What offence did I commit to warrant expulsion? Do I have to tell you that, dear readers? Needless to say, that it had nothing to do with stealing or any other related crime. It was just one of those things boys do.
Let us leave it at that, at least, for now. It may, however, interest you to note that I graduated from the same secondary school as the Senior Prefect, Boy and the "Best Mannered Student" of my set. I won the maiden edition of "Igba Iwa" (Calabash of Manners) award instituted by one of our leaders, Daddy Joseph Makanjuola Jegede. Yet at a time, I stood the risk of outright expulsion!
My mind did a dash to my 1986 experience when I read the punitive measures the Joint Admissions and Matriculation Board (JAMB), meted out to Mmesoma Joy Ejikeme, the 19 years old student of Anglican Girls Secondary School, Nnewi, Anambra State, who forged her Unified Tertiary Matriculation Examination (UTME). Until the unfortunate incident, Mmesoma was a child any parent would want to have. And even now, she is still a child of delight to any parent, given her past records. When one's masquerade dances well at the village square, one cannot but be proud. Her father, Romanus Ejikeme, was naturally proud of his daughter.
Who is that man who will not be happy for a child who came top of a national examination like the UTME? Mmesoma came home with the 'highest' scores of 362 in the examination. The father wasted no time in calling the neighbours to join him in celebration. Mmesoma forgot the traditional meaning of his father's name, Ejikeme. That is a deep Igbo name, which tells us that no one makes anything happen by personal efforts. And that is exactly what the 19-year-old did. Her father's name says, "Not by Force", the little girl said a little effort would not be a bad idea. Now she is in a mess; and that rubs off on her father too. At that tender age, the little girl decided to do what the Oracle did not do for her. She took the UTME examinations and passed. But not satisfied with her scores of 249, she upped the ante by increasing the tally by additional 113 marks to arrive at 362. I don't know who told her that when one's divination is negative, one should use his own hands to turn it positive. The counsellor must have failed to tell her that such a voyage comes with consequences. The Nobel Laureate, Wole Soyinka, demonstrated such a folly in the voyage of Akaraoogun in that Allegory known as "Forest of Thousand Daemons".
With the fake score, and the information that another UTME candidate, Umeh, Kamsiyochukwu Nkechinyere, a fellow Anambrarian, and student of Deeper Life High School, Mowe, Ogun State, who scored 360, was declared the highest scorer and was to be honoured by the Anambra State Government, Mmesoma and her innocent father headed for the Ministry of Education to 'claim' her 'rightful' position. Many people have said the father should be blamed. I beg to disagree. Records by Mmesoma's schools from primary to secondary show that she has always been top of her class. Merely watching her in the video, where she was defending her scores tells one that Mmesoma is intelligent and brilliant. Why won't the father believe her? How many fathers go to check their children's results from the JAMB portals?
The journey to the ministry was the beginning of her ordeal. The ministry officials put a call across to JAMB for clarifications. JAMB promptly responded by declaring Mmesoma's result as fake. Hell was let loose. The little girl would not have any of that. Many others joined her in the fight to reclaim her 'right'. Ethnicity and religion came into the fray. The social media 'human rights fighters', who elected to fight JAMB claimed that Mmesoma was being "victimized" because of her ethnicity. It never mattered to them that the candidate recognised by JAMB is not only of the same ethnic group as Mmesoma, but from the same Anambra State, and a Christian by faith.
Many remembered the February 25 and March 15, 2023, general elections and concluded that what was happening to their "highest UTME scorer" was a continuation of the animosity of the elections. I have said it several times; what the last elections will cost this nation is pregnant and at the same time nursing a baby. No thanks to the lethargic General Muhammadu Buhari, who ensured that the nation was fatally polarised in his eight years of misrule. It will take time for the wounds to heal while the scars will continue to stare us in the face.
Mmesoma was tenacious in her claims. Many believed her. I almost did until my friend's son sent me his own UTME results. The difference was very clear. A big corporate body, Innoson Vehicles, awarded her N3 million scholarship. Someone offered to take her abroad. But in all the noise, JAMB maintained its stance. The examination body went further to explain that the format of result Mmesoma was parading was discarded two years ago. I checked again my friend's son's result. Yeah, the boy's photo is clearly embossed on the result. Mmesoma's fake result has no such photo. When your Ogun (god of iron) is the authentic one, our elders say you use it to hit your head. JAMB cancelled the 249 scores and slammed a two-year ban on Mmesoma. The implication is that she would not be admitted into any Nigerian university based on her 249 scores in the 2023 UTME and would also not be allowed to sit for entrance examination for another two years. Add that to the girls' present age, Mmesoma would have been 22 years old before she would be able to take the UTME papers.
Then the Anambra State Government waded in by setting up a committee to investigate the matter. Game! The panel came up with a damning report. Mmesoma, the eight-man panel reported, faked her result. Not only that, but the little girl also confessed. Events followed in quick succession. Innoson Vehicles withdrew its scholarship. The social media 'human rights fighters' withdrew to their shells. Mmesoma and her father apologised to JAMB and the nation at large.
The Mmesoma-JAMB saga is another sad commentary in the history of our nation. It is a story that every rational mind should be worried about. It tells much about us as a nation. Why would a 19-year-old do what the little girl did? For crying out loud, a student who scored 249 marks out of 400 available points cannot be said to be a below average student. With the recent benchmark of 180 marks set by JAMB as cut-off for admissions in our nation's university, 249 marks give any candidate clear chances to be admitted in the university. Yet, Mmesoma chose to add to that figure. Did she do it because of "the best candidate" malady? What brought such an idea into the mind of a young girl like we have here? I have pondered on these many questions.
The only answer I get is that Mmesoma is a product of the society that produced her in the first instance. The apple doesn't fall far from the tree, is an 1839 saying identified with the American, Ralph Waldo Emerson, who many scholars believed was influenced by a German proverb of the same intent, to wit: "a child usually has similar character or similar qualities to his or her parents." How would Mmesoma have behaved differently from the Nigerian society of leaders with fake identities, fake results and the most perfidious of character?
In a March 30, 2021, piece I titled "Obaseki, Oshiomhole and the Third Generation of Greed", published on this page, I said inter alia: "WESTERN psychology teaches that a child learns by emulation. The theory is that a child is believed to copy everything that an adult does in his/her presence. More often than not, such a child perfects the adult's acts and arts and comes out with a variant that is more sophisticated or modern and even more complex than what he/she copied…. Whatever a man does not want his child to do; he avoids doing such in the presence of such a child, at least. The Black man's life is ruled by philosophies which guide and serve as moral gateways to his actions and inactions. One of such philosophies is that of the "third generation of greed".
In my place, it is a common saying that "upele keta okanjua ule li hi ko"….It means that third generation greed naturally transforms to burglary. This saying becomes handy when a child does something most despicable. The elders, in analysing the child's conduct, use the benefit of history to see how his progenitors had behaved in the past. Once they find the connecting link, they conclude that the child could not have behaved otherwise."
This is exactly the case here. While no one should condone Mmesoma's conduct, we can also not run away from the fact that the girl's behaviour reflects the moral decadence in our nation. How many of our leaders are occupying positions in the nation today with fake results and testimonials. From the presidency to the least councillor in the local government, how many Mmesomas do we have? And the judiciary is not helping matters. We have cases bordering on fake results, falsified results and outright stolen results dragging in our courts for more than four years until the defendants served out their terms of office. Was it not in the same country that a retired Assistant Inspector General of Police (AIG), who was elected to the Senate, looked at other senators and declared that he was shocked to see those he had investigated and indicted for various crimes, elected as members of the National Assembly, and nothing happened?
Go to the courts and check the number of governors, senators, and what have you, that have one litigation or the other on fake results. In the build up to the 2015 general elections, when the then ruling Peoples Democratic Party (PDP) interrogated the authenticity of the WAEC result presented by General Muhammadu Buhari of the All Progressives Congress (APC), what response did we get? The incumbent president, Bola Ahmed Tinubu, then the National Leader of the opposition APC, responded by saying that Buhari could present an ordinary NEPA certificate and still be elected. Was Buhari not elected?
Today, before the ongoing Presidential Election Petition Tribunal (PEPT), one of the contentious issues to be determined is the credentials of the incumbent Tinubu, the winner of the February 25, 2023, presidential election. Mmesoma grew up in the Nigerian society. She is a brilliant student. She has thousands of her mates out there. They see, read and study what the leaders do and get away with. Her generation is too technology savvy. Faking a UTME result is the least we should expect from her ilk. Unless we change our orientation and serve justice to all manners of people, we will continue to have Mmesomas in our midst. And they are in every home, our sanctimony notwithstanding.
Mmesoma's action is no doubt condemnable. And I condemn it in totality. A lot of prominent Nigerians have also condemned her. A former Minister of Education, Dr Oby Ezekwesili, while expressing dissatisfaction with the findings of the panel set up by the Anambra State Government, however, upheld the sanctions imposed on Mmesoma by JAMB, saying: "I, therefore, support the sanctions imposed by JAMB as a deterrent to all who participate in the systemic exam malpractices within our educational system."
Ezekwesili must be pained like every other rational Nigerian that Mmesoma almost successfully gaslighted the entire country with her tales. JAMB, I must also admit, has the right to defend its integrity and in doing so, would be right to impose any sanction it deems fit and appropriate, on any erring candidate. Mmesoma definitely cannot be an exception.
But I have a slightly different opinion about the whole issue. Denying Mmesoma admission on her 249 scores and banning her for another two years from writing another examination, to me, will not serve any useful purpose. I want to draw inspiration from the saying that it is not profitable to leave a recalcitrant child for the tiger to devour. Yes, the little girl has erred. Yes, she lied to every one of us and almost started another 'civil war' on social media. I think she needs psychological therapy more than the harsh sanctions imposed on her. This girl is already 19 years old. At that age, she already knew how to fake a result to almost perfection. Asking her to stay at home for the next three years will amount to throwing her to the hawks. And there are many predators outside there waiting to devour her.
From the promise of "overseas study" to sponsorship, how many of such promises do we know to be fake? How many are altruistic? Has it occurred to us that a cradle snatcher waiting in the wings can easily make a prey of Mmesoma before she completes her three-year probation? If such happens, who loses? The little girl has a long life ahead of her. We have a responsibility as a people to help her rediscover her potential and become a useful member of our society. Mmesoma needs rehabilitation more than the sanction. Her case, novel as it appears, should get us thinking on how to handle 'special' children like her. How about fixing her in a university based on her 249 grade and then place her under close monitoring? She can be counselled and mentored to become a role model for her epoch. Her case has become like that of the tsetse fly which chooses to perch on a man's scrotum.
Our elders advise that we should be cautious in killing such. Whatever sanction the authorities may want to impose on her should not be a deterrent alone, it should be corrective and rehabilitative. Asking her to be on probation for three years is nothing but killing an ordinary fly with a sledgehammer. This is one of the reasons why ex-convicts come out of our prison yards more notorious.
I have no doubt that Mmesoma is sober now that she has seen the folly of her actions. She has apologised and likewise her father, Ejikeme. She deserves our mercy. This was exactly the position of the former Minister of Aviation, Osita Chidoka, who wrote on his Twitter handle: "A child her age deserves a second chance after she shows remorse and demonstrates that she has learnt the value of integrity." I would like to leave Mmesoma with the eternal words of John Calvin Maxwell, an American author and preacher of the Gospel, who admonishes thus: "A man must be big enough to admit his mistakes, smart enough to profit from them, and strong enough to correct them." This is what we should all ask Mmesoma to do.
I wonder what would have become of my life if Daddy Daramola had not used his discretion judiciously in 1986. May the good Lord lead Mmesoma to the path of integrity and honesty in her future engagements.