FG Roads: Obaseki's Lamentation, Last Kick Of A Dying Horse – Imuse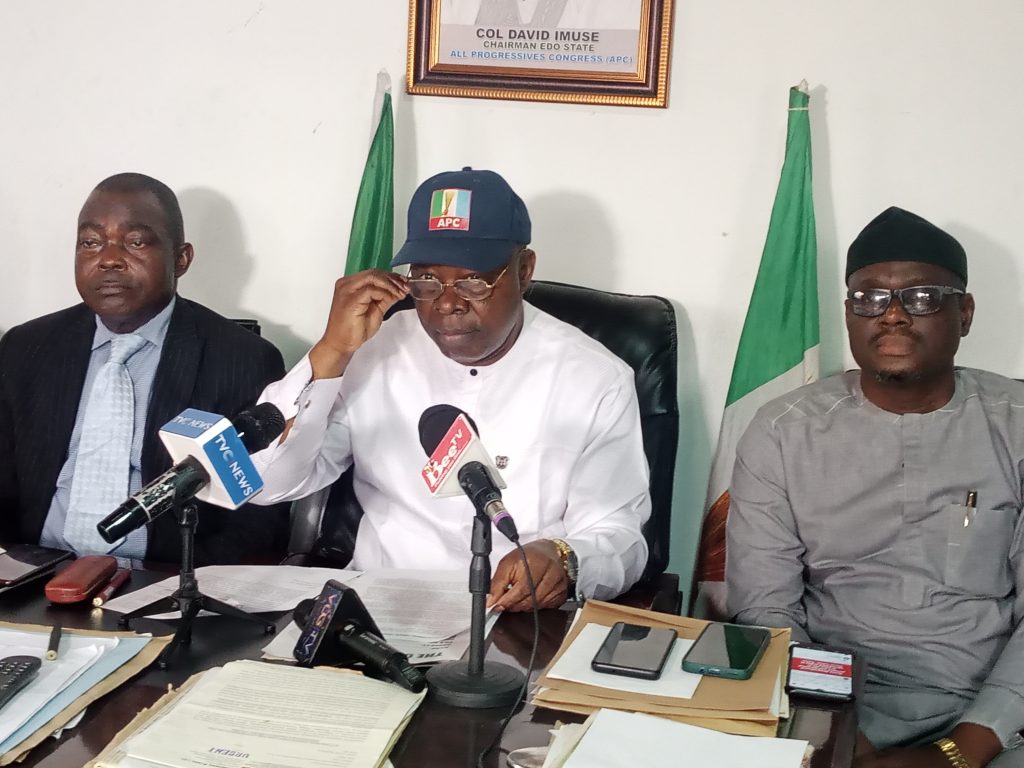 By Simeon OSAJIE
The Edo State chapter of the All Progressives Congress (APC) has described the statement credited to the governor of Edo State over the deplorable federal roads across the state as 'Lamentation of Governor Obaseki Is The Last Kick Of A Dying Horse'.
google.com, pub-3120625432113532, DIRECT, f08c47fec0942fa0
The statement was made by Col. David Imuse (Rtd), State Chairman of the party at the party secretariat, Airport Road, Benin City, Edo State capital.
Col Imuse who could hide his dissatisfaction over Governor Obaseki's statement against the APC led federal government, said "If there is any government that lack complete focus and don't even know the meaning of priority, I think is the present administration in Edo State. If Museum is more important than hospital, I think Governor Obaseki need to go back to school.
"Obaseki served under the government of Adams Oshiomhole as an adviser when all the projects were executed by Oshiomhole-led government. When you don't know your right from your left, and you are exhausted of ideas, you just hide under cover of 'ignorance' to start blaming yourself indirectly.
"What the last government of Adams Oshiomhole did, nothing can me more priority than that. When you talk about priority, I don't think that there is any government that has done what his predecessor has done when you talked about priority."
Going further, Imuse added: "It is important to note that the Benin Storm water project, which was intended to address the issue of flooding and erosion in Benin City, was not completed by the Governor Obaseki junta. This lack of progress has contributed to the worsening flood and erosion problems in our state.
"Furthermore, the party less government led by Mr. Godwin Obaseki has engaged in gross misuse of funds allocated to Edo state by the Federal government over time. You are aware that over 16 billion naira, was refunded to the state under the watch of Obaseki for the Federal Road fixed by his predecessor in office Senator Adams Oshiomhole, during his tenure as governor.
"Additionally, another 21 Billion Naira was given to Edo State from the Oil Derivation funds, which are intended for oil-producing states like ours, for infrastructural development, road inclusive. What we know is that Governor Obaseki presided over the misappropriation of these monies without recourse to these critical sector of our living.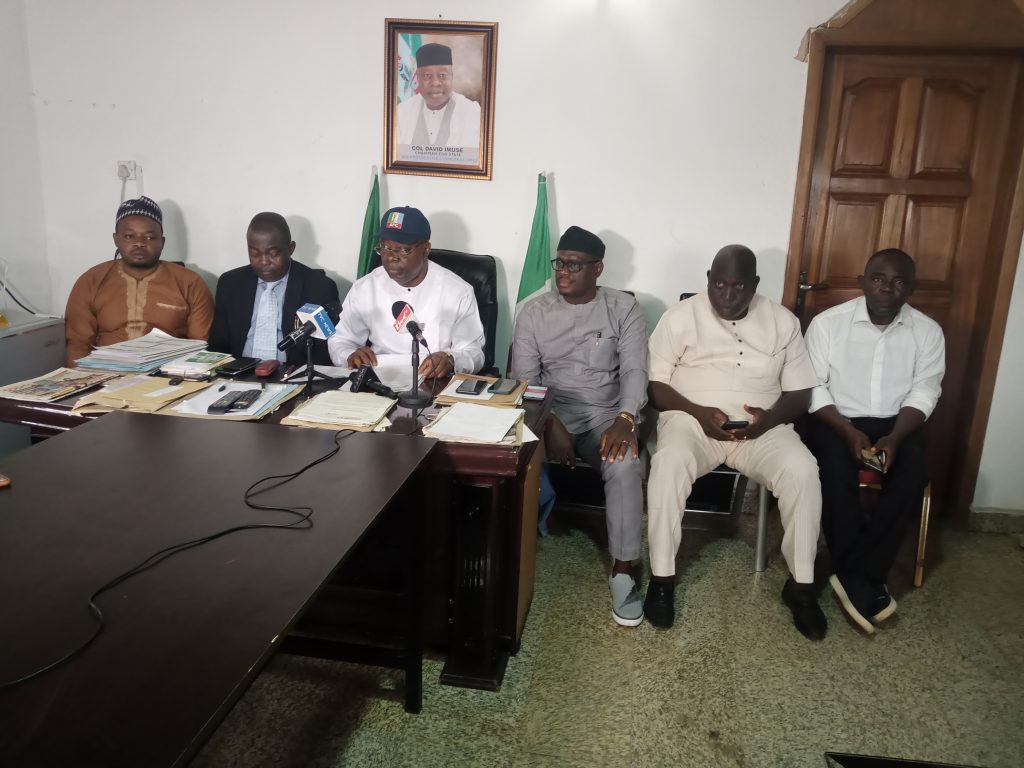 "In addition to these financial improprieties, Governor Obaseki has shown a disturbing pattern of demolishing public and private properties including but not restricted to the Central hospital which land he allocated to his friends to build a museum that will not see the light of day. Instead of prioritizing crucial infrastructural developments, Mr Obaseki has chosen to build supermarkets all over the state which are over 45% owned by him and his cronies.
"These actions demonstrate a clear lack of vision, responsibility and a disregard for the well-being of the people of Edo state. It is unacceptable that the governor would prioritize personal interests over addressing the urgent needs of our transportation infrastructure among other areas of great importance to our people."
Continued: "The statement made by the Edo State government, accusing the Federal Government of neglecting its responsibilities, is a clear attempt to divert attention from these failures and mismanagement. It is disheartening to see such petty politics being played when the lives and safety of innocent Edo citizen albeit Nigerians are at stake.
"I assure the good people of Edo state that the APC-led federal government is committed to addressing the road infrastructure challenges in our state. We understand the frustrations that our citizens face on a daily basis, and we are dedicated to finding a lasting solution, since the governor has abandoned his responsibility.

"The Federal Government is prioritizing and expediting the necessary repairs on the major federal roads in Edo state. The lives and well-being of Edo people like that of all Nigerians is too vital to politicized as Obaseki has been doing.

"We urge the people of Edo state not to be deceived by the propaganda and political games of the Obaseki administration. The burning question Edo People should ask Governor Obaseki is 'What did he do with the N16 Billion refunded by the Federal Government to Edo State as money used by his Predecessor to repair Federal Roads coupled with the N21 Billion derivation funds.' We must see through these falsehoods and hold Governor Obaseki accountable for his failures. His lamentation is the last kick of a dying horse. The APC-led federal government remains committed to working for the betterment of Edo state and its citizens."