How Ganduje, Basiru Emerge Nat'l Chairman, Nat'l Secretary Of APC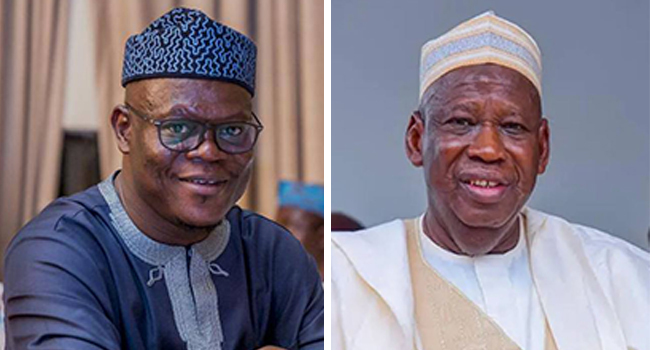 By Our REPORTER
The National Executive Committee (NEC) of the All Progressives Congress (APC), today 3rd August, 2023 elected Abdullahi Ganduje, former Kano State Governor, and Ajibola Basiru, former Senate spokesman from Osun State as the National Chairman and National Secretary respectively of the party.
google.com, pub-3120625432113532, DIRECT, f08c47fec0942fa0
The two party officials were elected today at the 12th NEC meeting of the party held at the Congress Hall of Transcorp Hilton in Abuja.

Ganduje while addressing party leaders after his emergence, thanked the President and promised that internal democracy would prevail in the party during his tenure.
The former Kano state governor pledged to ensure a scientific register of party members and pay utmost attention to election management and conflict resolution.
While assuring members that there would be level playing field for all party members during party primaries, Ganduje promised to hit the ground running to ensure victory for the party in all forthcoming governorship elections across the country.
Addressing the 12th NEC of the party, President Tinubu said the APC has won the elections and it is now time to deliver the promises of good governance to the Nigerian people.
The President insisted that the 2023 elections was the best election in Nigeria's history.
President at the NEC meeting were President Bola Tinubu, Vice President Kashim Shettima, first National Chairman of the party, Bisi Akande, members of the Progressive Governors' Forum, chieftains of the party in the National Assembly, amongst others.
Visibly absent at the NEC meeting were ex-President Muhammadu Buhari and former Vice President Yemi Osinbajo.
The NEC meeting followed Wednesday's gathering of the APC national caucus.
Recall mid-July, two members of the party's National Working Committee (NWC) resigned. Senator Abdullahi Adamu and Senator Iyiola Omisore resigned as the party's National Chairman and National Secretary respectively.