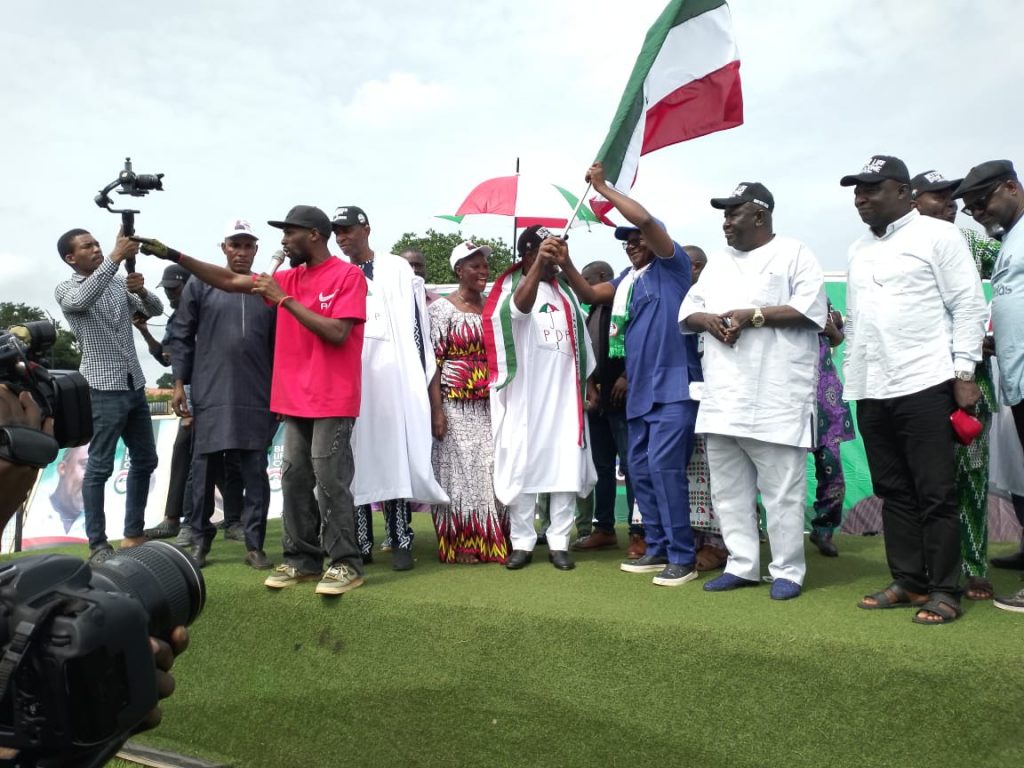 By Simeon OSAJIE
Edo State Governor, Mr. Godwin Obaseki has urged the electorates in the state to vote for the People's Democratic Party (PDP) candidates across the 18 local government in the forthcoming September 2nd local government elections to enable them provide dividends of democracy to the grassroots level.
google.com, pub-3120625432113532, DIRECT, f08c47fec0942fa0
Obaseki made the appeal at the PDP flag-off campaign in Fugar, Etsako Central Local Government Area of the state, saying that the PDP chairmanship candidate for Etsako Central, Hon. Solomon Obomighjie is trusted and tested to provide leadership at the local government level.
"Our PDP candidate for Etsako central local government is tested and trusted administrator who is committed to the welfare of his people.
"This our candidate is a better person that will bring better life, I know him, he is a better person and his is a man that will work with me to bring the dividends of democracy to you people.
"He will help you people, we will bring money for commerce to develop Etsako Central.
"So I urge you people to come out en mass on September 2nd, to vote for this candidate," Obaseki stated.
The governor, expressed pains over the hardship Nigerians are going through due to the removal of fuel subsidy, however assured the people at the grassroot that he would made available funds monthly to the local government chairmen for the people to feed to cushion the effect.
According to the governor, "APC have put us in hunger following the removal of fuel subsidy and this has resulted to many people finding it difficult to feed.
"There is hunger everywhere, how much is a bag of rice now, 45,000, Dollar to Naira 900.
"I have made available money that will be given to local government chairmen every months for you people to feed with" he added.
On his part, the state chairman of the party, Dr. Tony Aziegbemi who presented the party flag to the chairmanship candidate assured victory for PDP in the election.
"The winning is sure for PDP in Etsako Central local government and other local government across the state," he said.
Earlier, the PDP chairmanship candidate for Etsako Central local government, Solomon Obomighie promised to prioritise agriculture in the local government.
"My agenda is to develop the agricultural sector beyond local consumption if elected.
"We are going to provide modern equipment for their agricultural purposes and the council will be an off taker of their produce.
"I have gone through the nooks and crannies of Etsako Central and I have been telling them the message of hope.
"The message of hope is better life is coming through me," he said.
The chairmanship hopeful while appealing to the people to come out en mass to vote for PDP, reiterated his commitment to serve the people and ensure that the dividend of democracy get to the grassroots.