BSM Ask Court To Revisit Case Against Isaiah Akpani Over Alleged Murder Of Sunny Etchie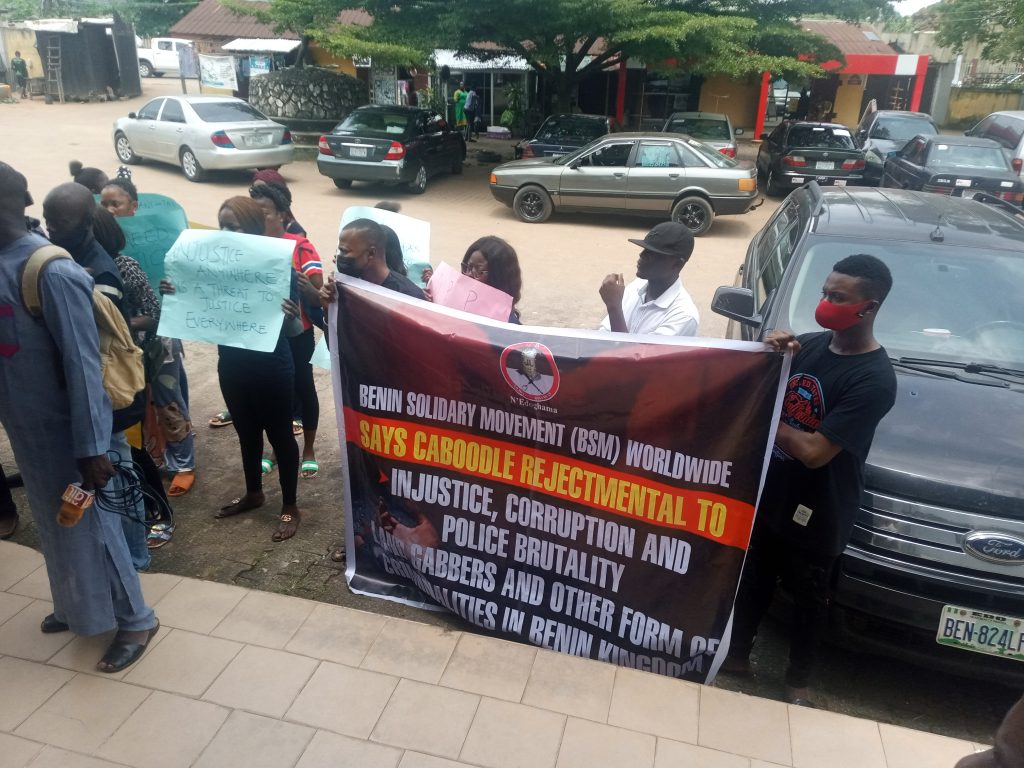 By The9JaTREND
google.com, pub-3120625432113532, DIRECT, f08c47fec0942fa0
Benin Solidarity Movement (BSM), a non governmental organization and non profit making Movement has expressed its displeasure and disappointment over the recent judgement at the Edo State Criminal Court 2 exhornorating one Isaiah Akpani who allegedly conspired, kidnapped and murdered Sunny Etche, the Okaeghele of Kolokolo, Community, in Ikpoba-Okha Local Government Area of Edo State.
The movement, during a protest to the Nigeria Bar Association (NBA), Edo State Ministry of Justice and the premises of Nigeria Union of Journalists, Edo State and backed with a press statement signed by its President, Ambassador Comrade Curtis Eghosa Ugbo and General Secretary, Esohe Adun.
In the press statement, the group added that they were not satisfied with the decision of the judge by striking out the matter which they attributed to the advice of the Director of Public Prosecution (DPP).
"The accused, Isaiah Akpani has been into hiding and was arrested a year after when he openly confessed to the heinous crime under interrogation.
"We take exception to this judicial heist and we are appealing to the necessary authorities that the case with Charge Sheet No. B/CD/1116M/2021 should be revisited and given the right measure of judgement it really deserved."
The group argued that Isaiah Akpani openly confessed to the heinous crime in a viral video clip which they said was in their possession, adding that to be left off the hook by a criminal court on no case submission is a big shame to the judiciary.
On her part, wife of the deseased Mrs. Bridget Sunny-Etchie said she has been passing through untold hardship since the death of her husband as she now find it difficult to feed, pay house rent and school fees. She pleaded that Chief Johnson Atsetunleghe and his cohorts should not be allowed to go free