Utekun Community Appeal To Benin Monarch To Lift Suspension On Enogie Eguagie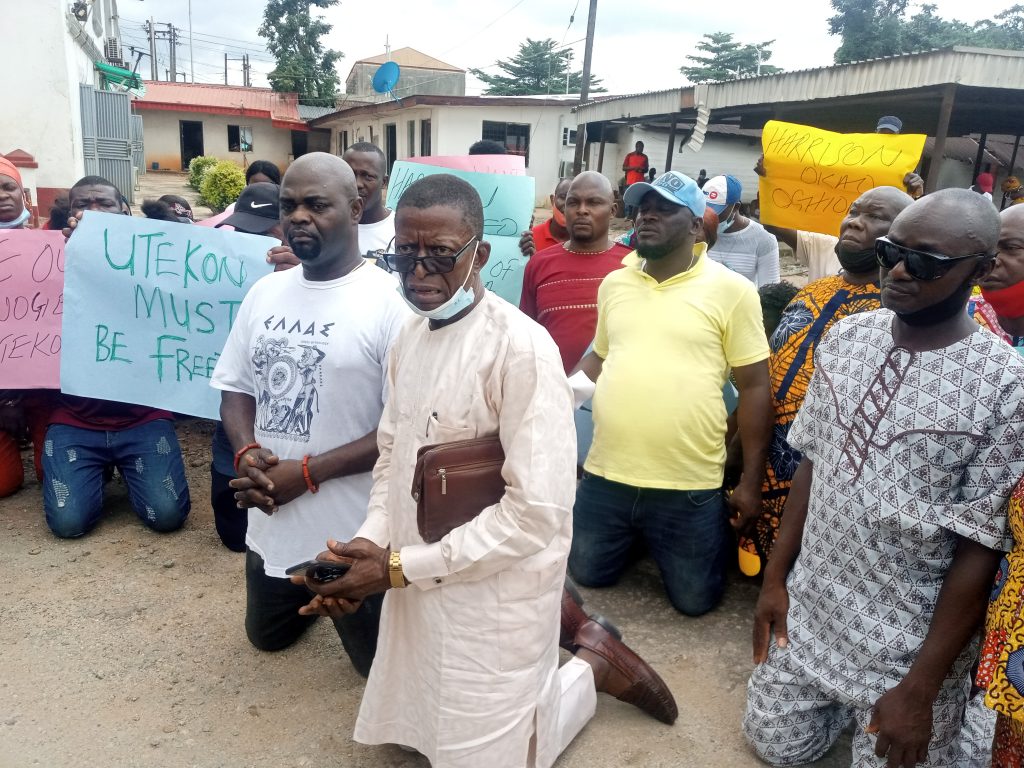 By Simeon OSAJIE
google.com, pub-3120625432113532, DIRECT, f08c47fec0942fa0
Indigenes of Utekon Community in Ovia North-East local government area of Edo State have appealed to His Royal Majesty, Omo N' Oba N' Edo, Uku Akpolokpolor, Oba Ewuare II Oba of Benin Kingdom, to look into the suspension of their Enogie, Eguagie Omoruyi Imasuen some years ago.
The indigenes, with different inscriptions, "Utekun Must Be Freed", "Harrison Okao Must Be Prosecuted", "We Want Our Enogie Back", "Justice Must Prevail In Utekun", "Oba Come To Our Rescue", "We Want Our Enogie Back", "Oba Gha To kpe", "Harrison Is One Of the Enemy of Benin Kingdom", made the appeal when they protested to the palace of the Oba of Benin yesterday asking His Royal Majesty to temper justice with mercy.
The protesters who gathered at the entrance of the Oba palace calling for the intervention of the Benin monarch to lift the suspension placed on their Enogie.
The travails of the Enogie have lingered for over five years despite appeal that his case should be revisited when the person involved in the controversy has been found wanting by the Benin Traditional Council (BTC) and was subsequently removed as the Okao of the Benin Holy Aruosa.
The suspended Enogie said the committee set up then to look into the issue suspended him because they said he has no right to challenge the then Okao, a situation which led to his suspension.
Speaking to newsmen, an elder from Utekon Community, Isaac Ehanah said they decided to renew their appeal to the Oba of Benin Kingdom to lift the suspension of their Enogie because he was not found wanting over the all get a ion leveled against him.
Responding, spokesperson person for the palace promised to channel their letter to His Royal Majesty, the Oba of Benin Kingdom.
The Utekun protesters expressed optimism that their request will be granted and the suspended Enogie reinstated.