Aziegbemi Receives Esan North-East LGA Integration List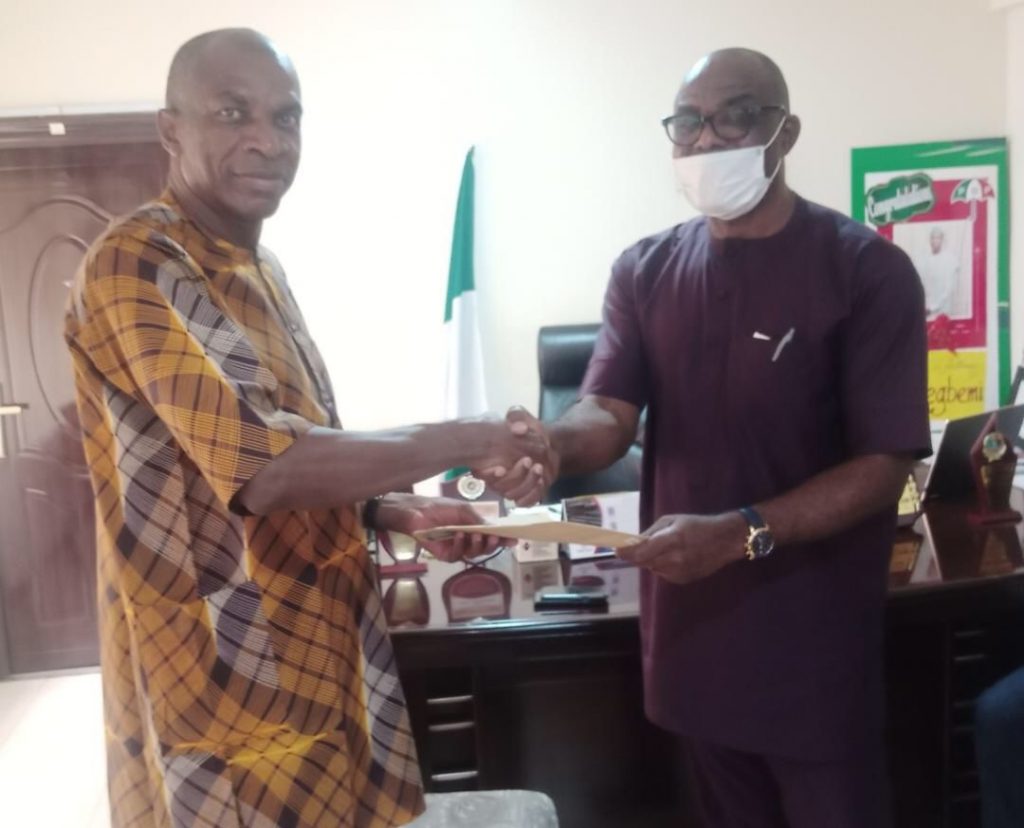 …Thanked team for believing in the party and the Governor
google.com, pub-3120625432113532, DIRECT, f08c47fec0942fa0
By Simeon OSAJIE
The Edo State Peoples Democratic Party (PDP) Chairman, Dr. Tony Aziegbemi has received the list for integration from leaders of the Esan North-East Local Government Area, of Edo State.
The ceremony which took place today, Monday, October 25, 2021, at the party secretariat along 1st Circular Road, Benin City, Edo State capital witnessed the presence of Hon. John Yakubu, Hon. Prince Joe Okojie, Hon. Okoduwa Emma Ewah, and Mr. Benedict Iyida.
After receiving the list for integration from leaders from Hon. John Yakubu who led the team, the Chairman thanked them for believing in the party and the Governor of Edo State. He assured them of the onward process of the list and prayed that God may help Edo PDP to resolve the ongoing crisis.
Presenting the list on behalf of the LGA, Hon. John Yakubu noted that they have met, and discussed with the leaders of Esan North-East LGA in a meeting having the party LGA Chairman /EXCO, as well Ward Chairmen and other leaders present.
He stressed that among others that were present in the meeting were former Speaker and two-time member of House of Representatives Rt. Hon. Friday Obomezele Itulah, Senatorial Chairman, Bishop Anthony Okosun, LGA Chairman, Hon. Clifford Inegbedion, Prince Joe Okojie, Hon. Philip Olumese, Hon. Emma Okoduwa and Prince MacDonald Okojie.
According to Hon. Yakubu, others who were also present at the meeting were, Prof. Okogun, Hon. Clifford Eineh, Hon. Joe Osifo, Prince Ameh Iseghohi Okojie, Barr. Dan Okojie, Hon. Raymond Ukoba, Barr. Buddy Inegbedion, Hon. Ken Ebosele, Hon. Rudy Iyoha and Hon. Anslem Oduah.
Others are Emmanuel Emafoh, Sylvester Imafidon, Mr. Robert Ubuane, and Prince Dan Okojie, Okoijie Patrick (Bejel), Hon. Odion Oaikhena, Hon. Andy Esene, Prince Uwagbale, Hon. Ben Emietor, Benedict Iyinda, Chief Francis Iseghohimen, LGA executives, Eleven Ward Chairmen, Eleven Ward Women Leaders and Eleven Ward Youth Leaders, among others.