Edo NUJ Installs Elder Pius Omofuma As Patron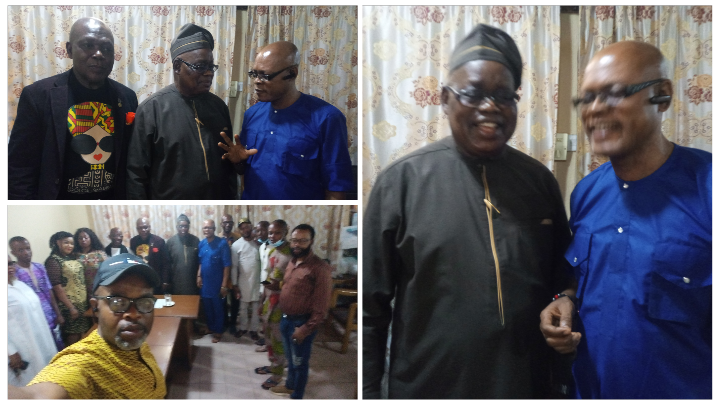 By Simeon OSAJIE
The Nigeria Union of Journalists (NUJ), Edo State Council has conferred patronship on one of the leading top growing eateries in Edo State, Elder Pius Omofuma.
google.com, pub-3120625432113532, DIRECT, f08c47fec0942fa0
This was disclosed by the chairman of the Edo State council of the NUJ, Comrade Festus Alenkhe during a courtesy visit to Elder Omofuma at the Benin office.
While accepting the award, Elder Omofuma thanked Edo NUJ for the honour done him and promised to support journalistic body to achieve their set down goals.
"I count this award as a very good honour done on me by Edo NUJ. I am happy you won considering your pedigree.
"I will also want you to know some of the problems we faced in the fast food business. GT Fast Food is 33 years now, precisely it started during Easter in 1989. I left Owerri to start the business in Ujemen in Ekpoma, Esan West local government area."
He added, "when l wanted to start the trade, some of my friends said the business will never succeed because of the witches and wizards in the rural areas.
"I built a bungalow for myself, and I was able to construct a small shop inside the bungalow, and an office which is not up to six feets by six feets. That is how I started the food eatery trade with a staff of three. While l was in Owerri, Imo state operating a plastic company, we also have a subsidiary called Olives Food limited, and I have told my boss, when I was interviewed for the job in 1982. When they asked for my career that when I finish working for his company that I should think of starting my own business.
"But, I think at the age of 40 years, I should start my own business. That June 1989 was my 40th birthday, so three months before my birthday. I started the food trade at Ujemen in Ekpoma. Many people taught I was craving for establishing the business in my village, in 1989.
"We are more civilized now, compare to those days. They said, how would you go to your village and start food business and added that is there no other place in the City, where I can establish my business. Some of them even think and taught the witches and wizard will not allow the fast food trade to see the light of the day.
"I know, I will succeed because, I have confidence in the God I served. At that time, Ambrose Ali University just relocated to Emaudo in Ekpoma Town. And, I believed also that the students would like to eat good food. Fortunately, when I was in Owerri, Imo state, I have the privilege of traveling abroad when I was operating the business. So, anybody who is a traveler would know the right location where food trades will move or bring good profits. I actually started the business. So within the period of six years, I had opened the Uselu and Ekenmwan branches.
"Before I open Uselu branch, I was running a small branch by Mboil Filling Station, along this place. Where I rented for the trade. That is the story of the existence of GT Food Plaza," he revealed.
Commenting on how he asked one or two persons the chances of Comrade Festus Alenkhe in emerging as an Edo NUJ boss, Omofuma said, "before your election was conducted, I was asking questions about your chances of winning the election. Anybody I asked they were saying that Festus Alenkhe is qualify, simple, calm, nice person and nobody is working against him. I am happy that you emerged victorious.
"You don't rest when a body like NUJ said they count it worthy for me to be honor. I want to assured you that, I count this award of honor as a very big honour. And we are going to organizing it very well. God will bless you all for putting me for this highly exalted position, and for honoring me. One of the reason that makes me to respect my brother Festus Alenkhe, is the zeal and passion he apply on the way he performs his duty."
Elder Omofuna equally thanked Comrade Festus Alenkhe for what he had done for him and his family at the past and prayed for him that God should give him and his Exco members grace, insight, wisdom and knowledge to pilot the affairs of Edo NUJ to a greater heights. I regard Festus Alenkhe as my junior brother, not a friend.