PDP RUNNING MATE: Untold Story Of How Atiku Used Ayu To Humble Wike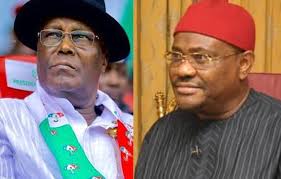 …despite emerging PDP cttee's favourite
…it was simply Atiku's script Ayu played
By Editor
google.com, pub-3120625432113532, DIRECT, f08c47fec0942fa0
From day one, the winner of the PDP Presidential Primaries, Atiku Abubakar never wanted Rivers Governor, Barr. Nyesom Wike as his running mate, this was a clear directive that he gave his former campaign manager, Iyorchia Ayu.
The9jaTREND reports multiple sources confirmed that despite the outcome of the party's committee report that endorsed Wike, Ayu had to arm-twist members to ensure Wike was shoved aside using his position as the national chairman of the party.
A source privy to this development told The9jaTREND that "the outcome of what you have seen today is purely the handiwork of Atiku and Ayu because the plan was hatched to reflect the emergence of Okowa.
"Hours before this announcement, the committee members met and another round of voting took place, Wike still defeated other contestants by a wide margin.
"Five members abstained and Wike still won 10-6 but Ayu insisted that the others must cast their votes and they bluntly refused, this development led to anxiety but at the end of the day, Ayu properly played the script of Atiku.
Another source also confirmed to The9jaTREND that "why it took the party this long to announce Okowa was because Wike had won all through but he was not Atiku's anointed candidate for running mate.
"Ayu on the other hand had to play the script of Atiku to cover him as if he had no hand in this whole charade but he was simply the arrowhead of it all.
"Atiku never wanted Governor Wike because it's believed that he is uncontrollable but the truth is that Okowa can't fill the void for PDP as Wike is not his match in any form.
"Okowa may not even deliver Delta State next year as he has successfully balkanised the state to shreds that he needs a miracle to even win the guber polls.
"We are all watching how things will unfold but with this development, PDP just shot itself in the heart."