Uroho Village Gets New Okaighele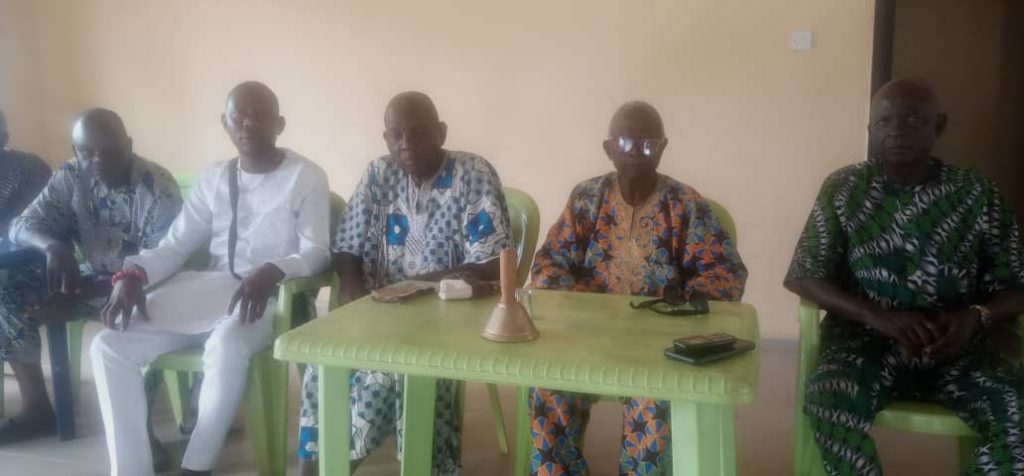 By Simeon OSAJIE
The Odionwere, Elders and people of Uroho Village, Ikpoba-Okha Local Government Area of Edo State have appointed Comrade Osagie Omoregie as the new Okaighele of the village.
google.com, pub-3120625432113532, DIRECT, f08c47fec0942fa0
While delivering his address at the installation ceremony which held at the Village Town Hall recently, Odionwere Pa. Vincent Osakue, said they decided to make him the Okaighele as a result of his examplary leadership, always at their back and call whenever he was needed, by the elders and people.
"The elders have been watching his behaviour with keen interest whenever there was a general meeting of the people, and how he has been organizing the youths in carrying out the village work and other activities concerning the village.
"Fully satisfied, hence it was unanimously decided to install him as the Okaighele," Pa. Osakue explained.
Continuing, he said they saw in him (Osagie Omoregie) the qualities of a leader and his willingness at all times to help move the village to greater heights.
He called for the cooperation of all the people to support the Okaighele for him to carryout the assignment and responsibilities therein.
The Odionwere also used the occasion to appreciate the great Oba of the great Benin Kingdom, Omo N'Oba N'Edo, Uku Akpolokoolor, Oba Ewuare II for his fatherly disposition to the people of Uroho village, Benin Kingdom in general and promised to continue to abide by the directives and instructions of the Great Oba as regards the rejuvenation and promotion of the rich culture the kingdom is know for.
He pledged the continued loyalty and obedience of the people of Urohor to the directives and instructions of the Oba; as regards particularly, rejuvenation and promotion of the rich cultural heritage of the Benin Kingdom.
"While pledging their continued loyalty and obedience to the god's king, the great Oba of the great Benin kingdom, Oba Ewuare II, the Odionwere reiterate their readiness at all times to contribute their quota to the peace, progress and development of the Kingdom."
Responding, the new Okaighele, Comrade Osagie Omoregie appreciated the Odionwere, elders and people of the village for finding him worthy for the position.
He said he was highly humbled for the Confidence reposed in him, promising not to disappoint the people.
Comrade Osagie called on the youths to join him to continue to maintain the prevailing peaceful coexistence in the village.
Suing for the cooperation of all and sundry, the Okaighele asserted the issue of disobedience to constituted authorities has never been part of Uroho village, adding that, by the grace of God, it will not begin in his time, as he urged everyone to unite for the progress and development of village.
Highpoint of the occasion was the formal presentation of the Okaighele, Comrade Osagie Omoregie to the people of Uroho Village and the general public by the Odionwere, Pa. Vincent Osakue.