Interview With Comrade Kelly Ogbaloi, Edo State Chairman of Labour Party,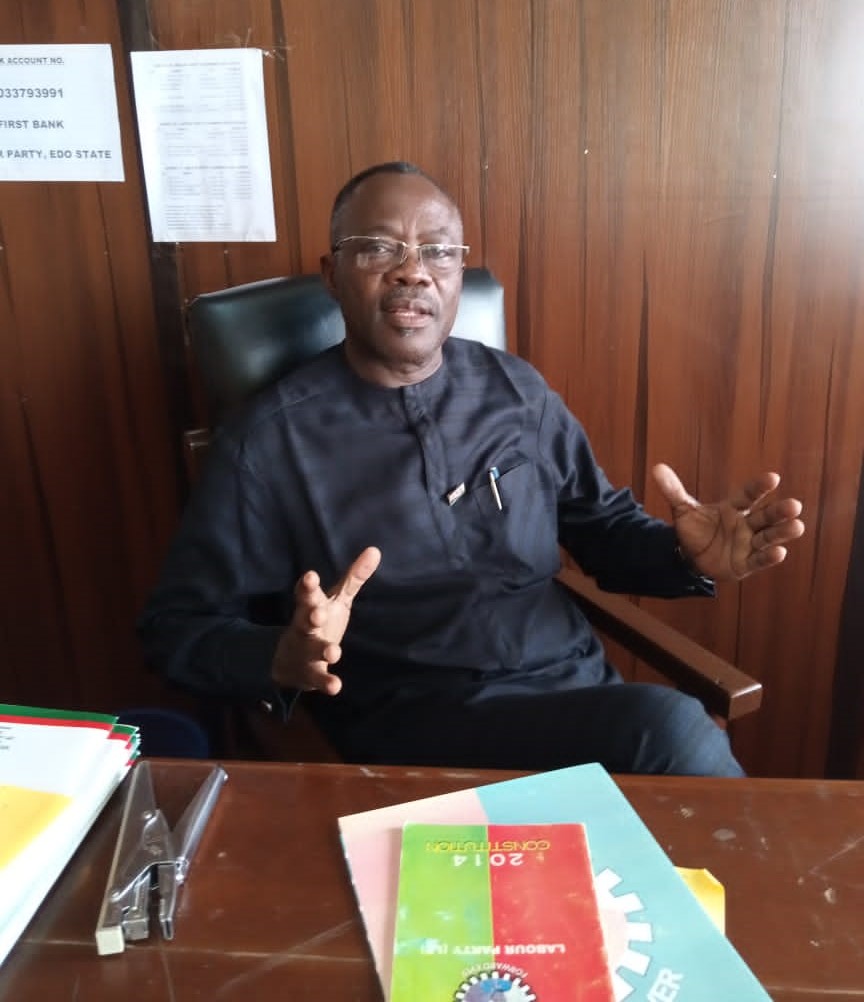 Recently, there have been series of skirmishes arising from the Labour Party (LP) both in Edo State and at the National level as a result of what some members perceived as undesirable imposition of candidates. The National Chairman of the Party, Barrister Julius Abure was not spared in the melee. He was accused of imposing himself as the Edo Central Senatorial candidate, an action viewed by some of the party members as selfish and unconstitutional. The Edo State Chairman of the party, Comrade Kelly Ogbaloi in an interview with The9JaTREND explained the circumstances surrounding the action of the National Chairman of the Party, Barrister Julius Abure. Excerpts:
As the state chairman of labour party, you must be abreast with the rules of engagement of your party with regards to the Constitution of the party. What is the position of the allegation against the National Chairman who is alleged to have appended his name as the Edo Central Senatorial candidate of your party?
google.com, pub-3120625432113532, DIRECT, f08c47fec0942fa0
We all are aware that our National Chairman, Barrister Julius Abure, who was the then National Secretary of the Party, was elected as the new National Chairman by the Labour Party National Executive Council (NEC) in 2021, after the death of late National Chairman, Alhaji Abdulkadir Abdulsalam in 2020.
You will agree with me that the ovation of Labour Party was not that high then as it is today, until the coming of its presidential candidate Mr. Peter Obi.
For some times now, we have being inundated with such talks like imposition of candidates from some set of persons who we refer to as "fare weather members of our party" (Labour Party), that is, those who ordinarily had come few months ago, especially after Peter Obi had come and they are here not up to four months in this party, and you see them going about with this campaign of calumny and talking about what they don't know. They are such individuals whose stake is actually not what they are telling the public. They are such persons who, they themselves wanting to grab certain fortunes for themselves with the coming of Peter Obi.
And now that they realized that it is not as easy as they had thought, they have all gone out there with this campaign of calumny here and there.
Now, the senate seat was supposed to have been finished with in June so to speak, and you are aware that Labour Party had suffered much apathy from the people of this country, not because it is not a good party, but simply because there have being a culture, a political culture that had been entrenched by the people which has to do with this money bag of a thing, and since the party has no such money, nobody listen it and nobody wanted to be part of it, and so, in about such period not quite a number of persons where wanting to pick our tickets.
And this ovation of ticket, senate ticket and others came only when Mr. Peter Obi had come to the party. So, you can see the reason why I call them "fare weather members" of our party. They only came to the party, because they are conditional members, they came only because Obi is here, and so there was that prospect that they are likely to capture so much from the party because, now the party where they had been had lost the strength and stem, and nothing was coming from there anymore, so, they were looking for where the food is ready as it where and so, they all came here like honey bees.
In our party (Labour Party), according to our party constitution, there is nothing in it prohibiting any member of the party to hold a place pending when the appropriate person that will be needed to take that place comes.
So, in about June, there were no people, I mean nobody was coming to take that seat; that senatorial ticket of our great party in Edo Central, and is perishable by the time table of Independent National Electoral Commission (INEC). And so, the National Chairman therefore said, okay, Mr. Chairman at the state level, please now that we are not getting anybody, just fixed my name in there in the interim pending when we have people to take the slot. And that was how this happened.
By the way, our constitution does not even prohibit him (National Chairman) even if he wants to be a candidate. And so, I hear people talking of morality. What is moral about this? I am aware of some people in the times of the government of Godwin Obaseki of today who they themselves came to team up with Labour Party when we were also joining the campaign to enthrone Governor Godwin Obaseki for a second term in this state. These persons were also holding their party cards while they came to join labour party as members to obtain our owe card at the same time, and these are the people talking of molarity today. If you hold a party's card and hold your previous party's card at the same time, is that moral?
Very clearly, those who are pretending to be sleeping, you cannot wake them up, because they want to pretend to be asleep. So, when you try to wake them up they will not wake up. But a man who is genuinely sleeping, once you tap him, he is going to wake up. So, those who are carrying this campaign of calumny are those who are very blind in their minds already, so we find out that there is no basic reason listening to them because we may be distracted. We are sure of what we are doing, and so as long as what we are telling the public is what we genuinely believe in, we feel less bothered about their lies and campaign of calumny.
What actually happened in Labour, is not that the National Chairman contested or he has an intention to contest. But a reasonable political party will need to hold a place in order for the opportunity to come. So, he was merely a place holder.
As we speak today, we just completed primary for the seat in Edo Central Senatorial District at Ekpoma, the administrative headquarters of Esan West local government area for that seat. So, if the National Chairman wanted to take it, why are we now just trying to conduct primary? It is because we were resilient that he has a lot of responsibilities, ordinarily as a National Chairman, and so there is no way he would have even contemplated going to contest election vis-à-vis his current office, looking at it more dispassionately. And so, eventually somebody finally indicated interest in the position which led to our going to INEC to monitor our Edo Central Senatorial primary. So, that is where we are on the matter.
As we speak, somebody has taken the slot. The person is an indigenously person from Edo Central.
There is this news that the National Chairman sold the ticket to highest bidder who residing in Canada. What is your take on this?
I also read that our National Chairman sold the Edo Central ticket to somebody based in Canada. That is a blatant falsehood. Like I said, there are people who have been paid by the opposition party to do this yeoman job. Do not think they are just doing it, they are doing it because they have taken money from their paid masters, and so, they must continue to say something, whether right or wrong. The party secretary at the state level supervised the party primaries we held just last Saturday at Ekpoma. In Esan there, we have our loyal party members. We cannot be having out candidate in the Diaspora. How are you going to campaign for such person? So, we are not even looking at that direction. That again is a blatant falsehood. We didn't give the ticket to anybody outside Nigeria, and nobody has paid anybody any money beyond what should be the amount for the party senatorial form.
The person that has gotten the ticket of our party in Edo Central Senatorial District is a genuine member of our party. He is one of us. He is not a foreign person, he has being in our midst, he has be working hard in Ekpoma and the constituency in general.
The question is, those who are talking now, before June when Peter Obi came to this party, where were they? If you are so interested in the senate seat when we were looking for candidates, where were they? This further buttress the point that these are people just searching for where the food is ready. And now, once it appears as if the plate of food is not being placed before them, they go hale wire on the street to talk whatever they want to talk about, and Labour Party is not distracted, because we are here to work as an institutional party. This is not a party owe by few individuals, this is a party owe by TUC and NLC and the workers of this country.
So, we are cautious of what we are doing. Do not come here and think we are going to behave like you. These ones who came from dwindling APC and PDP, they want to come to labour party and turn it upside down and therefore lying from one corner to the other.
Is there any political party that has never experienced internal squabbles? There is no political party. What is important is that, when it comes, we try to deal with it and solve it. For a member of a party to go out there and begin to fight his party is absolutely abnormal. That explains that, that particular person is sent to do something in the party not as a member but to destroy it.
Hon. Elizabeth Ativie and Murphy Imasuen is another issue. Where are we on this issue?
For me, I am not going to discuss that any further, because as very decent political party and coming with decent heads like us, we cannot circumvent the rules of the land. It is clear that when a matter is in court, you don't further go to pursue it, you don't further go to speak on the matter, and otherwise it will be contempt.
"So, for those who had resulted to self-help and discussing upon a matter that is in court, we won't be drag to that, we will allowed them fool themselves and then the court will give the verdict at the end of the day."
Can you react to the recent statement credited to Mr. Godwin Obaseki, Edo State governor where he said "Obidient family will soon run out of steam". What is your take on this?
I don't know whether the Governor made that statement, but it is being trending. But for me, that statement is more parochial, very narrow, as a statement coming from absolute frustration, it is a statement coming from eye service, it is a statement made simply to please some gods, but what is clear here is that, the gods no longer trust those people, the gods no longer trust them. The masters are now very aware and wary, and so whether that statement is made or not, we are sure here that the masters are no longer listening to them. I can tell you this straight.
What is your advice to Labour Party members who are yet to collect their voter's card?
My Advice to them is that, you see, we can't say one thing and change it and say the other. It is the responsibility of every one of us to register as people that can be competent at the end of the day to vote; it is another as a people to go and take that certain element that qualifies you to be able to go and vote which is PVC. But I find out that we are going back to it again and again. How do you register and you do not want to take your PVC?
So, my appeal is that, we are doing the last push, please our supporters out there, those who want the narrative of governance in Nigeria to change in 2023, they should please go to INEC and pick their voter's card, pick their PVC. Where there is a notable challenge, you can come to us at the party level so long you are our member. We will jointly look at it and find a way of solving the problem where you are handicap from collecting your PVC. I think we are all reservoir of a team.