Peter Obi is Alltimepost.com Man of the Year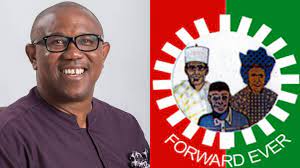 By Simeon OSAJIE
The Editorial Board of Alltimepost.com, a United States-based online newspaper has nominated the Presidential candidate of Labour Party and a former Governor of Anambra State, Mr. Peter Obi as the newspaper's 'Man of Year, 2022.'
google.com, pub-3120625432113532, DIRECT, f08c47fec0942fa0
In a statement by the the publisher/Editor in Chief Alltimepost.com, Prince Emmanuel Okunmwendia, said that the decision was arrived at after an exhaustive meeting regarding the organisation's choice of the Man of the Year 2022.
He said that "We also believe, contrary to the beliefs of certain people that picking Obi as the man of the year is more than populist argument.
"Peter Obi has become an incomparable and incalculable watershed in the political history of Nigeria, given the fact that over the years the conservative political parties in that country have transformed themselves into dangerous and vicious monsters, trampling on the democratic rights of Nigerian voters by perpetually plundering their collective patrimony and exploiting the nation's democratic space."
According to him, since Obi's exit from the People's Democratic Party's (PDP) presidential primaries in April 2022, his political campaign has been defined by nationalistic approach to issues of governance.
"In Peter Obi, we see a profound national character that defines democracy; a nationalistic moving train that is smashing to pieces all known religious, ethnic and tribal sentiments.
"In Peter Obi's candidacy, we see the drive for fairness, inclusiveness, equity, justice and people-driven transformative agenda."
Affirming the non-political stance of the Editorial Board, Okunmwendia said that Obi would be the first democratically elected President of Nigeria, from the South-East, if he wins the presidential elections in February 2023, adding that, "He appears to be the man most Nigerians, home and abroad want" as Nigeria's next President."