Suspected Handset Thief Meet His Waterloo In Igbudu Market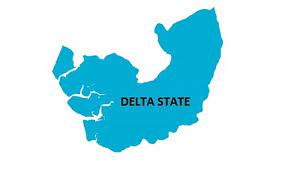 By Our REPORTER
A suspected handset snatcher met his waterloo as he was allegedly lynched by an irate mob at Igbudu Market, Warri South local government area of Delta State on the eve of Christmas Day.
google.com, pub-3120625432113532, DIRECT, f08c47fec0942fa0
The suspected handset snatcher was alleged to be a member of a 3-man gang that went for an unholy operation in the market on the fateful day.
The9JaTREND Reporter gathered that their victim, a female trader, raised an alarm that attracted a member of an 11-man committee put in place by the Executive Chairman of Warri South Local Government Council, Dr Michael Tidi to checkmate the activities of hoodlums in the market .
The other two members of the handset snatcher took to their heels when they saw a gallant member of Dr Tidi ' s Security Committee approaching.
Meanwhile two members of the chicken hearted hoodlums kept watch for their colleague who was busy dispossessing the female trader of her handset unaware of the danger ahead of him.
He was to have initially denied the accusation of dispossessing the female trader of her handset.
But when he was checked, the handset of the said female trader and two other stolen ones were in his possession.
The discovery infuriated the irate mobs who wasted no time in lynching him.
The Police Public Relations Officer PPRO Delta State Headquarters Asaba DSP Bright Edafe confirmed the incident.
It would be recalled that before the setting up of the said security committee, Igbudu Market had been under siege by hoodlums.