WACOL 50-50 Action Women Group Charges INEC On Extension Of Deadline For Collection Of PVCs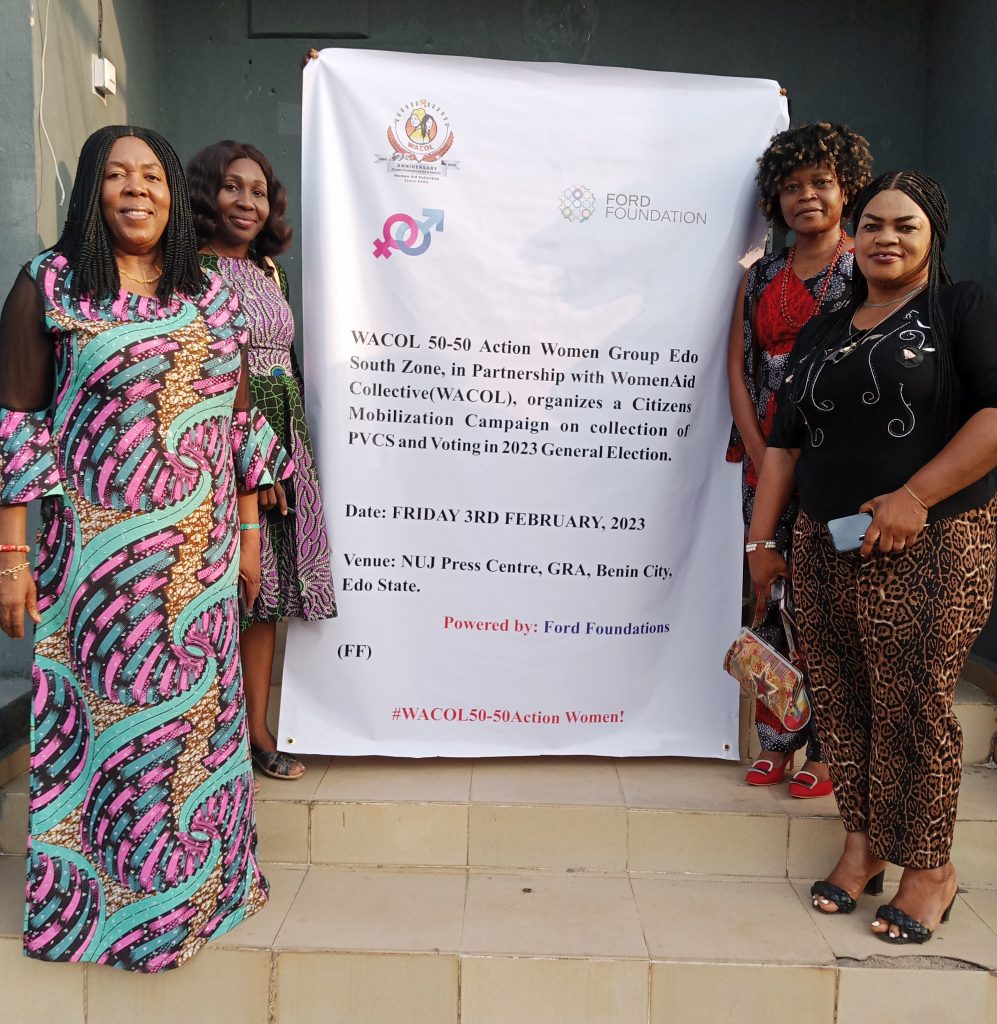 By Simeon OSAJIE
Following the recent announcement by the Independent National Electoral Commission (INEC) that collection of Permanent Voters Cards (PVC) will end on February 5, the Women's Aid Collective (WACOL) 50-50 Action Women Group, Edo South Zone has called on INEC to retract the decision and extend date of PVCs Collection to allow for unbiased representation of voters in the electoral process.
google.com, pub-3120625432113532, DIRECT, f08c47fec0942fa0
Addressing newsmen today at the Secretariat of the Nigeria Union of Journalists (NUJ) Edo State Council, Prof. Evelyn Uwa Edosomwan, Chairperson of the group, stated that the Advocacy Programme, supported by Ford Foundation, is WACOL's Citizens' Mobilization Campaign on Collection of PVCs and Voting in the 2023 General Elections in Nigeria.
She noted that democracy would thrive if citizen participation in the electoral process is not undermined by policies put in place by the umpire and called for a reappraisal of the deadline.
Prof. Edosomwan said the Advocacy Group is calling on INEC to review the guidelines and remove blockages which would affect the Collection of PVCs.
"We are saying that the February 5 deadline for collection of PVCs is not realistic. We are asking for INEC to further extend, or remove the deadline out rightly to enable more people collect their PVCs and be able to express their franchise during the forthcoming General Elections. Considering the current realities too, the economic crunch, fuel scarcity, high cost of living which is almost getting to a barter exchange level, there is no better time than now for INEC to relax policies and streamline its guidelines to enable participatory democracy to thrive," she emphasized.
Also speaking, Mrs. Eseosa Onebamoi, Programme Officer of the Group stated that Nigeria's democracy is still nascent and evolving and that everyone should put their hands on the deck to make it work.
She appealed to INEC to consider the predicament of those who may still be struggling to collect their PVCs and give them fair chance to register for and collect their PVCs and be part of the Electoral process.
Other members of the group also lent their voices in calling for continuous PVCs Collection.
Doris Ogbeifun, Secretary of the group, also implored INEC to consider those who are yet to reach the voting age of 18 and will attain the age before the date of the election.
"People were born in this month of February, even on the day of the election. INEC should allow those who would reach the voting age of 18 before the election date to register for and collect their voter's cards at least two days before the election in order not to be disenfranchised from voting in the forthcoming election. Such considerations will make citizens better understand and appreciate their civic responsibilities and equally appreciate the dynamics of governance when it takes effect," she said.