We Will Use All Legal Means To Reclaim Our Mandate – Obi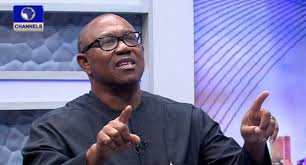 By Simeon OSAJIE
The presidential candidate of the Labour Party (LP), Mr. Peter Obi faulted Nigeria's inability to conduct free and fair elections 63 years after independence, saying he will explore all legal options to challenge "electoral rascality" in court to reclaim his mandate.
google.com, pub-3120625432113532, DIRECT, f08c47fec0942fa0
Obi stated this at a press conference on March 2, 2023 in Abuja.
 "I am challenging the process," Obi declared to journalists in Nigeria's capital city, his first media appearance after the declaration of a winner by the electoral umpire.

"This is very unfair. It is the least expected of Nigeria," he said.
"A new Nigeria is possible, and I will work for that new Nigeria… Datti and I remain committed to that new Nigeria," he said.
Just at the commencement of the briefing, Obi observed a one-minute silence for all injured and deceased victims of the February 25 poll.
Also in attendance at the briefing is the party's National Chairman, Julius Abure as well as the director general of Obi's presidential campaign, Akin Osuntokun.
Obi effusively thanked his youthful followers known as 'Obidients', urging them not to be deterred by the outcome of the polls.
It is my belief that for you to answer "you excellency", the process through which you arrive to office must be "excellent".
Obi assured youths in the country that he is not going away but will stay and work for a new Nigeria.
The former Anambra State governor said the structure that has created one hundred and thirty-three million people living in multidimensional poverty can't go away overnight. "We will walk through darkness until daybreak," he said.
That structure of criminality can't go away overnight, structure of destruction can't go way overnight, structure that has created one hundred & thirty-three billion people living in multidimensional poverty can't go away overnight…
We have been asked to go to the courts; let's go there. Remember that I am obedient, I am going to go where I am directed to go
He said the poll did not meet the minimum standard for a free and fair election, adding that the poll will go down as the most controversial election conducted in Nigeria.
Obi lamented that Nigeria cannot conduct election 63 years after independence.
Part of the press conference speech reads, "On 25th February 2023, Nigerians trooped out en-masse to participate in what was promised and expected to be a free, fair and transparent Presidential and National Assembly elections. But in all things, we are enjoined to give thanks.
"First to Almighty God for the privilege of making Datti Baba-Ahmed and I, the tools to champion the cause of a New Nigeria that will fundamentally enhance the fortunes of our dear country. Let me also appreciate and thank all Nigerians that participated in our last election especially those who believed and tirelessly worked for a New Nigeria and voted for us. My profound thanks go to the youths, 'Obidients' and support groups for your commitment and resilience for a better Nigeria. You truly showed that you can take back your country!
"We continue to pray for the repose of the souls of all Nigerians killed during the campaigns and for those that were violently attacked, we pray for their quick recovery. We reiterate our total condemnation of such attacks and continue to demand that security agencies stop further attacks and bring perpetrators to book.
"The commitment and resilience of Nigerians, even in the face of unwarranted and barbaric attacks is a testimony that a New Nigeria is Indeed POssible. The Lady, Jennifer Efidi who was stabbed but insisted on exercising her right to vote and indeed all Nigerians who voted during the election are the shinning stars leading us to a New Nigeria!
"The election has been conducted and results announced as programmed. It is a clear deviation from the electoral rules and guidelines as we were promised and did not meet the minimum criteria of a free, transparent, credible and fair election devoid of voter intimidation and suppression, and late commencement of voting in some specific states.
"This will probably go down as one of the most controversial elections ever conducted in Nigeria. The good and hardworking people of Nigeria have again been robbed by the institutions and leaders whom we trusted.
"However, let me humbly and most respectfully appeal to all Nigerians to remain peaceful, law-abiding and conduct themselves in a most responsible manner. Please be assured that for Datti and I, and indeed for all of us, this is not the end, but the beginning of the journey to birth a New Nigeria.
"Datti Baba-Ahmed and I remain absolutely undaunted and deeply committed to this project of a New Nigeria that will be built on honesty, transparency, fairness, justice and equity. All of these starts with the process -The process through which people are elected to office is as important (if not more important) than what they do thereafter with the office and authority.
"If we seek to be called Your Excellency, then the process through which we are elected should also be excellent or sufficiently credible to generate the required confidence and moral authority to govern and lead. As you all know, the destruction of a society can be a gradual or sudden process through acts such as deliberate refusal to obey the rule of law and via the suppression of the will of the people.
"Let me reiterate and assure my good people of Nigeria that we will follow all available legal and peaceful procedures to reclaim our mandate.
"I urge you all to continue with your campaigns and troop out on Saturday 11th March 2023 to vote massively again for Labour Party-LP (Mama, Papa and Pikin) in the Governorship and State Assembly Elections. Please do not despair at a time when we can still achieve massive victories in the forthcoming elections on the 11th March 2023."
"Thank you all and God bless The Federal Republic of Nigeria."