PRESIDENT ELECTION: PDP Uncovers INEC's Plan To Compromise Results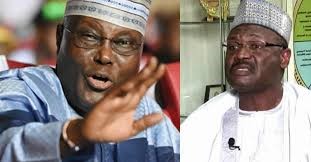 By Simeon OSAJIE
The People's Democratic Party PDP) said it has uncover plan by the Independent National Electoral Commission (INEC) to undermine the results of the presidential election held February 25, 2023.
google.com, pub-3120625432113532, DIRECT, f08c47fec0942fa0
The spokesperson of the Atiku Abubakar Campaign Council, Charles Aniagwu, made the allegation while briefing newsmen at the Ministry of Information Conference Hall, ASsaba.
According to Aniagwu, INEC had directed all state resident electoral commissioner (REC) and that of Abuja to ensure that they compare results being submitted to the Abuja were with those published in the commission's IRev portal.

He stated that the move by INEC was aimed at altering the primary data from the various polling centres, saying that instead of INEC to rely on the primary data, it was using the secondary data in its portal to change original evidence from the states.
Aniagwu's reasoned that the delays occasioned in uploading the presidential results over alleged system glitches into the IRev was a source of concern to all, saying that the delay had created room for manipulations of the original results.
The commissioner said that the result declared by INEC did not reflect the yearnings and aspirations of Nigerians, stating that the Peoples Democratic Party (PDP), after consultation, decided to challenge the result in court.
"We are already challenging what is in the IRev and you are compeling RECs to compare their data with what is in the IRev.
"Let it be that it is what transpired in the field that will be interrogated in court and not what that has been cooked up.
"Do they want us to rely on what has been manipulated? It amounts to comparing a primary data with a secondary data," Aniagwu stated.
On how the state government got to know about the alleged plan by INEC, the commissioner said that it was an internal document sent to all RECs and not for public consumption.
He said that the procedure being mobilized by INEC was wrong and that the PDP would not wait until the harm was committed before bring it knowledge to the public domain.
While saying that instruction by INEC was to vitiate the true outcome of the presidential elections, the presidential campaign spokesperson condemned the idea of foisting impunity on the people, explain that such act would not take the nation anywhere.
He called on all to discuss the issue as one concerning all Nigerians and not one affecting the PDP or any other party.
On the gubernatorial elections in Delta State, the commissioner stated that PDP won fair and square and that the All Progressives Congress was crying foul.
He called on the APC in the state to accept that they lost and prepare for the next election in 2027, stressing that the party presented a candidate that Deltans rejected.